I have talked about my love of Teach My Educational Kits before. Education is extremely important to my family. With that being said, I find it hard to find resources that I could use to teach my kids important lessons including learning shapes, colors, numbers, letters, reading, etc. Sure I find resources all over the place on the web, but nothing organized in one big bundle for me to buy. What ends up happening is I buy one set of flashcards, only to have nothing to use, once she has mastered this set. Or I have  a book to teach Zane his letters, but nothing for subsequent education. However, with Teach My Educational Kits, I can now have all the essential learning materials in one beautifully packaged bundle.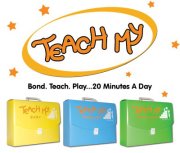 The Teach My sets are available for three ages including Teach My Baby, Teach My Toddler, and Teach My Preschooler. All the sets encompass all you need to teach your children in these different age ranges. The basic tools for each include flashcards, books, visual aids, puzzles, and charts. For Hayley, we sit down everyday and work on various tasks. Since she now officially  writing, she loves to practice her skills with the books that are included- she just loves tracing. She also loves to use the Reading Books that are included since she has officially started to read! I just love that these kits help her promote her love of learning. Some activities in the kits include Ready to Print Practice Guide, Ready for Math Subtraction, Ready to Read Sounds, Ready to Read Vocabulary, and various level books. It is amazing and the whole set only costs $49.99! Everything to teach in one set!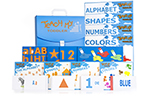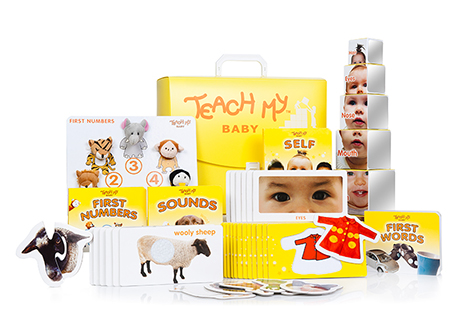 For Zane's age, they have a Teach My Baby set. This is an award-winning set that includes helping him learn his first words, numbers, and letters. It includes large puzzles, blocks, touch and feel flashcards, storybooks, and more. I like to sit down with Zane daily for about 10-15 minutes to use my kit to teach Zane various lessons of the day. It truly works wonders and best of all, it is stored in one sturdy case.
The Teach My All-In-One Kits are available on their website: Teach My and also available at Walmart, Toys  R' Us, Barnes & Nobles, Buy Buy Baby, One Step Ahead, Bed, Bath, and Beyond and other retailers nationwide.
Win it: One winner will receive their choice of either the Teach My Preschooler, Teach My Baby, or Teach My Toddler kits. This giveaway is run via rafflecopter so click continue reading to see the actual giveaway. The only mandatory entry is to tell me which kit you want to win in the comment section proceeding this post. While the other entries are optional, I highly suggest you fill it out to increase your chances of winning. US/Canada. Good luck!
a Rafflecopter giveaway

*I received the above products for review purposes. As always, all my opinions are my own and not swayed by outside sources.