In less than a month, Christmas will be here! I can hardly believe it! We are a family that celebrates both Christmas and Chanukah, so it makes for the holiday seasons, even more lively. We are firm believers in her knowing about Santa and getting introduced to Santa at a young age. Truly Santa puts a happy smile on everyone's face, right?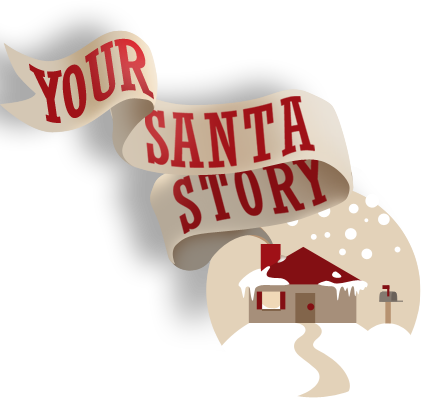 I was so excited to find out about a personalized DVD I could make for my kids called Your Santa Story. If you are not familiar with it, it is a fantastic way to start your Christmas morning this year. What it is, is a personalized DVD from Santa directed directly to your children. Santa will come on this DVD and talk about your kids and their accomplishments this year. How awesome is that!
It is very easy to create You Santa Story. You simply go their site, Your Santa Story, and start your personalized DVD by creating your own story. They will direct you to fill in the blanks about whoever you would like to mention on your DVD. For example, this year I filled it that I wanted Santa to mention that I am proud of Zane for learning all his baby signing time and I am equally proud of Hayley for doing so well in school.
When I got the Your Santa Story at home, I was wondering how Santa would come alive in this DVD to make the holiday season so special. The DVD started with Santa coming in with his reindeers and then sitting down, to actually talk to my kids about their accomplishments. Hayley and Zane are going to be so excited when on Christmas morning they hear on the DVD, Santa telling them how proud he is of what they have done this year.
After he talks about your kids accomplishments (all personalized to what you want to write), he then proceeds to tell the kids to look under the Christmas tree, as he just left presents for them. This is when you shut off the DVD and the kids could go open up all their presents.
I have to say, that this concept is ingenious! Not only will it allow your kids to truly believe that Santa is real, it also will make them amazed. I can't wait to show Zane an Hayley their own Your Santa Story DVD on December 25, 2012.
You can do your own Your Santa Story on their website, just do it quickly as there is limited quantities available. This will be a keepsake to remember forever! You can also connect with Your Santa Story on Facebook, Youtube, and Pinterest.
Here is a sample video:

* I received the above product for review purposes. As always, all my opinions are my own and not swayed by outside sources.