I am working tomorrow but am taking the rest of the weekend to just relax. Nothing is on the schedule at all but to relax with my two kiddos and husband. Happy weekend everyone!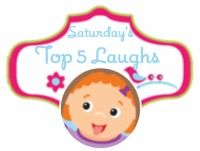 As always, link up any cute, funny, or top five laugh post. Feel free to share this on social media channels or take my button- not mandatory at all though. Definitely check out the other blogs who link up; they all provide me with such laughs every week!
My top five laughs:
5. I saw twilight Thursday night with 99/100 teenie boppers. It was so fun and I will fully admit I am a dork!
4. I texted Greg this week that I could not find my phone- enough said!
3. Hayley was really bad at a playdate this week. She had a terrible temper tantrum, which is something that has not happened in awhile. When we got home, I was so disappointed. She automatically said, "Mom, I am sorry. I will go sit in time out now". It was very cute!
2. Zane dropped his pacifier three times the other night at 3, 5, and 6 AM. Each time, I would go in to give it to give it to him and he would say, "Hi…Hi…Hi.." I am not really into  the HI mood in the middle of the night Zane.
1. Hayley went to give Zane a big hug this week. Zane apparently learned a new word because he responded, "Off…Off…Offf." Don't you see the sibling love,lol!
Now your laughs: