From the creators of the #1 live-action, direct-to-video Disney Buddies franchise comes Santa Paws 2: The Santa Pups:, an all-new heartwarming and hilarious adventure starring a brand new litter of the most adorable talking Great Pyrenees pups! This DVD is the perfect family film for the entire family.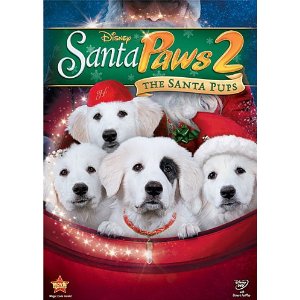 About the film:
The North Pole has a new litter of playful pups! However, when thy frisky foursome-Hope, Jingle, Charity, and Noble- practically destroy Santa's Workshop with their mischievous gamboling, they realize the best way to prove that they're responsible enough to become Santa's Helpers is to show how well they can spread the Christmas spirit all by themselves. With help from a magic crystal, they start granting everyone's wishes. But their good intentions backfire when one unhappy boy asks that Christmas go away forever! With his wish impetuously fulfilled, and the joyous spirit quickly disappearing from the planet, Mrs. Claus and the pups have to find a way to reverse the spell- or risk losing Christmas forever!
"Santa Pups" stars Cheryl Ladd (Charlie's Angels), Danny Woodburn (Mirror, Mirror), Pat Finn (Spooky Buddies), Kaitlyn Maher (Treasure Buddies, The Search for Santa Paws), Josh Feldman (The Closer), George Newbern (The Father of the Bride) Obba Babatunde (Broadway version of Dream Girls) are the human characters,
The pups are voiced by Marlowe Peyton (Applebaum) as Jingle, Tatiana Gudegast (Spooky Buddies) as Hope, Aidan Gemme (Treasure Buddies) as Noble, and G. Hannelius (Treausre Buddies, The Search for Santa Paws) as Charity.
I have to say this DVD is one of the cutest we have seen. We did not know too much about the Santa Paws  but the Disney Santa Pups are adorable and really got us in the mood for the holiday season. We greatly enjoyed it and look forward to watching it over and over this holiday season.
*We received this product for review purposes. As always, all my opinions are my own and not swayed by outside sources.