We are huge Scooby-Doo fans so we were so excited to review the new Scooby Doo DVD entitled Scooby-Doo! Mystery Incorporated Season 2: Part 1: Danger in the Deep.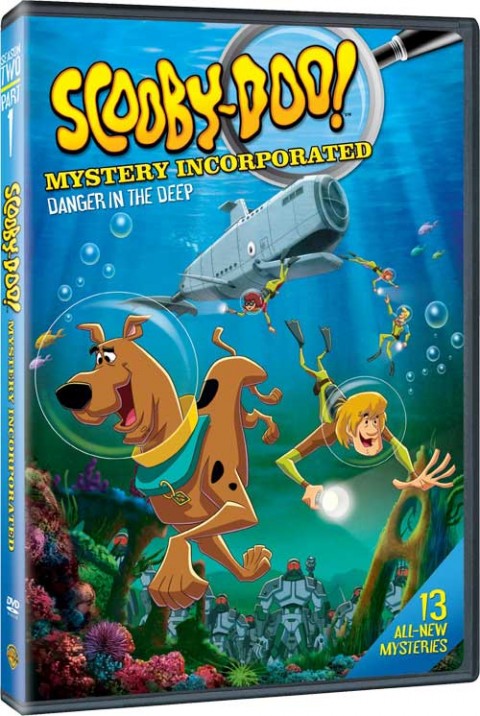 This DVD is the latest of the popular Scooby-Doo! franchise, Scooby-Doo! Mystery Incorporated following the teenage pals of Daphne, Fred, Velma, Shaggy, and Scooby-Doo as they investigate strange happening in their hometown of Crystal Cove. This release features 13 episodes from the second season of the hit animated series, and will retail for $19.97.
In Scooby-Doo! Mystery Incorporated Season 2 Part 1: Danger in the Deep, the gang return to their hometown, Crystal Cove, to solve a series of baffling mysteries. First on the agenda is the elusive Crybaby Clown, who tortures the Cove's inhabitants and evades Scooby-Doo and the gang's every attempt to capture him. Velma travels to Russia and comes face-to face with legendary witch, Baba Yaga. A creature named Dreamweaver begins to haunt people's dreams. Crystal Cove is attacked by a menacing beast known as the Hodag of Horror. It's a season filled with engaging mysteries and dramatic developments that's not to be missed!
Scooby-Doo! Mystery Incorporated Season 2 Part 1: Danger in the Deep presents fans with a fresh and fun version of the classic cartoon we all know and love. The stories are richer and more complex. The characters show greater depth and personality, says Mary Ellen Thomas, Vice President of Family and Animation Marketing. She says if you are a fan of Scooby-Doo!, this is a must have in your series of DVD collections.
Featured Episodes include:
1. The Night the Clown Cried
2. House of the Nightmare Witch
3. The Night the Clown Cried II: Tears of Doom!
4. Web of the Dreamweaver!
5. The Hodag of Horror
6. Art of Darkness
7. The Gathering Gloom
8. The Night of the Haunted Mountain
9. Grim Judgement
10. Night Terrors
11. The Midnight Zone
12. Scarebear
13. Wrath of the Krampus
As with all other Scooby-Doo! Dvds we own, this one did not fail to disappoint. Hayley loves watching Scooby and her all time favorite character is Velma. Funny because that was my favorite character too when I was younger. We greatly enjoyed this DVD and plan to watch it for many years to come!
*I received the above product for review purposes. As always, all my opinions are my own and not swayed by outside sources.