Hayley is obsessed with Phineas and Ferb. She watches the show religiously on television, and even got the chance to go see Phineas and Ferb on tour last weekend. It was magical! That is why Hayley was so excited to receive the Phineas and Ferb Etnies kids shoes. She is a huge shoe lover, just like her mom, so she was so excited to receive her own Phineas and Ferb adorable sneakers.
Etnies has a wide array of men, women, and kids shoes. They recently just introduced the Disney Phineas and Ferb collection which includes the Fader, Ronin, RVM, and Callicut 2.0 Disney Kids line. All these shoes retail for around $55.99 and are made of the cutest designs featuring the fun features of Phineas and Ferb.
*As the number one animated television series among kids six to eleven years old, Disney's Phineas and Ferb has entertained 460 million viewers all over the world. The series, which follows stepbrothers Phineas Flynn and Ferb Fetcher as they invent new adventures each day of their summer vacation, inspired a complete collection of etnies kids shoes for boys and girls that feature beloved characters Phineas, Ferb, Perry the Platypus (a.k.a. Agent P.), Dr. Doofenshmirtz, Candace and Isabella.*
These shoes feature glittery texture in the heels and logos that are flashing in bright pink colors! Hayley loves pink, so this is a huge added bonus for her. It also features Candice on the heel and an imprint of her on the tongue of the shoes. Candice is Phineas and Ferb's sister on the show, so we know her very well here! It also features imprints of Isabella's face on the shoe, who is the boys' friend and Phineas' admirer.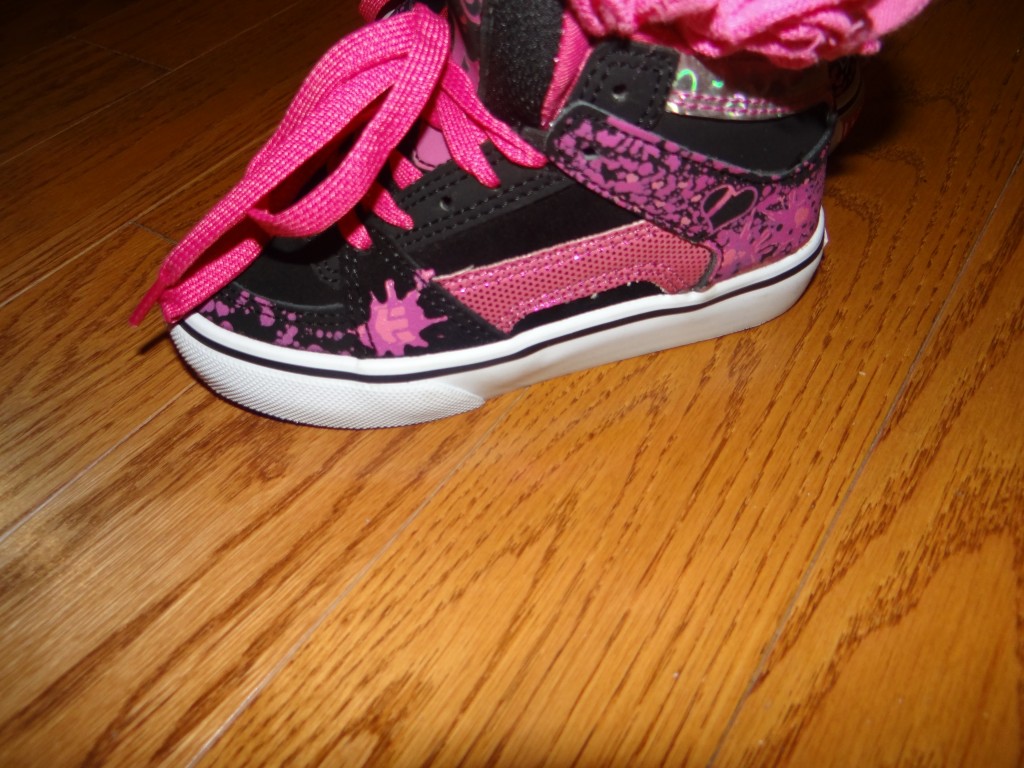 The shoes beautifully capture Phineas and Ferb's feminine fashion. The shoes also come in a special designed box with custom artwork depicting Phineas, Ferb and Perry the Platypus skateboarding.
Some additional features of the Phineas and Ferb Etnies shoes include:
Suede / Synthetic
Trademark etnies "e" logo.
Padded tongue and collar.
Elastic tongue centering straps.
STI Foam Lite level 1 footbed.
Internal EVA midsole.
New 300 NBS rubber outsole.
If you have kids who are huge Phineas and Ferb fans, make sure you check out Etnies shoes for their full Disney Phineas and Ferb collection. These shoes are very well made and extremely comfortable. They also run true to size. I accidentally ordered a size too big, but that is fine with me because this great shoe will last her many years!  Order them now on Etnies and get free shipping today! Sizes go from  1C-10C with selected toddler styles. There is also boy and girl selections for those Phineas and Ferb fans!
*I received 2 pairs of shoes for review purposes. As always, all my opinions are my own and not swayed by outside sources.