Happy Thanksgiving weekend everyone! How was the shopping today? Any good deals? Please remember that even if you shopped today, be sure to support your local economy tomorrow (Saturday-November 24) for Small Business Saturday! Hope you all have a marvelous weekend!
As always, feel free to link up any cute, funny, or top five laugh post. Please feel free to take my button or spread this hop on social media sites. This is not mandatory, of course though! Go ahead and check out the other blogs who link up. They are all so funny and provide me with laughs each and every week!
My top five laughs: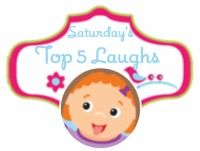 5. When we went to New Jersey on Thursday, Zane cried for 3 hours straight! I was laughing so hard because he was so uncontrollable. Sometimes you have to laugh off things that really make you frustrated!
4. Hayley got a headband set (the kind you make) from her Auntie Shara. As se was opening it up, she replied, "Thanks Auntie but I have 4 of these sets already." She sure does- the girl loves her headbands!
3. I told Hayley she has to be a good girl to get her holiday presents. Yesterday was a day she was just not good. She told me the next morning, "Please don't tell Santa… I promise I will be good today!"
2. At Thanksgiving, my sister brought her adorable 6 pound dog named Coco. Zane followed him around and said his name about a zillion times. He is totally obsessed with dogs- it is so cute!
1. I asked Hayley what she was thankful for this week for Thanksgiving. She responded, " I am thankful for Mommy, Daddy, Zane, and Sophie the First." We now apparently have a new family member! If you don't know, Sophie is the new princess show on Disney that Hayley is obsessed with!
Now your laughs: