If you read my blog (and I obviously hope you do), you know I love to find some of the greatest toys and bring it to you, my readers. In August at #Blogher12, I got introduced to Small World Toys at Sweet Suite and I honestly fell in love with their toys. Not only are their toys fantastic, but they have some of the nicest owners I have ever met. When I got back from Blogher, we spoke more and arranged to do a few reviews-giveaways. My first review-giveaway will be below and my second one will be up for my holiday guide (which is coming November-December.) I am honored to be working with Small World Toys because their toys are unique, fun, and educational!
At Small World Toys, their motto is making dreams come true, and I believe this is definitely the truth! On the  Small World Toys website, you can shop by age or shop by a particular brand. You can even find a local retailer that finds the toys you are looking for. Unlike most places that cost you an arm and a leg to ship, when you place an order at Small World Toys and the purchase is over $25, you will get completely free shipping!
I had the chance to review two toys from Small World Toys: Play At Home Saxophone and IQ Bee Baby Buzz'r.
Play At Home Saxophone: The Play At Home Saxophone was an instant hit with Hayley and Zane. It is a large sized saxophone that let tunes and music play simply by your children pressing the buttons on the saxophone. Some of the features of the Play At Home Saxophone include 18 different songs, cool blinking lights, 4 note buttons, and adjustable volume. It is made of quality plastic in vibrant colors and has 4 buttons that play notes and 4 buttons that play short tunes when pressed.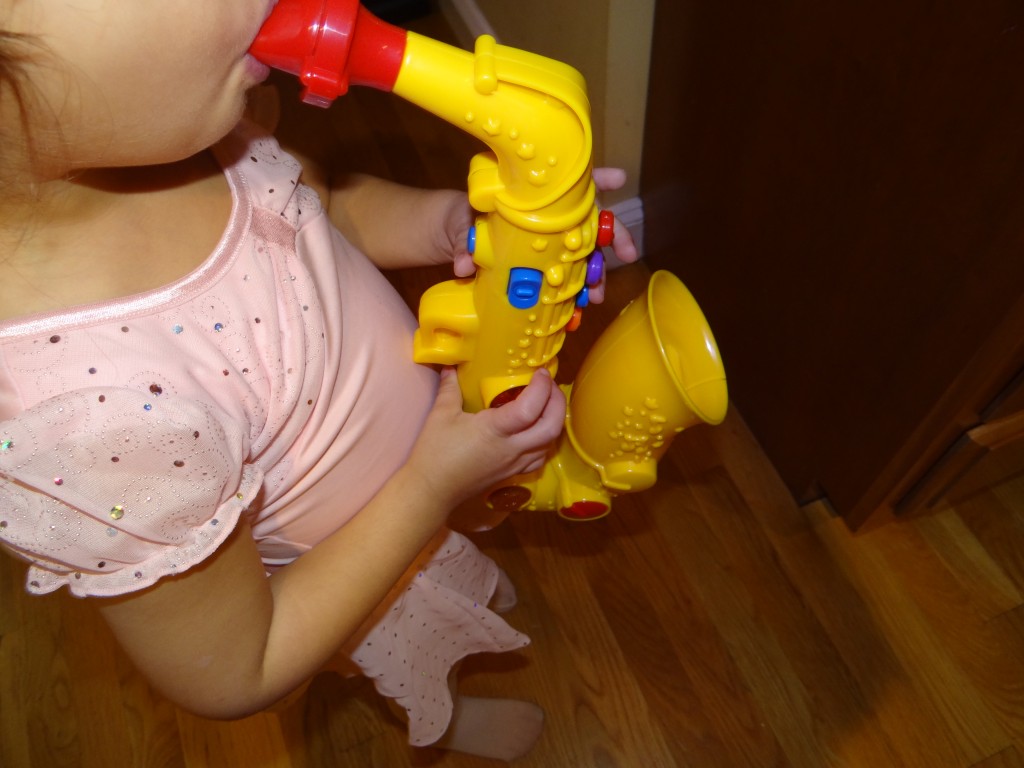 The 4 buttons on the top plays individual notes and the buttons on the side of the saxophone, plays demo melodies. The saxophone also has little feet for standing and a song selection button. Hayley and Zane LOVE this saxophone and walk around the house all day, playing their music. You should see them- they are so proud!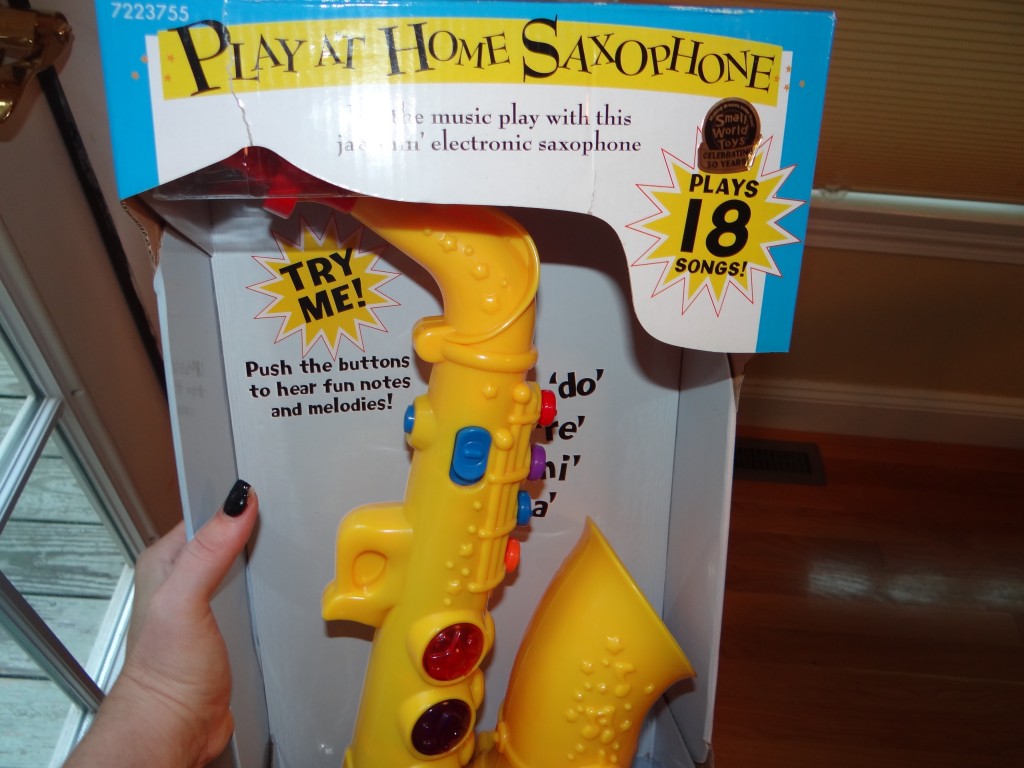 The Play At Home Saxophone helps develop critical thinking skills, enhances hand-eye coordination, and gives children an early introduction to music and melodies. The age for the Play At Home Saxophone is 3+ years (although Zane loves it and he is only 18 months) and is available at Small World Toys for $27.99.
Busy Bee Baby Buzz'r: The Busy Bee Baby Buzz'r is a music vibrating baby soother which has the ability to calm a fussy baby. It blinks, vibrates, and nurtures lullabies with the press of buttons (which is quite easy for a baby to do).
It has 12 different lullabies, lights and vibrations that follow the pace of music, and promotes fine motor and memory skills. It is perfect for keeping the baby busy during diaper changes, dressing, or even helping them sleep. I love it because every time I give it to Zane, he is soothed by it. I take it with me, wherever I go, since it is small and fits perfectly in my pocketbook.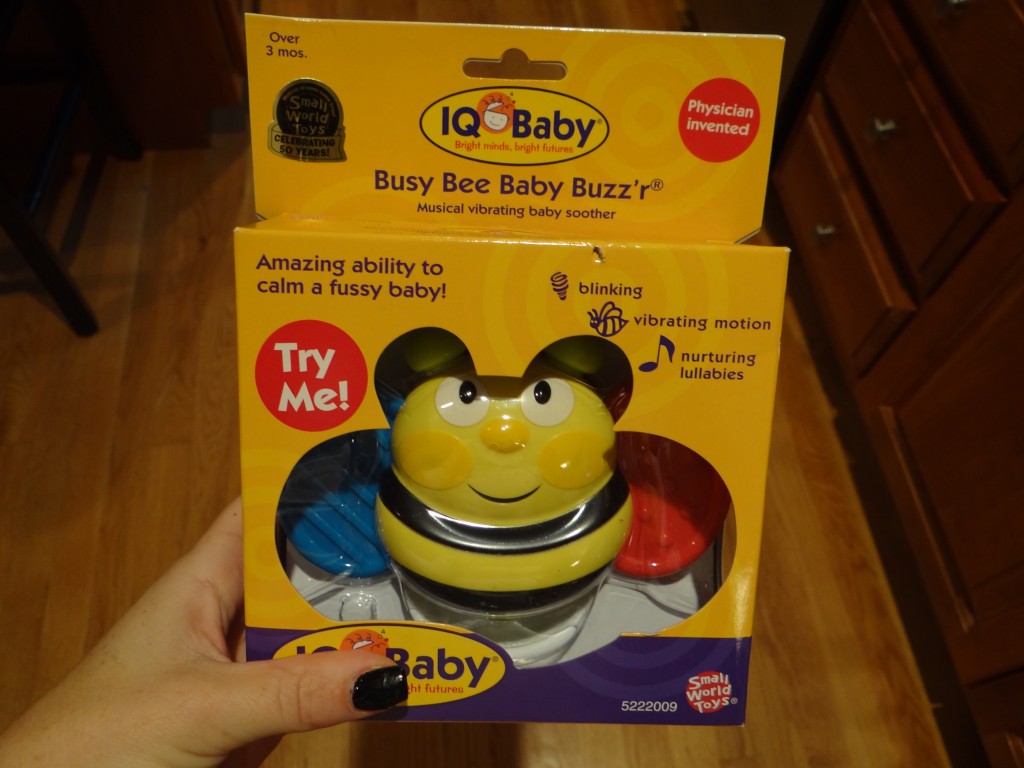 I love the Busy Bee Baby Buzz'r because it supports key developmental milestones and gives Zane a great start in life. It really is a fantastic product in that is soothes Zane, and also makes him laughs simultaneously, when he pushes the button and it starts vibrating. THe IQ Baby Busy Bee Baby Buzz'r is available at Small World Toys for $17.99.
Buy it: When you are looking for some great toy suggestions for all ages, be sure to check out Small World Toys.
Win it: One winner will get their selection of any toy $45 dollars or under. This giveaway is run via rafflecopter so click continue reading to see the actual giveaway. The only mandatory entry is to tell me which toy you would like to receive from the selection here: Small World Toys in the comment section proceeding the post. While the other entries are optional, I highly suggest you fill them out to increase your chances of winning. US only. Good luck!
a Rafflecopter giveaway

*Thanks to Small World Toys for providing me products to review. As always, all my opinions are my own and not swayed by outside source.