Halloween is here and with it comes all the fun times of watching awesome kids DVDs with your kids! I know for my family, there really is no better way to relax than sitting with some awesome fun DVDs that encompass what Halloween is about.
Sid's Spooky Halloween– It's Halloween! Join Sid and his friends as they discover how bats catch mosquitoes, why spiders are expert engineer web builders, and how skeletons make up the foundation of our bodies. The kids dress up to celebrate Halloween at school, and Teacher Suzie leads them in a special Halloween parade song to show off their costumes. With Sid the Science Kid, Halloween can be spooky and scientific!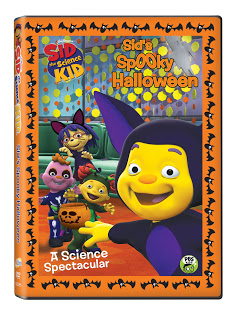 Hayley loves watching Sid the Science Kid and enjoyed seeing him entertain Halloween. Sid is a very vibrant character and I love that he not only entertains the kids, but teaches them at the same time. This DVD is cute, funny, and of course slightly "spooktacular".
Kooky Spooky Halloween– The WordFriends get their share of scares the night before Halloween, when Pig sleep walks and everyone think he's a ghost! Then, Sheep is making a super  fairy costume to wear for the big Halloween party. But what will she do when her WordFriends need pieces of her costume for their own use?
Word World is another show, Hayley greatly enjoys. This is one of the cutest shows and with the new Halloween episode, it made it even cuter- if that is possible! Hayley loves seeing everything made out of letters, as she is so big into learning these days. This DVD is so funny too! Hayley asked if she could invite her friends over to watch it for Halloween.
Tricks and Treat– Hayley absolutely loves The Cat in The Hat. She owns all the series and the books. With the Tricks and Treats DVD, it features the Cat, Nick and Sally, Fish and the Things. You will meet the eeriest critters you have ever seen, arrived just in time for Halloween! There'll be lots of tricks and of course lots of treats, to share with the animal friends you will meet! There's a coconut crab, spider monkeys and bats, and plenty more fun with The Cat in The Hat.
This DVD features adorable Halloween episodes- one specifically for Halloween and the other two to get your little ones ready for Halloween. It is a truly adorable DVD!
All of these DVDs will be sure to be a hit in your household and are available just in time for Halloween. They all retail for $6.99 can be bought at the Ncircle website or retailers your area.
*Thanks to NCircle for supplying me these DVDs for review purposes. As always, all my opinions are my own and not swayed by outside sources.