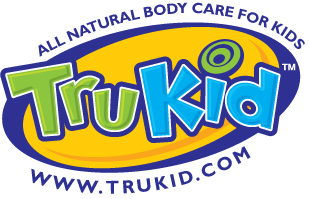 I am so excited to be back to talk about TruKid. If you do not know what TruKid is, it is the complete all- natural skin care line for your kids. I love finding a wonderful  line that caters strictly to my kids. All of their products are uniquely created just for kids of all ages. They started this line because they didn't find many skin care lines  devoted to just children, and they wanted to change this.
All of their products are completely chemical free, which I know is a big selling point for us moms and dads out there. Their products are actually good for your kids and can be used daily. Their product line features lighter textures so kids can apply it easily and the smell that the products, is truly wonderful!  Teaching kids healthy skin care habits is truly important and no better way to start than by using TruKid.
We use the TruKid Bubbly Body Wash with Hayley and Zane every night when they have a bath. The Bubbly Bath Wash gives off a uplifting aroma of a mild coconut derived cleanser. Let your kids bubble their way through the end of the day with the TruKid Bubbly Body Wash.  When using it, it makes their skin feel smooth/soft and gets rid of all the dirt from their long school days. I am happy that they came up with this to offer a gentle, safe, and sudsy fun environment for my kids!
The TruKid Bubble Bath is priced at $8.99 on the TruKid site.  You can also buy a value pack of 3 for $24.00.
They also sell a TruKid Cool Conditioner with chamomile extract to offer an anti-inflammatory, regenerating effect to your kids hair, as well as adding shine. It is also lightly scented with Tru Kid citrus oil blend and follows up perfectly to the TruKid Silly Shampoo, which we also use daily. I can assure you that by using the TruKid Silly Shampoo, followed by the TruKid Cool Conditioner, your kids hair will look and feel wonderful! You can purchase both of these products at TruKid.
I would be remiss if I did not tell you about my favorite TruKid product which is the TruKid Dancing Detangler.  Hayley has really thick hair and her hair gets tangled constantly. When I use the TruKid Detangler after the bath, there is  no more fuss from Hayley. It has a special nonsticky formula that takes the pain out of combing and brushing our kids hair! I didn't have this detangler one week (I ran out) and  Hayley was in tears when I tried to brush her hair. This TruKid Detangler is a true godsend!
Check out all the TruKid products on their website: TruKid and learn more about their selection of products and their mission in helping children get great skin for life!
*I received products to review. As always, all my opinions are my own and not swayed by outside sources.