I was so honored that the wonderful people behind the SITS girls and Graco asked me to host a local Rhode Island event at Babies R' Us this past Saturday unveiling the new Graco SnugRide Click Connect 40. I am a huge Graco fan, so not only was I excited to host the event, but I could not wait to try out the new Graco SnugRide Click Connect 40- the only infant- age 2 car seat on the market!
We had 2 times that we did our event this past Saturday- 1 pm and 230 pm. I was excited because not only was one of my best friends but also my fellow Rhode Island blogger, Jodi from BlushMamas, was hired to assist the event with me. At our first event, we had everything set up and ready to go. Graco sent us goody bags with adorable photo albums and other related swag for the people who attended the events. We also supplied cookies and water to our guests.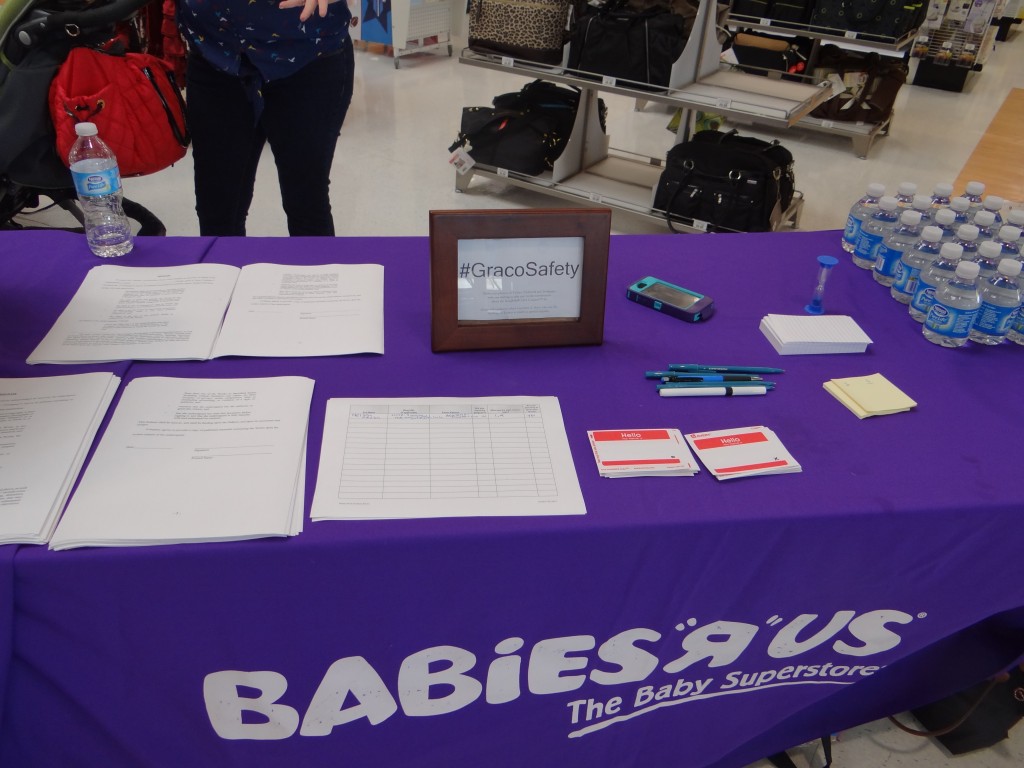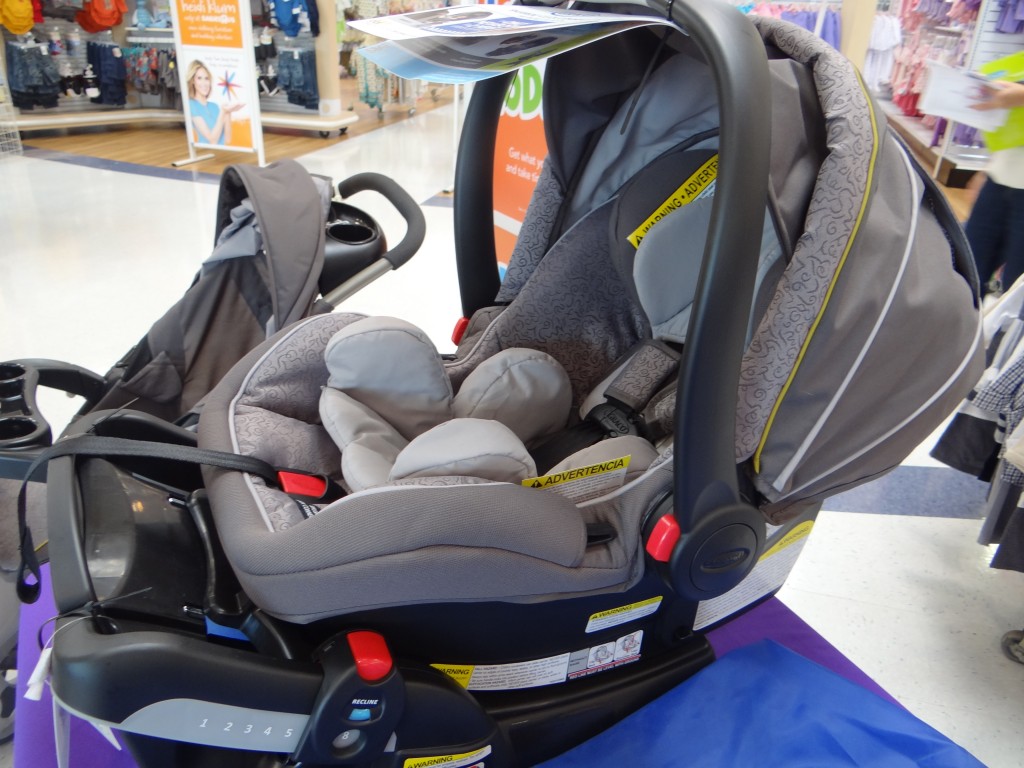 At our first presentation, we had a lot of our Rhode Blogging friends come and support us, as well as, learning about the Graco SnugRide Click Connect. We are very grateful for their support and all of them had wonderful questions for us, that we were readily able to answer about the Graco new car seat. We also had a handful of shoppers who also attended the first presentation. I gave an introduction, along with Jodi, talked a lot about the Graco SnugRide Click Connect, played a fun trivia game, and then had everyone fill out their raffles. Graco generously offered one person at each presentation a brand new Graco SnugRide just by simply filling out the raffle. The winners were so grateful!
At our second presentation, we had mostly local Rhode Island shoppers who were interested in learning about the Graco SnugRide Click Connect 40. We had a huge turnout with over 45 people attending. We were supposed to have the event for about an hour, but so many new moms were there and asking so many great questions about the Graco SnugRide that we stayed for awhile after chatting with the people.  It was truly a fantastic event and I have to personally thank the SITS girls and Graco for making this happen! They were so organized and everything went off without a hitch thanks to them!
Now, I must tell you all about the Graco SnugRide Click Connect 40! It is the first and only infant car seat to provide rear-facing protection for babies from birth to 2 years of age. This car seat enables parents to adhere to the American Academy of Pediatrics recommendation by keeping their children in rear-facing car seats until at least age of 2 for maximum safety while on the road.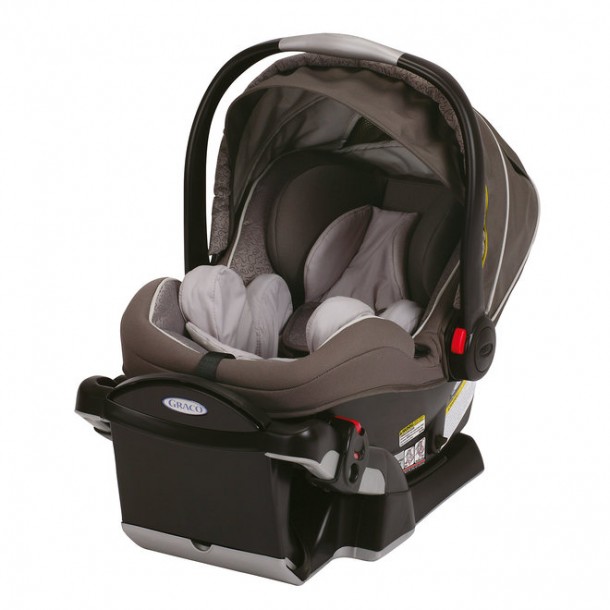 The Graco SnugRide Click Connect 40 allows parents to use the same car seat from birth to age 2. I am not even pregnant yet but I am already 100 percent certain that if I am blessed with another baby, I will definitely be buying the Graco SnugRide Click Connect 40! I love the fact that I can use the same infant seat and then continue using the car seat rear-facing. I also love theta the Graco SnugRide Click Connect 40 has eight reclining positions so it allows your child to be comfortable for extended rear-facing. This is a huge feature because I know currently Zane does not have the leg room that he probably should have. However, as a parent, I think it is of utmost importance to keep him rear-facing. If I had the Graco SnugRide Click Connect 40, I would not have any problem with the leg room.
The SnugRide Click Connect 40 also has the Simply Safe Adjust harness system. This system allows parents to adjust the harness and headrest to best fit their child as he or she grows, with just one hand and without having to rethread the harness. When I got to test out this feature on Saturday, I was just amazed! It was so easy to do with no effort made by me at all! This feature seemed really important to the fellow event goers, as well. They also loved the feature of the Click Connect attachment which allows parents to easily transition their babies from the car seat to the stroller through a simple, but secure, one-step "click.  Graco has truly made it so easy for us moms and dads out there while also making a product that is truly one of the safest on the market.
These above features allow the SnugRide Click Connect 40 to grow with the babies from 4 to 40 pounds, giving parents peace-of-mond that they can keep their children safe while rear-facing through the age of 2 and offering the portability and convenience of an infant car seat that allows parents to move their little ones in and out of the car without disturbing them.
I highly recommend taking the Graco SnugRide Click Connect 40. It retails for $219.99 and is only available online or in stores at Babies R' Us.
Win it: One winner will receive a $25 Babies R' Us gift card. This giveaway is run via rafflecopter so click continue reading to see the actual giveaway. The only mandatory entry is to tell me what is your favorite feature of the SnugRide Click Connect in the comment section proceeding this post. While the other entries are optional, I highly suggest you fill them out to increase your chances of winning. Good luck! US only.
**The Graco SnugRide® Click Connect™ 40 – the first and only newborn to two-year infant car seat that actually grows with your baby from four pounds all the way up to 40 pounds. The car seat is designed for a parent on the go. The infant car seat can be easily removed from the base and used as a carrier when the infant is small, providing portability and convenience so you can easily move your infant in and out of the car without disturbing them.
The American Academy of Pediatrics recently made the recommendation to keep all children in rear-facing car seats until the age of 2. Graco set out to make this product so parents can keep infants rear facing longer while still keeping them comfortable.
This is a sponsored post written by me on behalf of Graco. The opinions and text are all mine.