Last night, we headed over to our local drug store to get all the necessities for Halloween- candy, goody bags, costumes, and Kleenex. I remember last year, it was below freezing temperatures and both kids had colds. I remember telling my husband that thankfully I put Kleenex in my diaper bag, because they went through at least a package of them in the two hours that we were Trick-Or-Treating. Even with colds, I could not prevent my kids from the joys of Trick-Or-Treating, so I am very thankful for Kleenex for a making the softest tissue to use when anyone in my family has a runny nose. Kleenex does not cause any irritations to any of our noses and helps us feel better in no time at all.
Now that our Kleenex are packed away for Halloween night and are costumes are all bought, it is time to start getting in the Halloween mood. We started out the festivities by decorating the house inside and out with all our holiday themed decorations. We all participate in decorating the house and it was truly a fun time! Next up, is trying to get my kids in the holiday spirit by doing small, thoughtful gestures. I do this by everyday putting in their lunch bags a small piece of candy with a special note from me, telling them how much I love them. The teachers tell me that they get so excited to receive their special treat and it brings the biggest smiles on their faces.
Along with the values that Kleenex represents including sharing, I try to encourage my kids to share their treats and to remind them of the old slogan, "Sharing is Caring." One way we do this, is by sitting down and making little gift bags for all the kids in their classes. Hayley is very involved in this project and we plan to make them this weekend.  We did it last year too and it was such a hit with her preschool class. This year she will add her own special touch, by actually writing out her cards. By doing this, she realizes the importance of being nice to one another and learning to share her candy.
I am also teaching them the value of sharing through the Kleenex Softness Worth Sharing Initiative. I encourage you all to participate by visiting a local retailer, purchasing a Kleenex brand bundle, and redeeming the code found on the box. Once you have done this, you then visit Kleenex.com and follow the instructions to send a Kleenex Care package to someone who can use it this fall season.
We actually took advantage of the Kleenex Softness Worth Sharing Initiative just this week! My husband was home from work with a wicked bad cold. He is an amazing father who is there to help out, even when he can't  keep his eyes open from being sick. I thought it would be great to get the kids involved and give him, the Kleenex care package. Before I gave him the package, I had Hayley make him a get well sign so we can give it with our Kleenex bundle.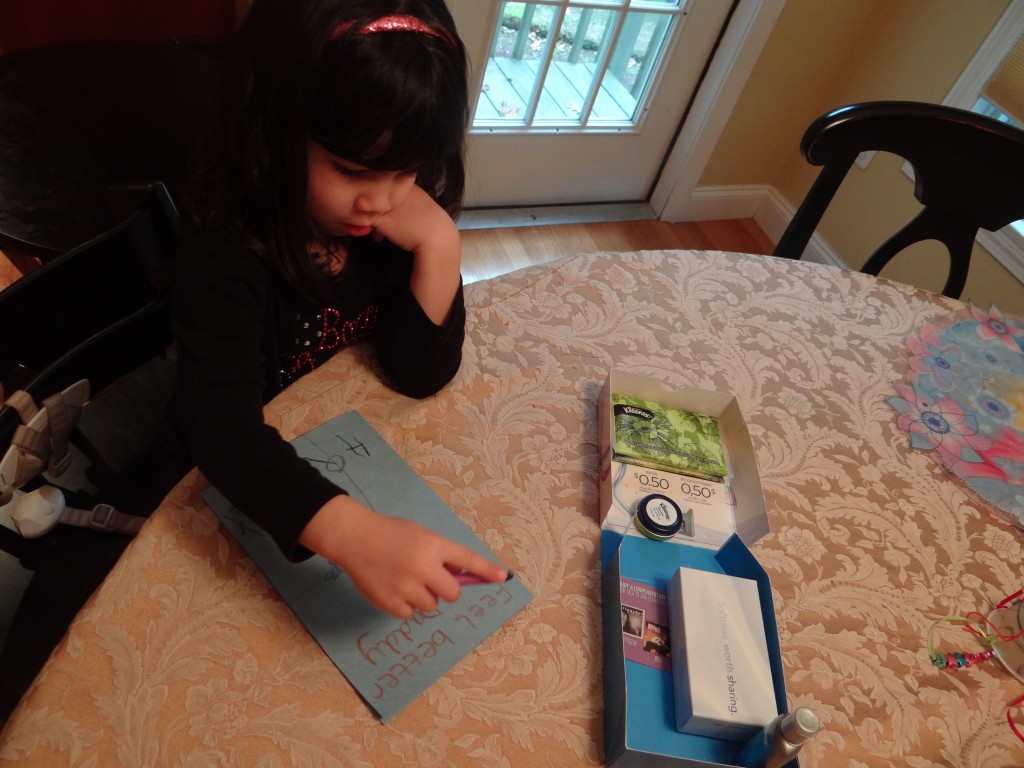 We then went upstairs and gave Hayley's and Zane's daddy his Kleenex bundle. He was so appreciative and thanked Hayley and I over and over for helping him feel better! Another example of how I teach my children the value of helping others out!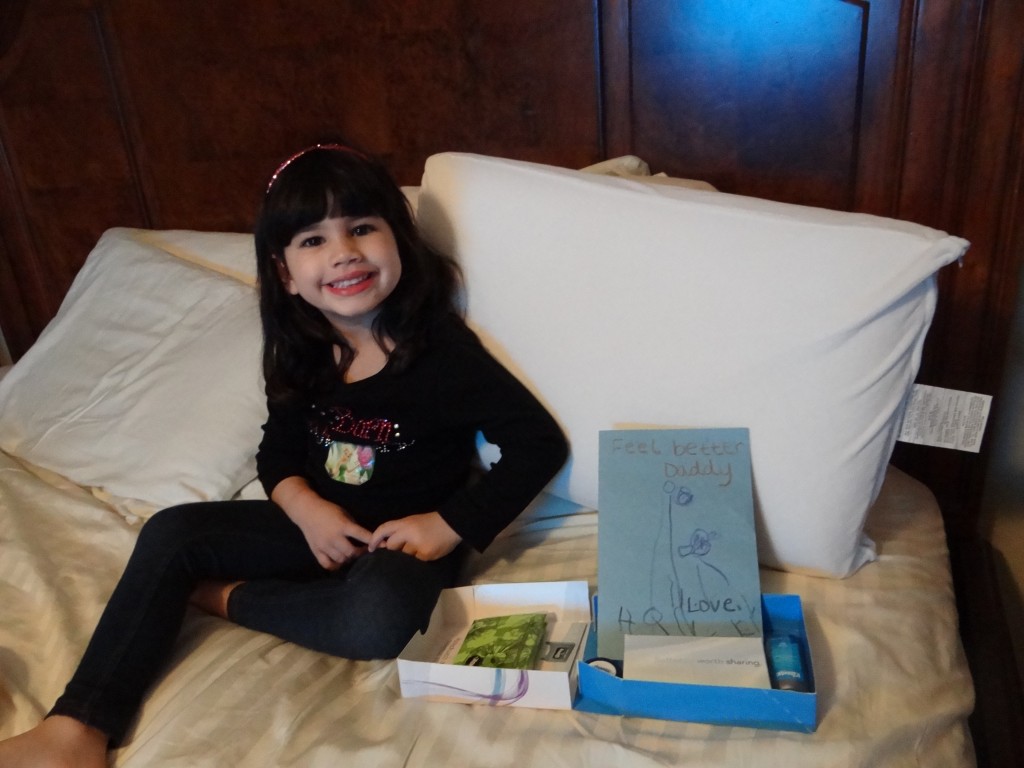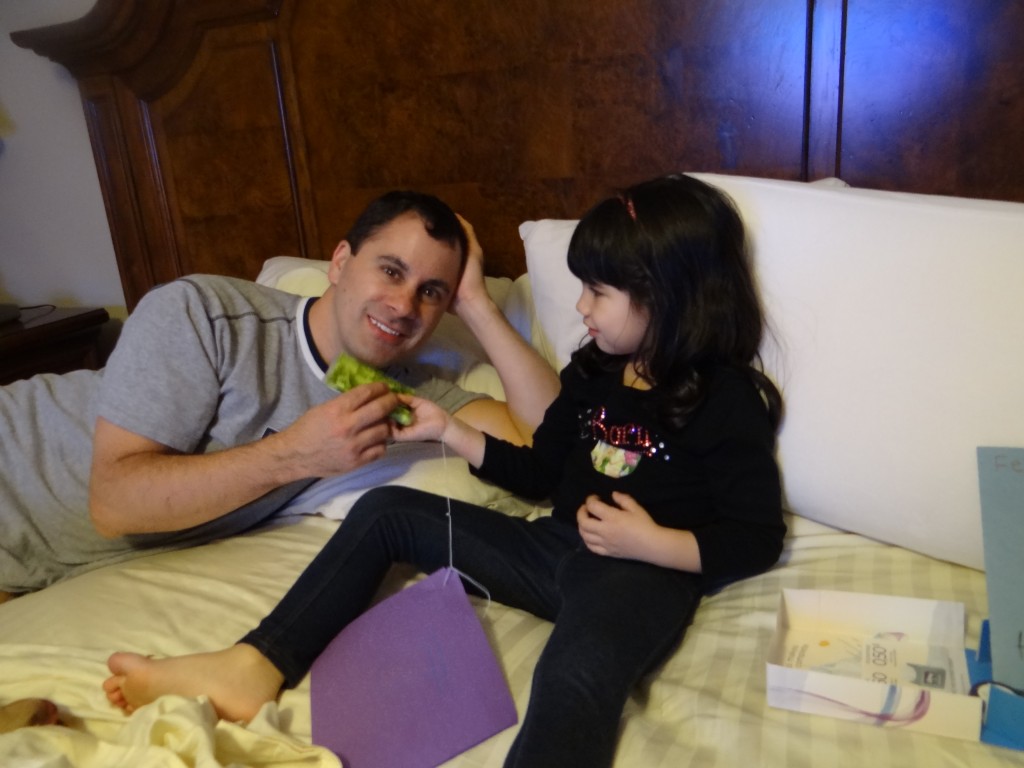 I encourage you again to give someone in need a Kleenex Care bundle package. Also remember this Halloween, to be sure to keep some Kleenex in your pocket to prepare for the runny noses and weather sniffles that can be seen this time of year. Visit Kleenex on Facebook to learn more!
*I wrote this review while participating in an ambassador program by Mom Central Consulting on behalf of the Kleenexbrand and received product samples and a promotional item to thank me for taking the time to participate.