Barbie- what can I say! I was a HUGE barbie fan as a girl, and now Hayley, who will be 4 in a few weeks, inherited my LOVE of Barbies. Her love of Barbies started when she was around 2 and by 3, she owned the huge Barbie dollhouse along with about 10 dolls. It is her passion in life to emulate Barbie and be a princess, I think. When I found out I was asked to host a party for the new Release of the Barbie Princess and Popstar DVD, I was very excited. I knew how much fun it would be to round up all of Hayley's friends and just have a grand ole' Barbie fun!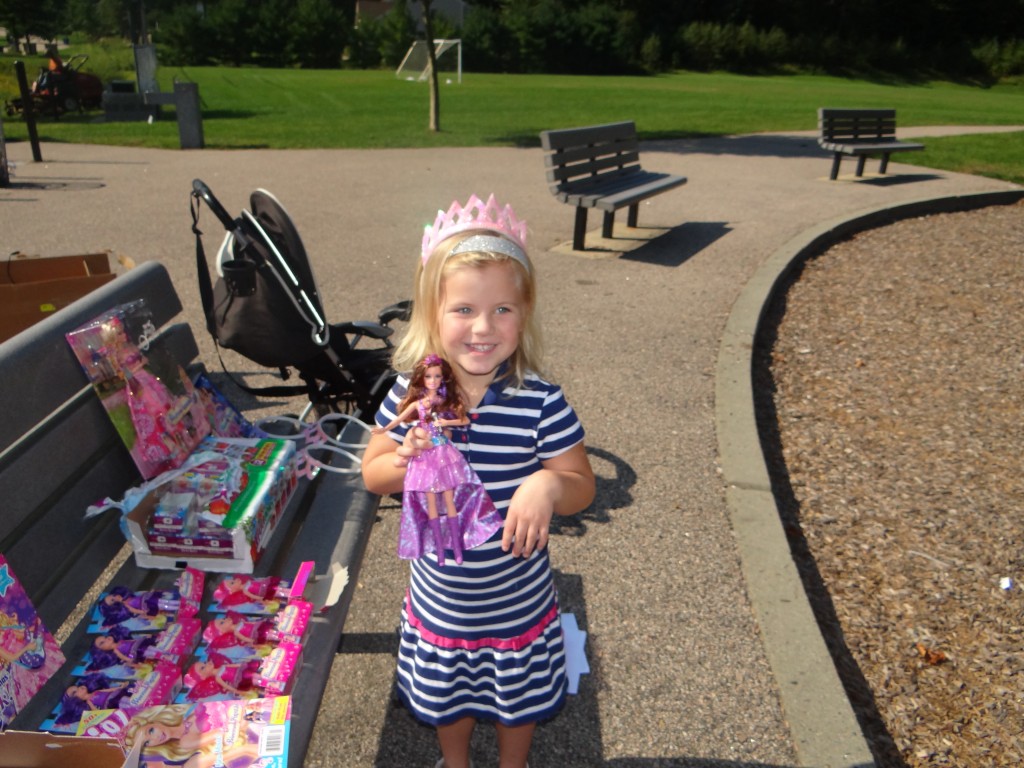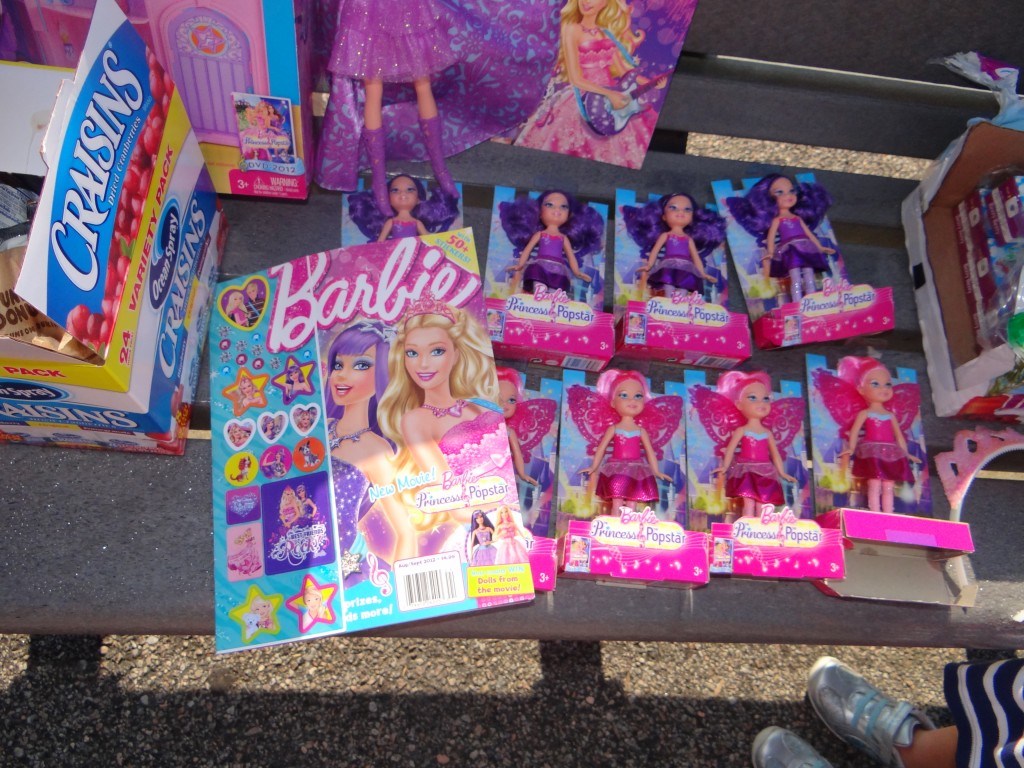 First off, I knew that all of her friends love rocking out like popstars so naturally they would love the Barbie DVD- "The Princess and Popstar." We did a screening for this inside after our outside festivities and the girls all loved in. In "The Princess and The Popstar" the kids could have some fun and magical moments while dancing and singing along to some of the Barbie classics! While the DVD was so much fun to watch, we as parents loved it even more because there were important lessons about friendship and appreciation. In the movie, Barbie plays princess Tori who dreams of leaving her royal life for the life of her favorite popstar Keira. At the same time, Keira is tired of performing and her superstar lifestyle, and has dreams of becoming a real life princess. The two find each other and magically trade places. In the end, the girls learn the power of friendship and how to appreciate what they have! The kids absolutely loved this DVD and it was so neat to see classic tunes written in Barbie style be sung with amazing animation!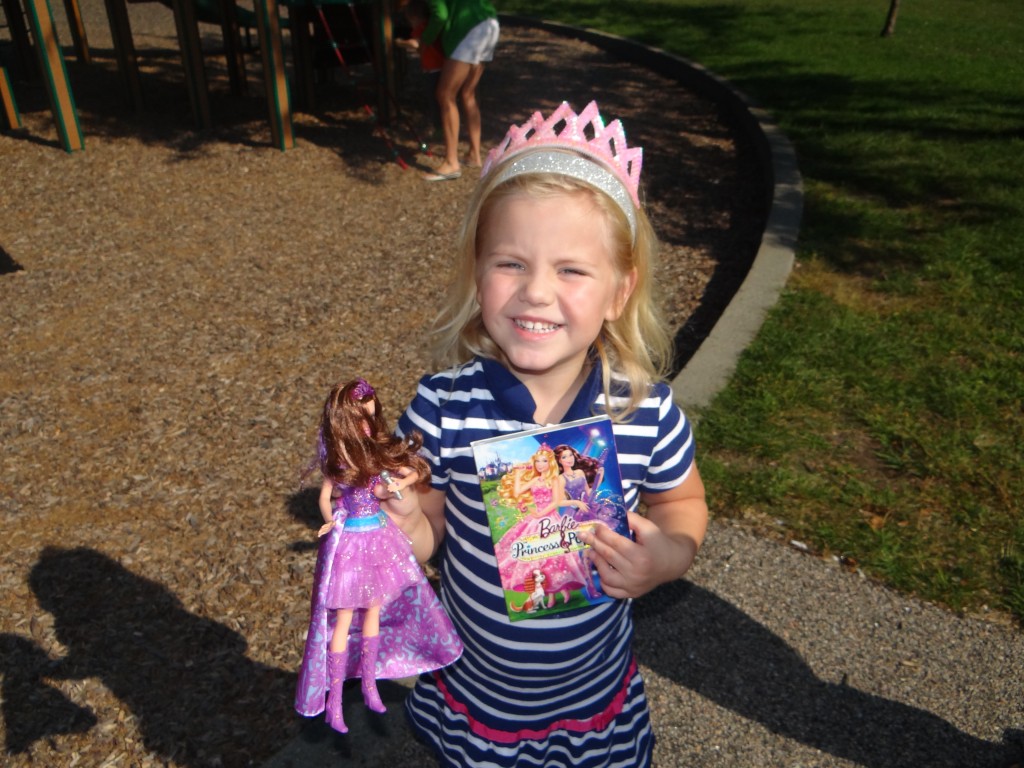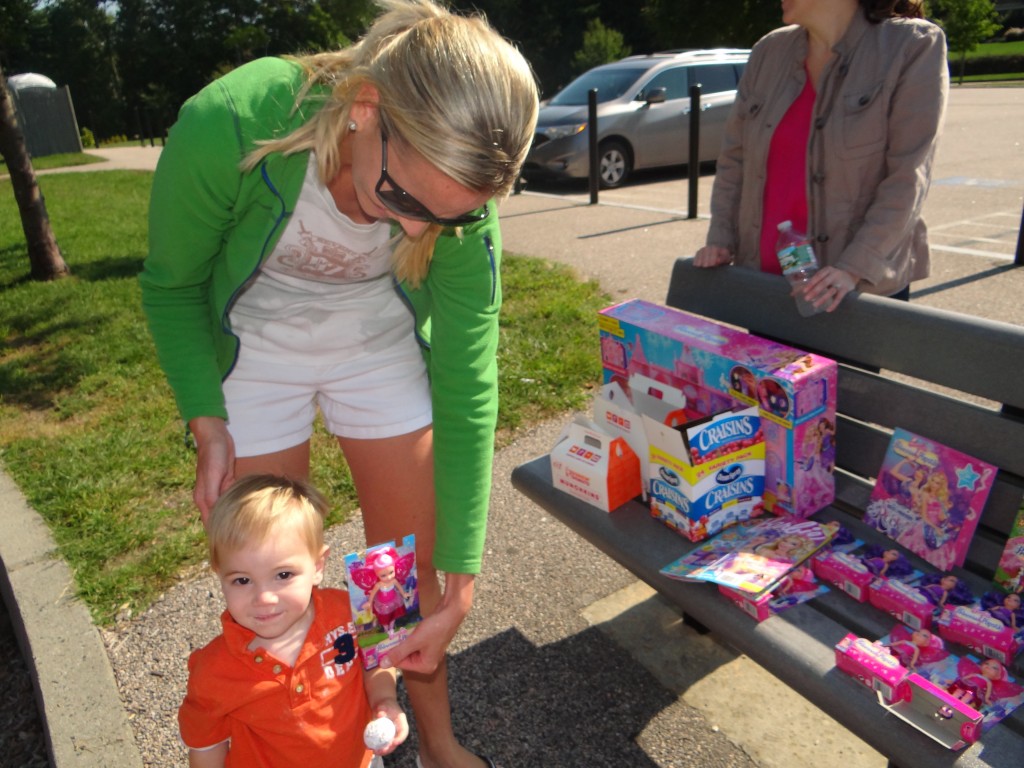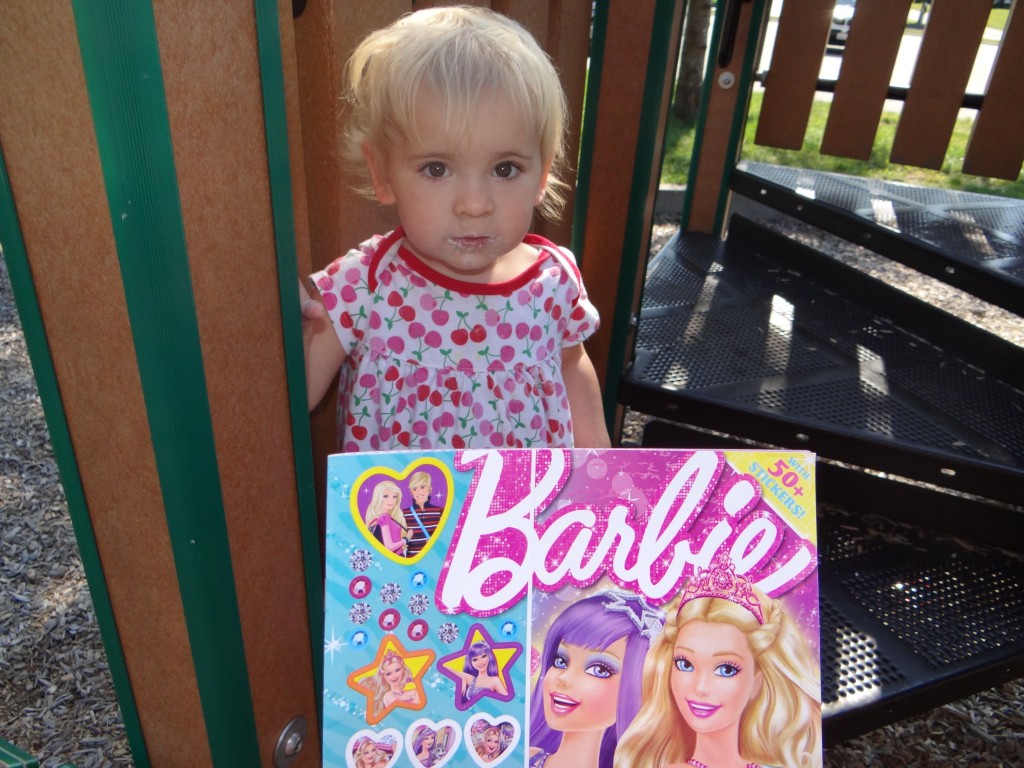 Let me  tell you about the Tori and Keira line since I know these will be the hot dolls for the holiday season: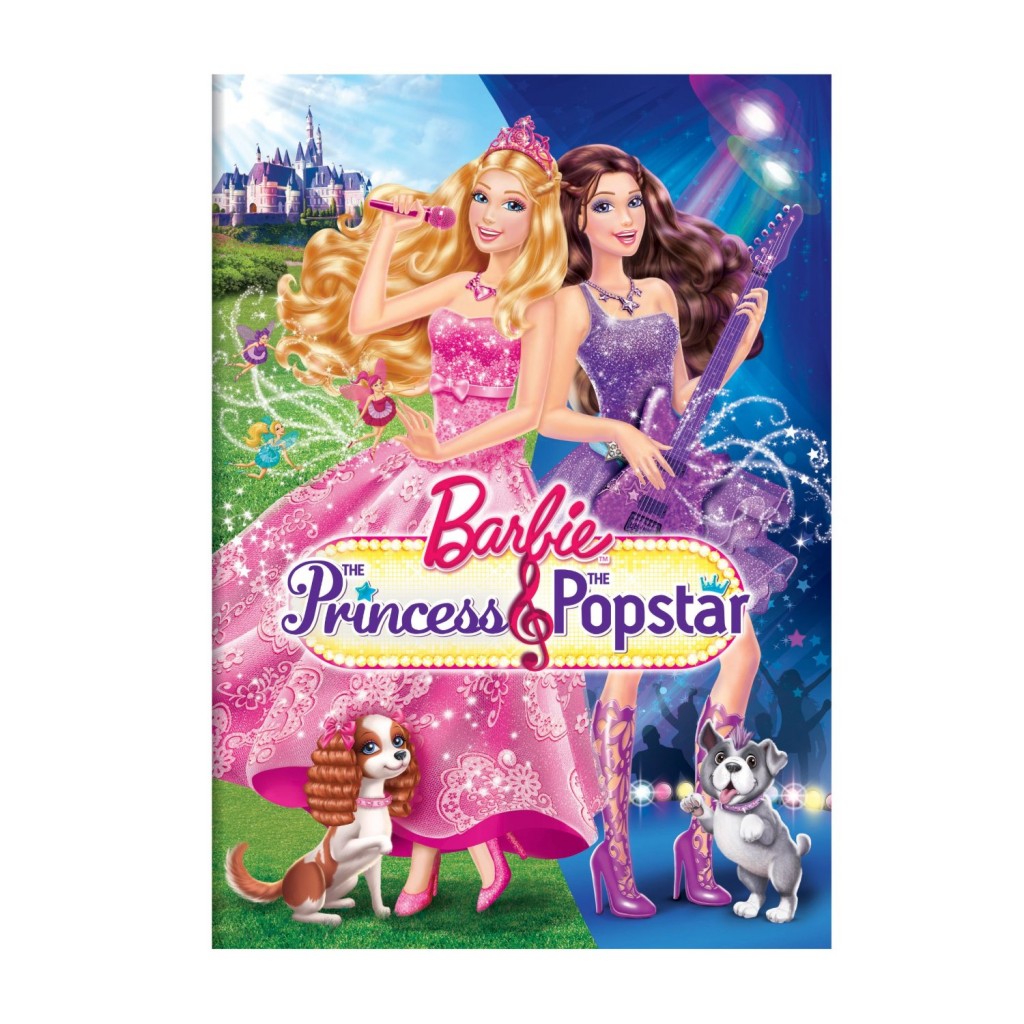 Tori doll – In the new Barbie DVD, "Barbie™ The Princess and The Popstar", Barbie takes center stage starring as Tori, a royal princess who dreams of becoming a popstar. Just like in the film, Tori doll trades in her blonde locks and ball gown for rockin' pink hair and a fun performance-worthy outfit. In addition to a cool look that transforms from dress to 'do, this doll also sings! With a simple touch to her necklace, Tori doll will 'sing' two songs from the DVD.
Keira doll – In the all-new movie "Barbie™ The Princess and The Popstar", Tori dreams of singing and dancing like her favorite popstar Keira, while Keira dreams of becoming a princess like Tori. Just like in the film, the Keira doll transforms from popstar to princess. Keira doll trades in her purple hair and performance outfit for sophisticated princess worthy brunette locks and a fancy ball gown. In addition to a cool look that transforms from dress to 'do, this doll also sings! With a simple touch to her necklace, Keira doll will 'sing' two songs from the DVD.
So now onto our party! We invited around 8 children and had it at our local park. It was a nice summer day so I thought it would be great to provide the girls some tiaras and have them have fun with the new Princess and Popstar line. I got all the kids snacks so they could have fun playing with Barbies and then taking some time to eat.
The kids had a blast playing with Keira and Tori dolls!  We had fun trivia games and coloring games for the kids. We had a Barbie coloring contest and the winner got to have bragging rights and ultimately got to keep the Keira doll. You truly should have seen the excitement on their faces. They spent hours playing with "The Princess and The Popstar" line and later while the movie was showing, they pretended they were Keira and Tori and went all around the house. They especially loved singing the "Here I Am" song and the moms helped them out by reading off the lyrics so the little ones could repeat. Unfortunately the day we had the party, my daughter was sick so she had to stay home with my husband. She did miss out on the fun but she got to play with the Keira and Tori dolls later that night.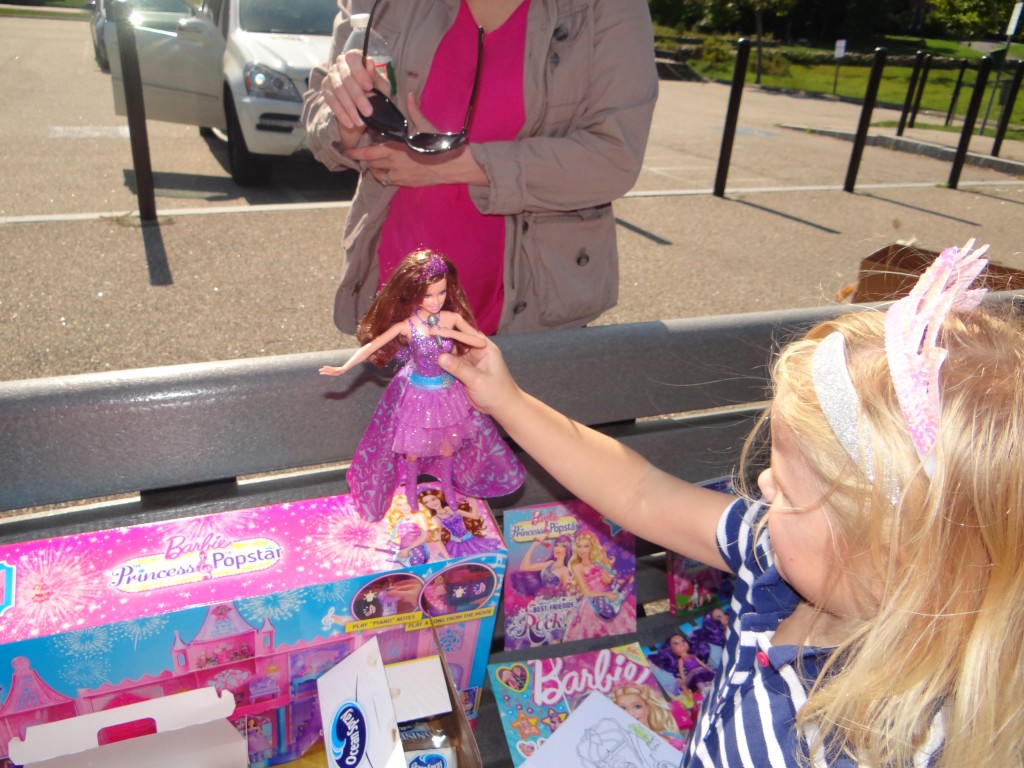 We had the best time having our Barbie Princess Popstar Party! I truly recommend you check out the new "The Princess and Popstar" DVD which just arrived at your local stores on September 11. You can check out all of the Barbie Princess Popstar new toys on their site: Barbie!
Giveaway: One lucky winner is going to receive both the Barbie Tori and Keira doll (ARV: $52). To enter this giveaway, the only mandatory entry is  simply leave me a comment letting me know  what is your child's favorite Barbie product from here: Barbie  (+1 entry). For an additional (+2 entry)- please follow @BarbieStyle.  For an additional (+4 entries)- tweet out the following: I entered to win a @BarbieStyle Barbie Tori and Keira doll @dentistmel #PopstarPrincess http://tinyurl.com/crud7qz      . Please leave tweets in comment section as well. This can be done daily.  US only. Giveaway ends 10-15 at midnight and winner is chosen via random.org and had 48 hours to reply.
*This is a sponsored post from One2One Network. Mattel product and additional incentives were provided to me.  All opinions stated are my own