I have talked about how wonderful GradSave is on my site! Truly if you have children, this is  great way to save for the exuberant costs of college that our kids will face in the upcoming years. It is easy to register for GradSave and a wonderful way for friends/family to contribute to your college savings plan.
GradSave now has a wonderful $10,000 sweepstakes!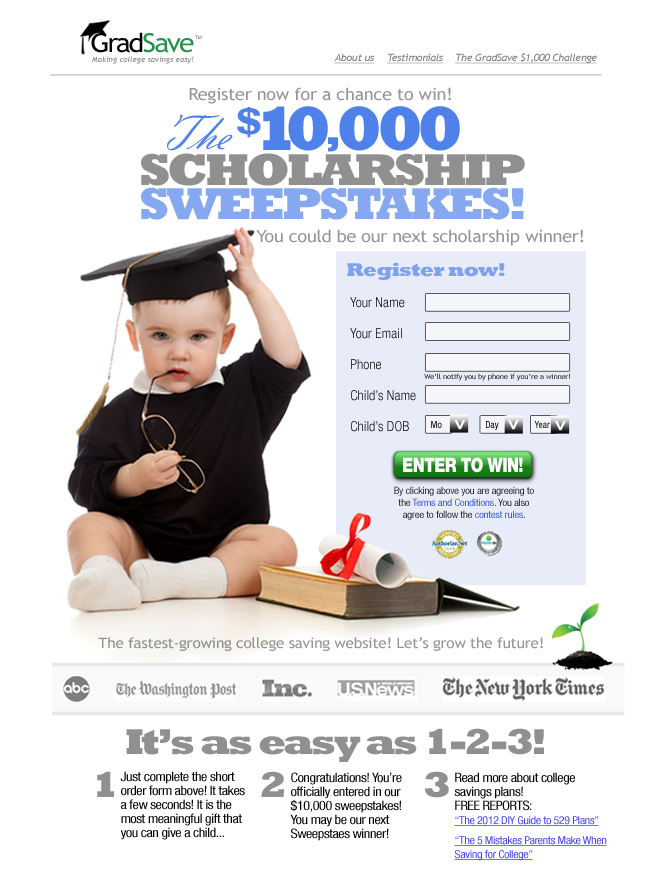 Prize. GradSave will award one (1) Grand Prize Scholarship that will be
payable, at the option of the winner, either as (i) a deposit of $1,000 per
 year for the next 10 years into a child's college savings fund ($10,000),
 or (ii) an up front payout of $4,000, which represents the present value of
 an investment in a college savings fund for a 1 year old with withdrawals
starting at age 17 and a 6% compounded annual rate of return on such
 investment (This just shows you how a college savings fund grows…);
 provided that, if the winner is a resident of the State of Florida or the
 State of New York, such winner must select the upfront payment of $4,000. In
 the case of a single payout option (i.e., option (ii) above), Actual future
 value of scholarship may vary based on the return rates of your particular
 college savings fund and/or the age of child.
Eligibility.* If you are an individual legal resident of the United States
 (except for the State of Rhode Island) or the District of Columbia and are
 18 years of age or older at the time of entry, you are eligible to enter
 the Sweepstakes. GradSave employees, their immediate family members (spouses,
 domestic partners, parents, grandparents, siblings, children and
 grandchildren), and our affiliates, advisors or advertising/promotion
agencies (and their immediate family members) are not eligible to enter the
Sweepstakes.
 Check out  the wonderful GradSave $10,000 Sweepstakes for more information on these free promotions.