Udi's mission is to provide delicious gluten free foods to make people eat well and smile more often! Their mission is to show one new ways to approach a gluten free way of living. When a lot of people think of gluten free foods, they think of bland and tasteless foods. I know that is what I usually think of! However, Udi's creates a whole spectrum of foods that taste wonderful, great for you, and will provide you the nutrition your body needs.
While we do not have gluten free allergies in the immediate family, we have a good friend who always comes over, who has to eat gluten-free. We are so thankful that Udi's sent us items so she can enjoy the same foods we eat, when she comes over. Even when our friend is not over, we still eat Udi's all the time. The reason being is it is DELICIOUS!
We recently tried some of the new products including the granola, muffins, pizza crust, and cookies. We have tried the bagels before which are a huge hit and we still eat them consistently. With the new baked goods, we get a real special treat!  Every morning, we all have some of the Udi's muffins. These muffins are available in a 4 pack of jumbo double chocolate and blueberry muffins. They also have cinnamon rolls for your delight. If muffin tops are more your style, they make these as well! The muffins are moist, delicious, and healthy! While we like all of them, Hayley and Zane's favorite is the double chocolate muffins. It is sinfully delicious and decadent with real chocolate chips. It is as if we baked muffins fresh in our oven and took it out to eat.
Udi's makes gluten free vanilla, original, and cranberry granola. These make wonderful breakfast or snack foods. They are all crunchy and provide the necessary ingredients to give you a healthy snack, or meal. They also a great "diet" option as they provide 140 calories, 6 grams of fat for 1/4 cup. I take these granola snacks with me all the time!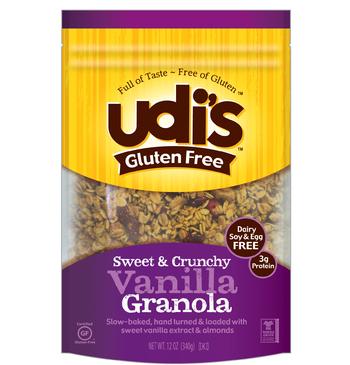 If you have a gluten allergy, or even if you don't, Udi's pizza crusts are a wonderful solution when you are looking to make a pizza dinner. The crusts are available in a two pack of 9 inch crusts and lightly dusted with rice flour. Simply add your favorite topping and you are on your way to bake to perfection pizza!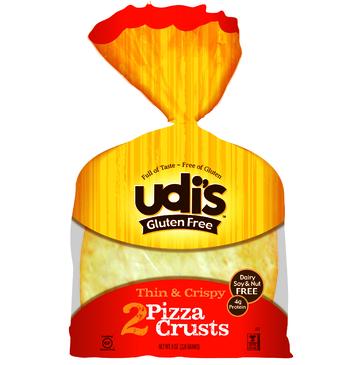 Be sure to check out Udi's on their site for all the wonderful gluten free food products that are out there from bagels, breads, cookies, granola, pizza, and new products that being made as I write this. You will be happy you checked out Udi's- yummy!
*I received Udi's products to facilitate my review. As always, all my opinions are my own and not swayed by outside sources.