Hi everyone- Happy weekend! This week has been tough as Zane and Hayley both have been sick with high fevers. I think we are on the mend so I look forward to reading your laughs, to cheer me up!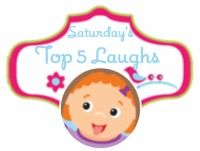 As always, please link up any funny/cute/top five 5 laugh post. Feel free to check out the other blogs who link up as they will crack you up! Also feel free to share this blog hop on social media sites.
Now onto my laughs:
Zane was on a vomiting spree this week. Hayley turns to Zane and says, "Zane that is disgusting!"
Zane was so sick that all he wanted to do was sleep on me. I asked him to give me kisses when he was laying down on me and he turned his little sick head and kissed my cheek.  It was so precious! He can sleep on me any day!
Hayley absolutely loved Disney on Ice! Loved is an understatement! She knew every single princess including Merrida who was the new princess from Brave. What can I say- she loves princesses!
Zane is on a word explosion. It is so funny how he says certain words. He goes che-che-os for cheerios. For mommy, he says momm.eeee. His pronunciations for words crack me up.
The other night, Hayley screams, "Mommy, Zane is on the kitchen table." I ran downstairs and my little hoodine managed to get out of his high chair and was sitting perfectly still on my table. I am in trouble.
Now your laughs: