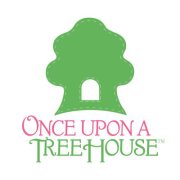 Hayley will be 4 in a few shorts weeks and if you ask her what her favorite toy is, she would easily say dolls. She LOVES dolls! Nothing brings her greater joy in her life than to be able to play with dolls. Recently, I became introduced to a company called Once Upon A Treehouse where I was amazed at the selection and diversity of their doll selections.
At Once Upon A Treehouse, their mission is to create beautiful handmade toys and eco-friendly, high end custom dollhouse products to appeal to kids and parents alike. The line was started by sisters, Lori Schoeneman and Tara Schoeneman-Brown who as children loved receiving wooden dollhouses handcrafted by their grandfather. As they got older, they wanted to replicate giving children the same quality wooden dollhouses and dolls that they received. They succeeded and in 2011 and  Once Upon A Treehouse was founded.
Once Upon A Treehouse is rapidly developing a fan base with top quality toys carefully handcrafted using sustainable materials such as wood, cotton and wool. They are committed to eco-friendly, fair-trade business practices, using only the finest materials. All their pieces provide a wholesome, contemporary take on the time-honored tradition of dolls, dollhouses, and dress-up accessories. Dolls are sold individually so children can select characters that reflect their own personality in their families. Dollhouse details are customizable to accommodate children's personal preferences and favorite colors.
When you go to Once Upon A Treehouse, you can purchase many different types of wooden dollhouses and individual dolls. The designs of the treehouses are simple and appealing, and the layout is made for kids and parents alike. They are beautiful!
Hayley received Buttercup the Ballerina last month and she has not put her down. She takes her to sleep with her at night. Since Hayley loves ballet and takes ballet every week, she tries to get Buttercup to do the moves she learned. It really is cute!
What I also love about their site, is there is an interactive space where children, parents, grandparents, and other caregivers can come together for stories and interactive ideas to stimulate children's imaginations. The site offers concepts, recipes and videos as well as printable accessories and storybooks that children can enjoy as they engage in imaginative play with their dolls.
Once Upon A Treehouse also is committed to the concept of giving back to the community. Through the company's Fairy DollMother Program, Once Upon A Treehouse pledges to give a handsome doll to a child in need for each doll sold at their site. How awesome is that!
If you are looking for fantastic wooden dollhouses and dolls this holiday season, be sure to check out Once Upon A Treehouse. You can also connect with them on their Once Upon A Treehouse Facebook and Twitter page.
*I received the above sample for review purposes. As always, all my opinions are my own and not swayed by outside sources.