I was so excited when I had the opportunity to review the Just Jen Custom Rhinestone Fashions! These shirts are customizable T-shirts that are dazzled in Swarovski crystals- yes I said Swarovski! They make these T-shirts in women's as well as children shirts, and can be personally created based on what your needs are. For example, if you are getting married, she can make dazzling bachelorette shirts or even bridal shirts for the special day. For the holidays such as Christmas, Halloween,etc- she can do a themed shirt all in rhinestones! Truly the list goes on and on, what she could create. Simply, Just Jen is amazing!
When I went on the Just Jen website, I saw so many different varieties of shirts I could get including women T-shirts, Women Hoodies, Cowgirl T-shirts, Peace Shirts, Girl Shirts, Big Sister shirts, Animal T-shirts, Princess shirts, and the ever famous birthday shirts! You can find your perfect rhinestone shirt or make your own custom design shirt online at Just Jen. These shirts are made with love and will arrive with the most perfect fabric in just 1 business day of you ordering.
We received the Just Jen Back to School Shirt for Hayley as seen here (Zane would not let me take a picture without him in it that day)
The shirt was for her first day of preschool and was the hit of the classroom! Seriously, when she wore it all of the moms asked me where I got it from. The shirt was perfect for her first day of school and she will continue to wear it throughout the school year. We got it in long sleeves so it could last throughout the winter.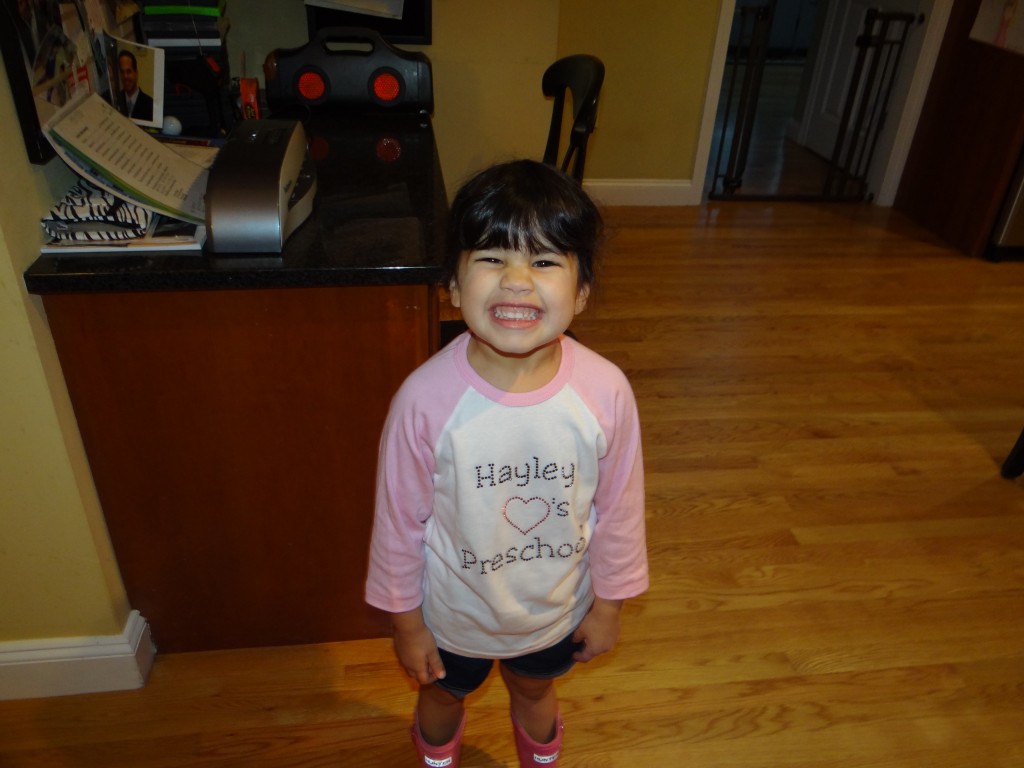 I definitely plan to order many more shirts from Jest Jen. Just check out some of her awesome creations below. If you are looking for that special personalized rhinestone shirt, look no further than Just Jen. If you are looking for something that is not listed on her webpage, ask and I am sure she could do it! Happy shopping!

*I received the above product for review purposes. As always, all my opinions are my own and not swayed by outside sources.