Even before having kids, I was a huge Disney lover. I grew up with all the Disney classics and get all excited now that I have children, I can spread the love to them. Hayley already at 4 years old, loves Disney! Every night, she picks out a new Disney DVD to watch. It is really cute how much she loves the Disney movies. Lucky for me, I have the opportunity to tell my readers about 4 new limited release DVDs that have come out of the vault and can be bought for all your children. The 4 newly released Disney DVDs are: Disney Chimpanzee, Disney The Aristocats,  Disney The Rescuers 2 Movie Collection, and Disney Pocahontas and Pocahontas II
1. Disney Chimpanzee: From Disneynature, the studio that brought you Earth, Oceans and African Cats, comes Chimpanzee- a remarkable story of individual triumph and family bonds. Journey deep into the African rain forest and meet Oscar, an adorable young chimp with an entertaining approach to life. The world is a playground for little Oscar and his fellow young chimps who love creating mayhem. Full of curiosity, a zest for discovery, joy and a love of mimicking others, they are some of the most extraordinary personalities in the animal kingdom. Stunning high definition images bring you up close and personal as Oscar and his family navigate the complex territory of the forest. It's an inspiring and life-changing adventure that overflows with courage and charm. And it will capture your heart.
This movie melted my heart! It was remarkable to see Oscar in action and how he triumphs. Both kids really enjoyed the DVD as well!
2. Disney The Aristocats: Everybody wants to be a cat! Disney's unforgettable classic The Aristocats swings like never before in high definition. Share all the heart, humor and irresistible music with your family in this jazzy Special Edition 2-Disc Combo Pack!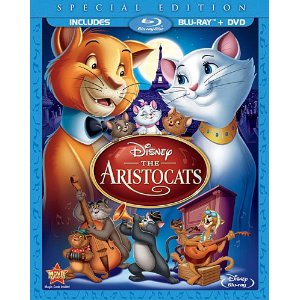 In the heart of Paris, a kind and eccentric millionaires wills her entire estate to Duchess, her high-society cat, and her three kittens. When her greedy, bumbling butler attempts the ultimate catnap vapor, the rough-and-tumble alley cat Thomas O' Malley and his band of swigging' jazz cats must save the day. It's the purr-fect blend of comedy and adventure.
This timeless treasure boasts remarkable picture and sound quality, fun-filled bonus features and memorable songs the whole family will enjoy. It's the cat's pajamas in Disney High Definion!
Hayley and Zane loved watching The Aristocats! It was the first time they watched it and they watched the whole DVD in complete silence.
3. Disney The Rescuers 2 Movie Collection:  To commemorate the 35th anniversary of an original classic, Disney proudly presents a special 2-movie collection featuring all-time favorites, The Rescuers and The Rescuers Down Under, for the first time ever on Blu-Ray!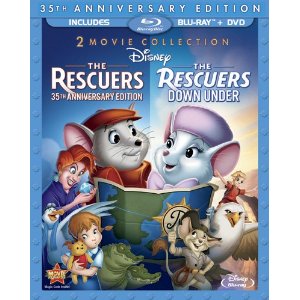 Join two of the world's bravest mice-Bernard and Bianca-as they set out on two thrilling rescue missions full of comic adventure while souring through the Devil's Bayou and flying sky high in the Australian outback. Buckle up for the ride of your life as these tiny heroes with great big hearts outrun and outwit their rivals to save the day.
Brimming with lovable characters and unforgettable must, this 2-movie collection is high-flying for the entire family! Share the laughs and excitement for the first time on Disney Blu-Ray!
This movie loved seeing The Rescuers in this mega DVD. She laughed…she sang…she danced!
4. Disney Pocahontas and Pocahontas II: Disney heroine Pocahontas sparkles in this captivating classic. available for the first time in breathtaking Blu-ray High Definition! The rich animation and Acadymy Award winning music (1995 Best Original Musical or Comedy Score and Best Original Song, "Colors of Wind") burst forth while all the "Colors of the Wind" in this amazing 2-movie collection of Pocahontas and Pocahontas II: Journey To A New World- the 3-disc combo also features a DVD of each film!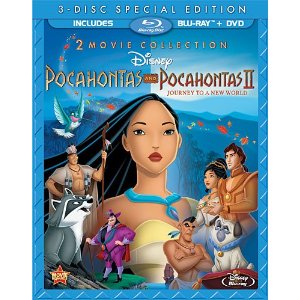 Fun and excitement are "Just Around The Riverbend" as Pocahontas and her friends Filt  and Meeko find adventure at home and abroad in these sweeping stories from the earliest days of American history. This Pocohontas 2-Movie Collection delivers action-packed stores of adventure, friendship and courage that your family will cherish forever.
I remember seeing Pocahontas as a little girl and am so glad Hayley can now experience the joy of this renowned DVD!
GIVEAWAY: 2 winners will receive each of the Disney DVDs above! That is over $100 in DVDs per person! This giveaway is very simple to enter. Simple leave me a comment telling me which DVD you are most excited to win (+1 entry). For an additional (+2 entries) follow me via email- this will be verified. Lastly for an additional (+3 entries)- tweet about this giveaway (huge Disney DVD bundle pack-2 winners) with adding @dentistmel to your tweet. This can be done daily but please leave all tweets below in the messages. Giveaway end 10/18/2012  at 11:59 pm. US only. Good luck!
*Thanks to Disney for providing me these DVDs for review. As always, all my opinions are my own and not swayed by outside sources.