Since the FTC estimates that over 8 million identity thefts occur each year, I am thrilled to have been chosen to become an ambassador for LifeLock. As a mom who is digitally active, identity theft and digital security are paramount to me. LifeLock helps to protect your identity through all of the key facets of your life, and this is the type of protection that we need now more than ever.
I am also excited to announce that on this past September 11th, LifeLock launched the LifeLock for Life Sweepstakes on Facebook (https://www.facebook.com/LifeLock/app_260986044011824). Players are asked a series of 10 multiple choice questions each week related to helping protect your identity for a chance to win weekly and monthly prizes.
Each month, questions will concentrate on specific life events, such as purchasing a new home, donating online, and protecting yourself while shopping online. Prizes will include Visa gift cards, LifeLock memberships, and family vacations. For example the first question topic for September included key questions relating to going back to school.
If you "Like" LifeLock on Facebook, visit the LifeLock for Life tab, and start playing, you can learn more about how these life events affect the security of your identity. Each correct answer will equal an entry into the contest. This sweepstakes will continue throughout 2013 for multiple chances to win. This is an exciting opportunity to win prizes while you learn how to better protect you and your family.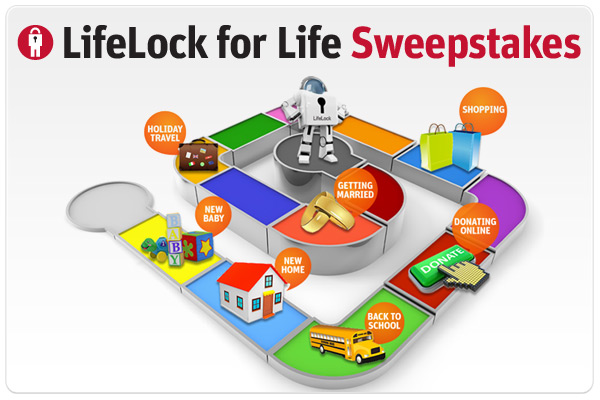 Identity theft comes in many forms, and can have serious detrimental consequences in many facets of your life. With new technologies being introduced at such a rapid rate, and being quickly integrated into our lifestyles, there is a need to keep up with appropriate security measures as well. LifeLock presents the opportunity to put that protection in place before problems have the chance to arise. I know as a mother and as a professional I am able to sleep better at night knowing LifeLock uses Intuitive threat detection, advanced internet surveillance and a proactive alert system to keep us safe. I also like knowing that there is 24/7 live personal service available at all times. Thanks LifeLock Identity Theft Protection for watching out for us! If you play the sweepstakes you may just win your own membership! Good luck!
*This is a sponsored post on behalf of LifeLock. As always, all my opinions are my own and not swayed by outside sources.