I can't believe it is the weekend again- it always comes so quick and then leaves as quick as it comes! Don't you think! Anyway, I hope you all have a fantastic weekend.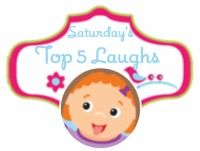 As usual, please link up any funny, cute, or top five blog posts. I do realize that my button is not working on some blogs, but I am working to get that fixed. Please feel free to share this hop on social media sites, as well as checking out all the funny blogs that link up! I truly enjoy reading all your posts.
5. Zane would not sleep  on Wednesday night. When I put him down to bed, he cried hysterically! I could not figure out what was wrong but I could not let him suffer. I knew something was wrong. Turns out he had a double ear infection- poor baby. I think it is very cute though that he slept on me most of the night. The little snoring and drool on my pajamas- I honestly loved it. Now, I am tired but it was worth it!
4. When we took Zane to the doctor, he had to get a shot of antibiotics. He throws up medicines, so anytime he needs liquid, he gets a shot. After getting his shot, he was obviously hysterical. After he was done though, I gave him his first lollipop. The kid LOVED it! He kept signing more and more. I may or may have not given him 3 lollipops-shhh… don't tell!
3. Hayley had a playdate with her 2 good friends this week. They were going around putting on their nightgowns and then proceeded to tell us that they were going to sleep and having a sleepover. Hayls- until you start sleeping through the night- there will be no sleepover!
2. We got a gumball machine a few months ago. Don't worry- I put in sugar free gumballs. Anyway, Hayley now gets one sugar free gumball for desert. She does not really understand the concept of gumballs so she takes a piece and spits it out, takes another tiny piece and spits it out. It is so funny!
1. Hayley loves playing the memory game and she is really good. We were playing last night and I by accident picked up three cards and two of my cards ended up being a match. She said, "Mommy you cheated- you are out of the game." Then it was Hayley's turn and she picked up two cards. She told me that she needed to go again because she messed up. I told her it was cheating and she says, "I never cheat.. You are mistaken." LOL!
Now your turn: