At the stroke of midnight, October 2nd, dreams will come true as Disney releases  CINDERELLA: DIAMOND EDITION on Blu-ray Combo Pack, Digital and On-Demand viewing. The timeless and beloved masterpiece is an enchanting classic that comes alive for the very first time on Blu-ray high definition with enhanced picture and sound. Bonus material includes  "The Real Fairy Godmother" the incredible true story of Mary Alice O'Conner who was the inspiration for the character of the Fairy Godmother, "Bibbidi-Bobbidi-You" a second screen personalized digital storybook and more!
About Cinderella: 
Everyone orders Cinderella around: her cruel stepmother, her awful stepsisters — even the big clock in the church tower tells her when to start another day of drudgery. But they can't stop her from dreaming, and Cinderella has faith that someday her wishes will come true. When an invitation to the royal ball arrives, Cinderella is sure her time has come — until her stepsisters, with the encouragement of Lady Tremaine, tear her gown to shreds. Just when Cinderella believes all is lost, her Fairy Godmother appears, and with a wave of her wand and "Bibbidi-Bobbidi-Boo," transforms an ordinary pumpkin into a magnificent coach and Cinderella's rags into a gorgeous gown, then sends her off to the Royal Ball. But Cinderella's enchanted evening must end when the spell is broken at midnight. It will take the help of her daring animal mice friends and a perfect fit into a glass slipper to create the ultimate fairy tale ending.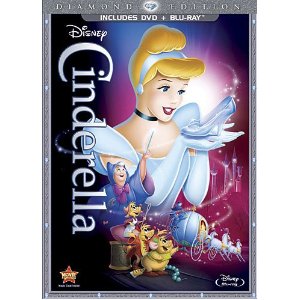 Disney releases the classics every few years, so when one Disney DVD gets released from the vault, make sure to get it. They usually release the classics from the vault for a limited time and the new one that is being released on October 2, is DISNEY CINDERELLA- The Diamond Edition!!!
When we received a copy to review, I think Hayley did cartwheels. She is a huge Cinderella fan- after all, her birthday which is actually October 2 as well, will be all Cinderella themed. We automatically needed to watch Cinderella over and over, and Hayley had nothing but rave reviews.
Rediscover the timeless story, the memorable music and unforgettable characters- now more enchanting than ever with pristine digital picture and dazzling high definition sound.
Cinderella has faith her dreams will come true. With help from her loyal mice friends and a wave of her Fairy Godmother's wand, Cinderella's rags are magically transformed into a glorious gown and off she goes to the Royal Ball. But when the clock strikes midnight, the spell is broken, leaving a single glass slipper…the only key to the ultimate fairy-tale ending!
The 2 DVD set includes- Disc 1: The Tangled Ever After Animated Short,  Never Before Seen Animated Short, Personalized Digital Storybook: Bibbidi-Bobbidi-YOu, Behind the Magic: A NEw Disney Princess Fantasyland, and The Real Fairy Godmother.
Disc 2 includes Tangles Ever After Animated Short, Behind The Magic: A New Disney Princess Fantasyland.
The "Cinderella: Diamond Edition," with its spellbinding storyline, memorable music, unforgettable characters and spectacular animation, sparkles like never before with a wide-array of bonus features that extend the viewing experience for the whole family to enjoy including never-before-seen material, family-friendly interactive activities, games and more.
Hayley was mesmerized by this Disney Cinderella. I swear she did not move for the whole 75 minutes of the DVD. I actually really enjoyed it too!  I truly can't believe how unbelievable the animation was in this DVD. It was so much fun to watch and it will be the hit of the winter in our household! Be sure to check it out when it hits all major retail stores this Tuesday!!!  You can also preorder now on Amazon too!
Cinderella: Diamond Edition" will be offered for purchase in several distinct packages – a collector's 6- Disc Jewelry Box Set (Cinderella Blu-ray + Cinderella 2: Dreams Come True Blu-ray/Cinderella 3: A Twist in Time on a single Blu-ray + Cinderella DVD + Cinderella 2 DVD + Cinderella 3 DVD + Cinderella Digital Copy Disc), a 3-Disc Blu-ray Combo Pack (Blu-ray + DVD + Digital Copy), a 2-Disc Blu-ray Combo Pack (Blu-ray + DVD), and High-Definition Disney Digital.
In the meantime enjoy these wonderful activities to do with your children in preparation of the DVD launch of Cinderella: The Diamond Additon Blu-Ray +DVD!

*Thanks to Disney for providing me the DVD for review purposes. All opinions are my own and not swayed by outside sources.