Well, it has not been the greatest week here. You can read my #1 laugh- ironic that I put it in a laugh- but I am thankful that I am heeling and can laugh about it.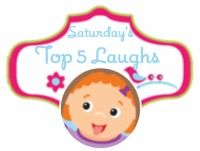 As always, please feel free to link up any cute/funny/top five laugh. If you would like, grab my button and help me spread the word on social media sites, although this is not mandatory.
Now for my top five laughs:
5. Zane first word was juice. When we were away in Hawaii, the babysitter started him on some juice and now he is addicted. He will throw the milk at me, throw the water at me- he will only take juice. I dilute it so much that is basically water with a tablespoon of  juice but he sure loves it.
4. Hayley is fully potty trained at night. One very early morning this week- think 3 am- Hayley screams from her bed, "Mommy, my pee-pees are coming out-Hurry!" Needless to say, I woke up very quickly.
3. My husband got a very prestigious award this week- I will post more about that later on this month. When we told Hayley, her response was, " Daddy- Congratulations". It was so cute!
2. Zane is now saying the word "more". He will first sign it and when I am not giving in, he keeps saying, "More…More…More…" After hearing it so many times, I need to give in. Love that boy!
1. On Wednesday, I was going to get the mail. All of a sudden, I got bit by something. Luckily my girlfriend Kristen from Mamaluvsbooks was there and tried to calm me down. I lost complete sensation from my hand to the top of my shoulder. When she went to look, there was a very big (and perhaps black) spider. I instantly thought I was going to die because I got bit by a black widow spider. I called 9-1-1 and they came. They collected the spider and were about to transport me to the hospital. During this time, I was also having a full blown panic attack. When the ENT went to check the mailbox, he saw a wasp's nest hidden. He came back and told me there was no need to go back to the hospital and it was not a spider- it was a wasp bite. I was mortified that I called 9-1-1 for a wasp bite. Good thing I did though, because today I ended up back up at the doctor, and put on a strong antibiotic because my hand is three times the size. How is that for a story!
Now your laughs: