I absolutely love the Boon brand. I have worked with them before on the Boon toy bag, and today, I am back talking about the Boon Swig Sippy Cup and Boon Caterpillar Snack Container. Both of these products are a MUST if you have children!
Boon Swig Sippy Cup: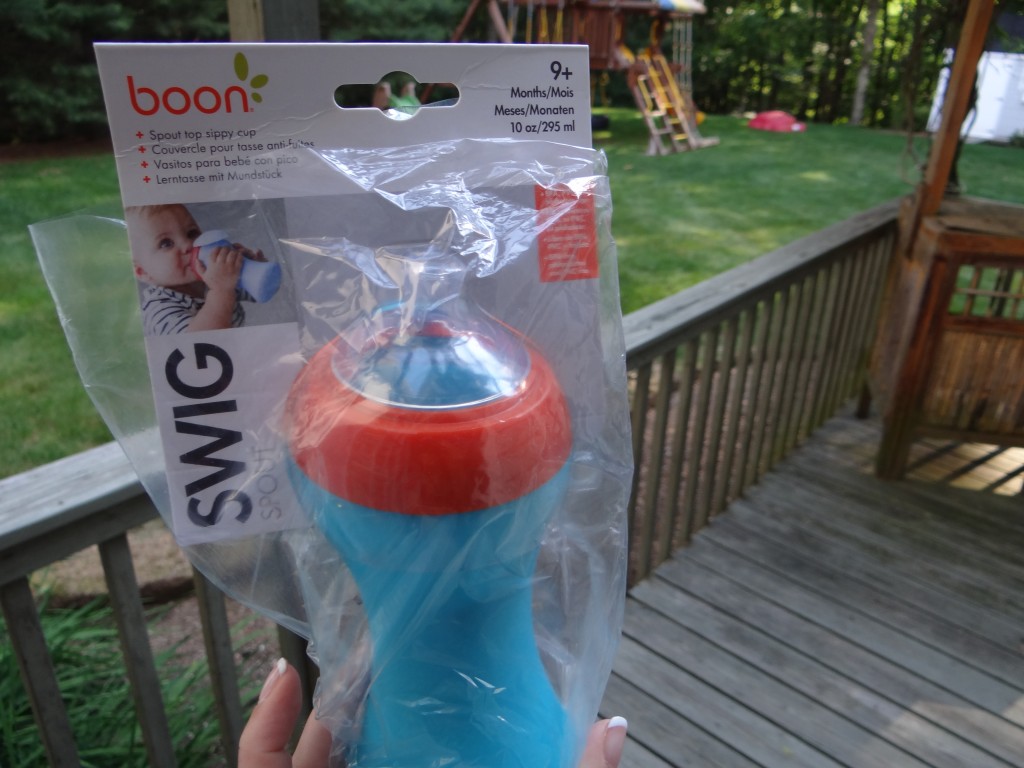 The Boon Swig Sippy Cup is a spill-resistant, silicone spout top sippy cup that is ideal for babies/toddler 9 +months. When we first received the Boon Swig Sippy, I noticed first the adorable and functional ergonomic design. All the Boon products have their amazing Boon designs and they took this design to their sippy cups. I know Zane has trouble holding some sippy cups but with the Boon Swig, he can readily grasp it and keep it in his hands. The cup is so sleek and is so easy to use, even for those kids with the smallest hands.
I also love that it has a three piece design including the sippy cup body, the spout, and the lid. The best part of this cup is the lid swivels, so if your kids drop it, it won't get dirty or lost. You can easily find the cup and don't have to worry about carrying wipes to get rid of the dirt. I also can promise you that the Boon Swig is fully spill proof! Zane has recently transitioned from the bottle to a sippy and this is the perfect cup to help with the transition.  I know we have tried some cups where it went all over him. I was just about to give up on sippy cups till I found the Boon Swig Sippy!
The Boon Swig Sippy cup is available in tall and short sizes with the option of flip tops or sprout tops depending on what you like. It is also available in a variety of colors and retails for $8.49 for the short and $9.99 for the tall.
Boon Caterpillar Stack Cups Snack Container: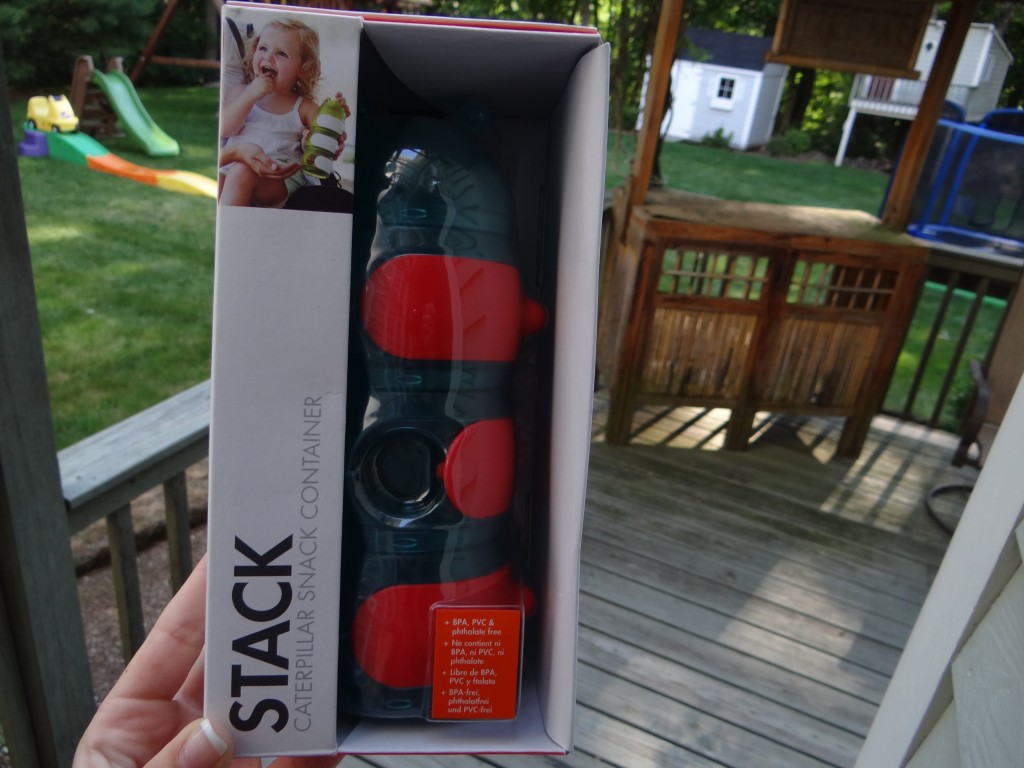 Okay, I am going to start off by saying that this is probably one of the must have's for moms out there. The reason I am saying this, is because with this stack cup snack container, you will no longer have to carry individual snack container that end up inevitably spilling all over. With the Boon Caterpillar Stack Cup Snack Container, this is your all in one snack container.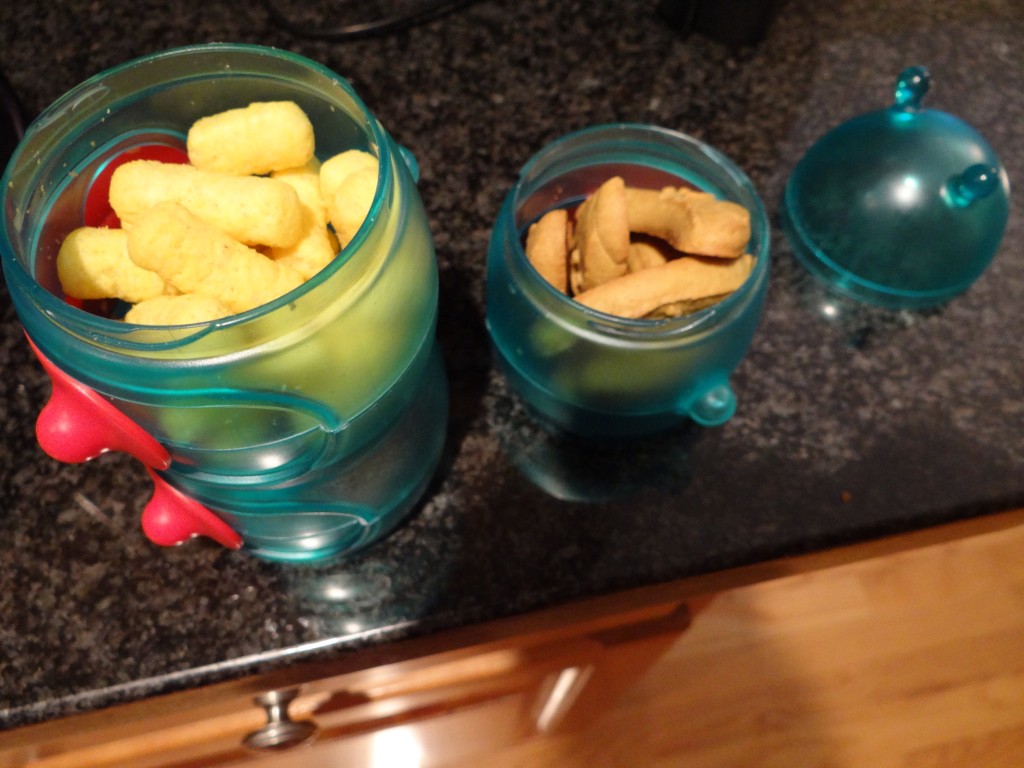 The way it is designed is it keeps snacks separate with three interlocking container. Each container snaps shut with sliding doors for quick dispensing. The taller container is available for the bigger snacks that can't slid through the sliding door.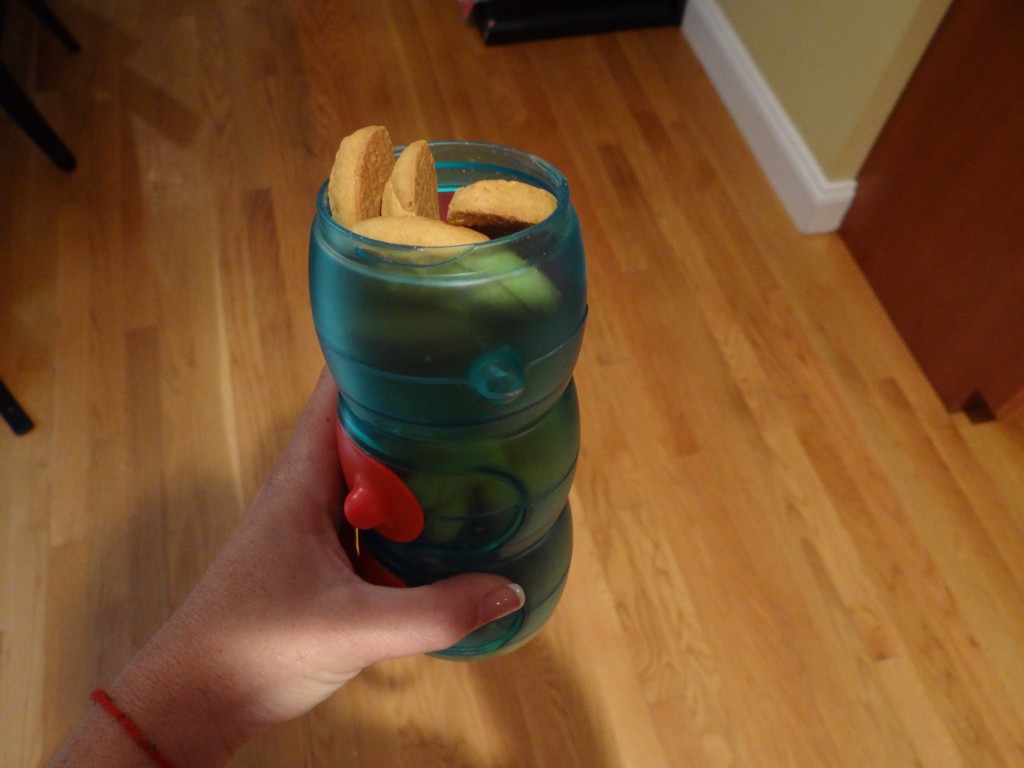 For me, with two small children, I need A LOT of snacks and they both want different snacks. So, I tend to pack three different containers of the Boon Caterpillar Stack Cups with different foods. With my Stack cup, I put Zane's cookies (they are big) in the top container, cheese puffs in the second container (easy to dispense with the sliding door), and Zane's yogurt melts in the third container (also easy to dispense with the sliding door).
The Caterpillar Stack Cup is terrific. I no longer have to deal with taking bags of foods or different containers. The Stack Cups don't spill so don't worry if you put it in your diaper bag for travel. The slider is slightly hard for Zane to open, Hayley can easily do it, so I need to give him some help with this. Once it is opened though, he can go to town.
The Stack Cup Snack Containers are available in the Penguin, Owl, and Caterpillar Designs  and retails for $14.99.
Buy it: All the Boon Feeding Items can be bought at Amazon.com, Buy Buy Baby, Target, Babies R' US, and other fine retailers.
Win it: One lucky winner will receive both the Stack Cup Snack Container and the Boon Swig Sippy Cup. This giveaway is run via rafflecopter so click continue reading to see the actual giveaway. The only mandatory entry is to tell me which product you are most excited to try- don't worry- you will still win both in the comment section proceeding this post. While the other entries are optional, I highly recommend filling them out to increase your chances of winning. US only
*Thanks to Boon for supplying me these products to review. As always, all my opinions are my own and not swayed by outside sources.