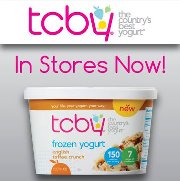 Summer is here finally and that means pool parties, BBQ's, beach trips, and of course ICE CREAM!!! Before I tell you about how much I love summer and how we entertain, let me bring you to the ICE CREAM part! I am a huge ice cream lover- my mom told me ever since I had my first taste of ice cream at one year of age, I never looked back. You probably won't believe me but I have not gone one day in the last 4 years without ice cream. This is the truth! Every single night, I treat myself to ice cream after dinner. It is almost as if I can't go to sleep without it. Lucky for me, as I went into Walmart a few days back, I found one of my favorite brands of ice cream, TCBY, sitting on the shelf!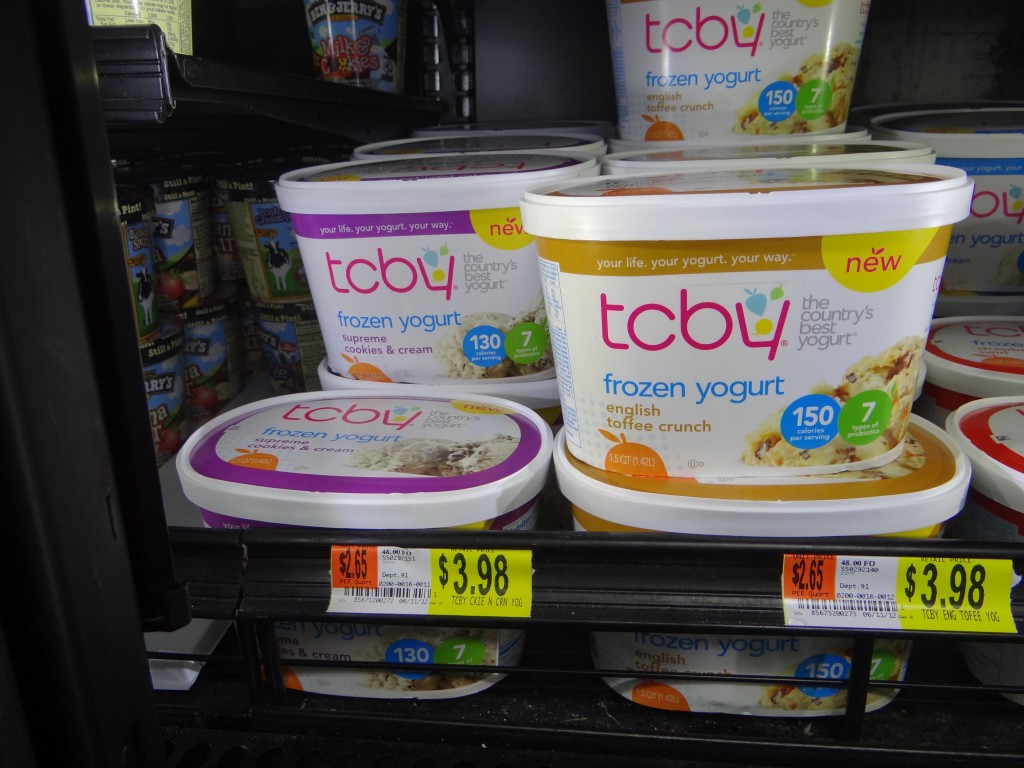 You should have seen my excitement when I saw all the TCBY half gallon containers and pops in the ice cream aisle. I might of let out a small scream since I am OBSESSED with TCBY! I will take you back a few years (okay, maybe more than a few years) to my college days where we had a TCBY within 2 miles of our campus. I remember instead of wanting to hit the bars at night, I pleaded with my roommates to get some TCBY with me. Usually they obliged since we all loved the freshness of TCBY. Okay, now my mouth is watering! So, when I saw the label TCBY in the ice cream aisle, I was completely and utterly thrilled!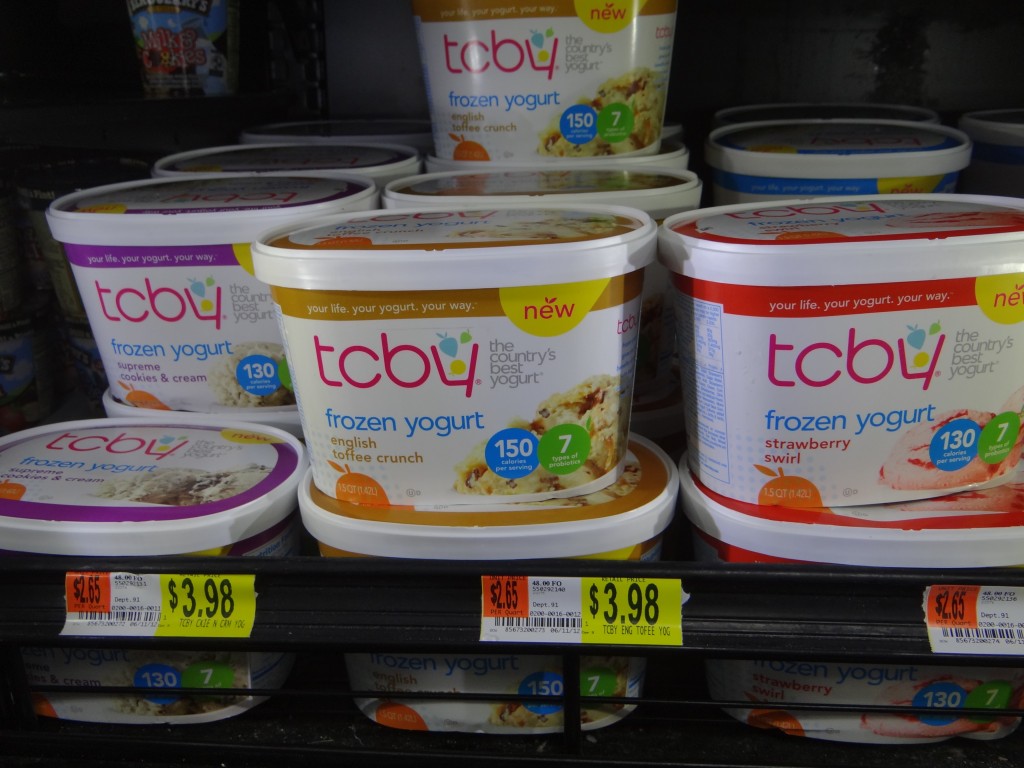 I ended up buying one of each of the flavors that were on the shelves including the English Toffee Crunch, Supreme Cookies and Cream, and Strawberry Swirl frozen yogurt. I might have also bought some of the TCBY bars while I was there too. Don't tell- my whole freezer is TCBY now!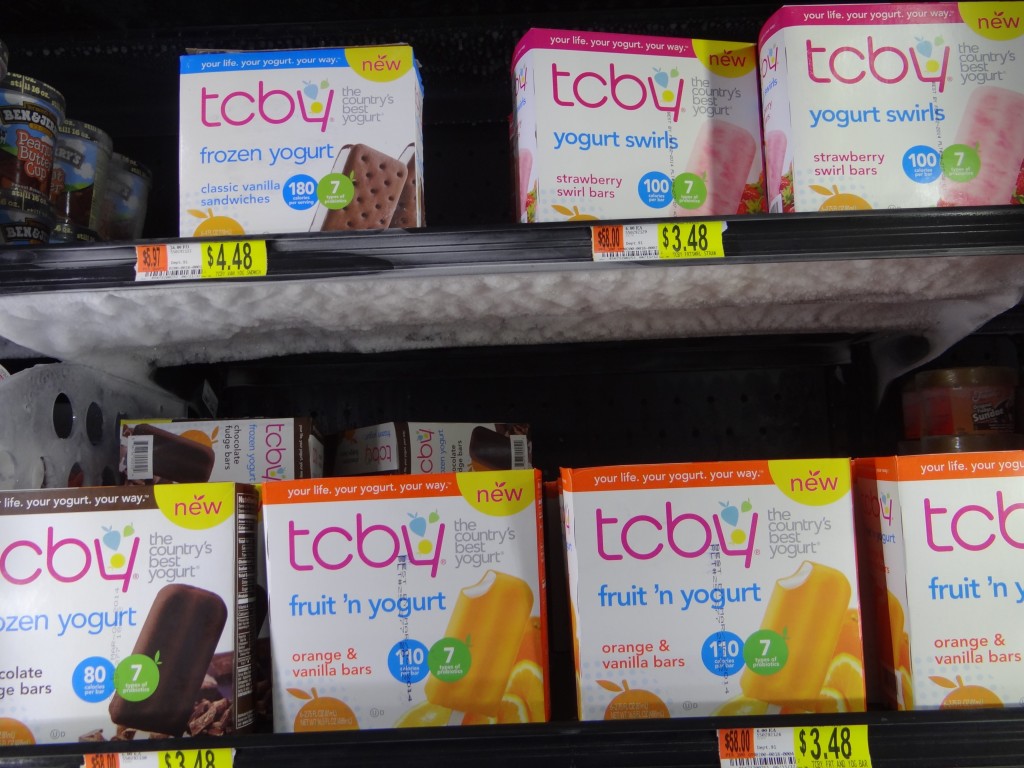 While I eat ice cream like it is my job all year round, I especially love it in the Summer. Summer to me means pure relaxation. Many times I head to the beach in the early am with my friends and their children to enjoy a beautiful summer day. At the end of the day, I usually invite them back to my house to enjoy some ice cream. While they were also new to tasting the  TCBY yogurt, they loved it, especially the Strawberry Swirl. I have to admit that we have gone through a whole gallon between all the children and parents. That is how yummy it is!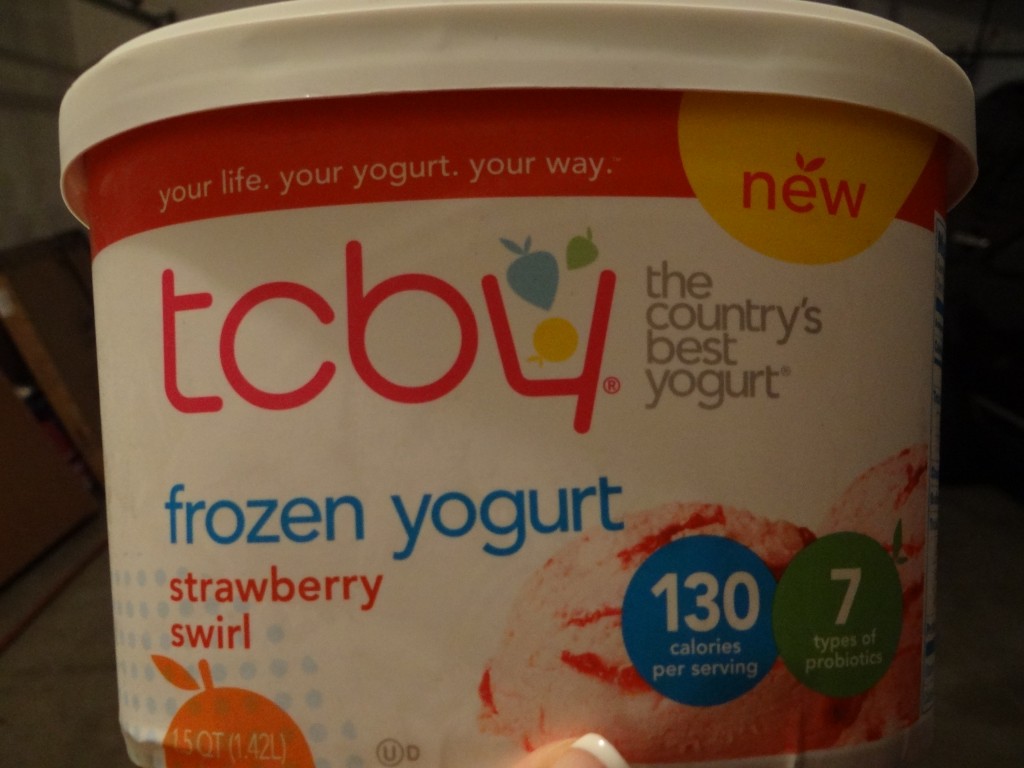 Summer also means a lot of celebrations. We are big party throwers and I always try to think of any celebration to invite people over. I just love to entertain and have a good time. One of our annual Summer traditions, is throwing our July 4 party which this year will be on July 1st. We have about 50-60 people who come over for this party wanting to have a good time. When I plan this party, I using get the general hot dogs, hamburgers, chips, salads, deserts, etc. I also have the "adult drinks" available to those who want to partake. However, I always like to come up with a fun summer drink and this year, I think I did it!! I came up with my own original drink for the kids which I like to call "TCBY Strawberry Swirl Smartie Milkshake". I am about to give you my secret recipe and I am pretty sure if you make it, you will end up having requests to make it all year long.
Ingredients:
1/2 cup milk,
3 packages of  Tropical Smarties candies
1/2 cut Banana
1/2 cup TCBY Frozen Strawberry Swirl yogurt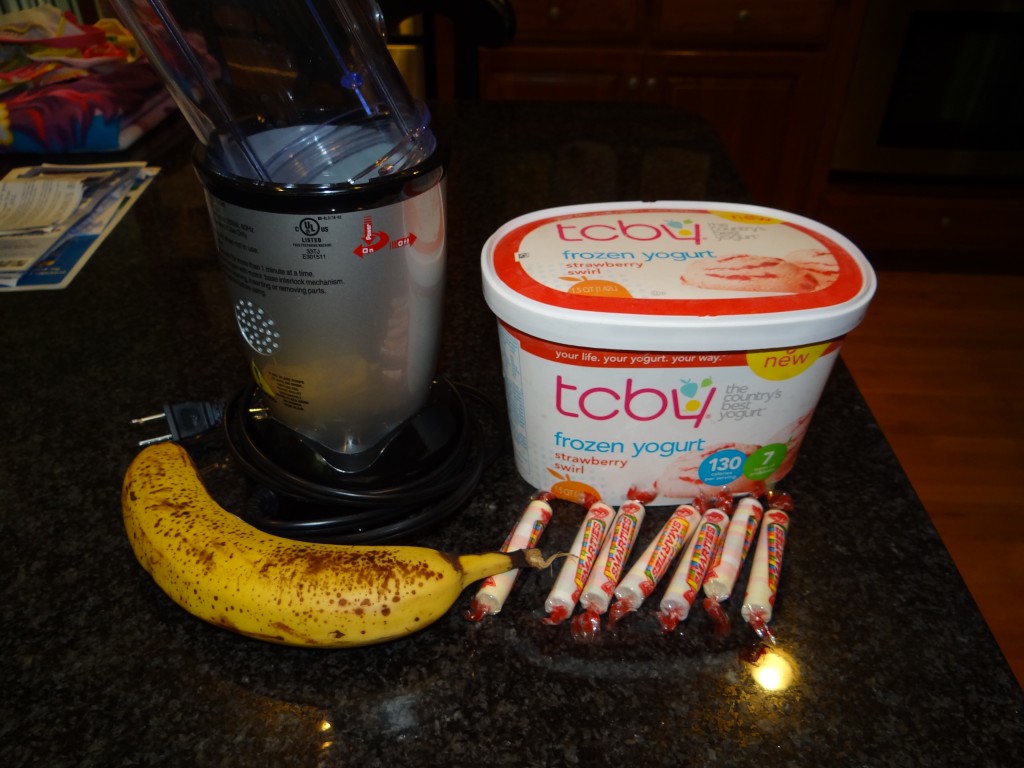 Directions:
1. Pour 1/2 cup of TCBY Strawberry Swirl yogurt into a blender.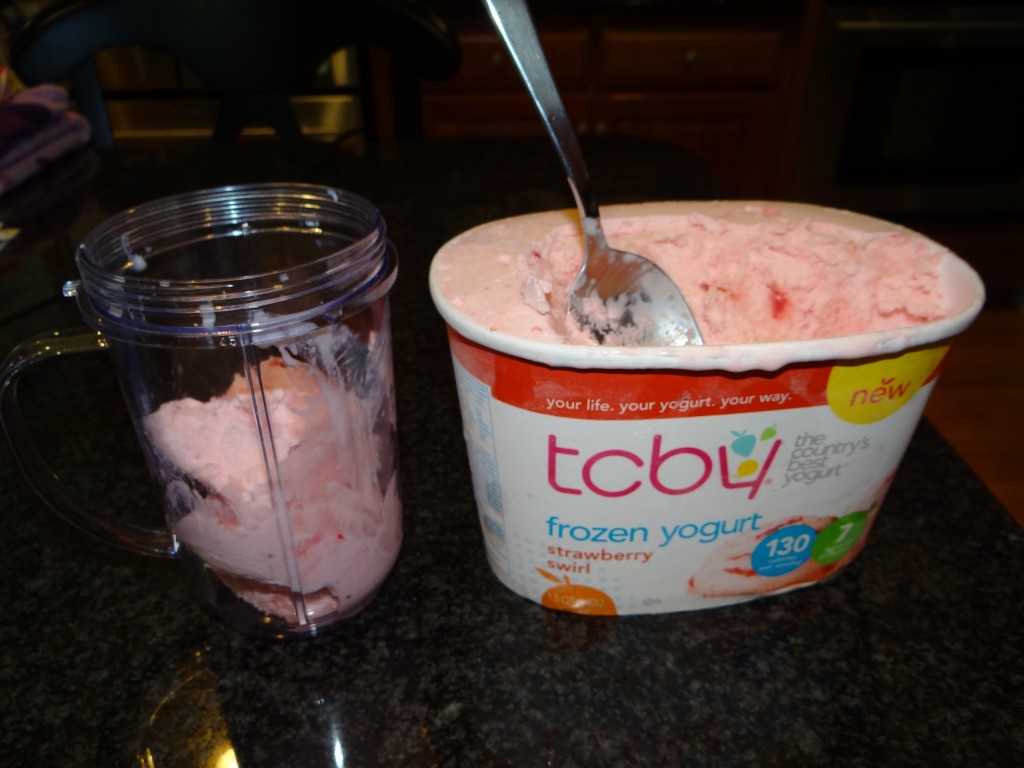 2. Cut up a half banana and put it into the blender with the ice cream.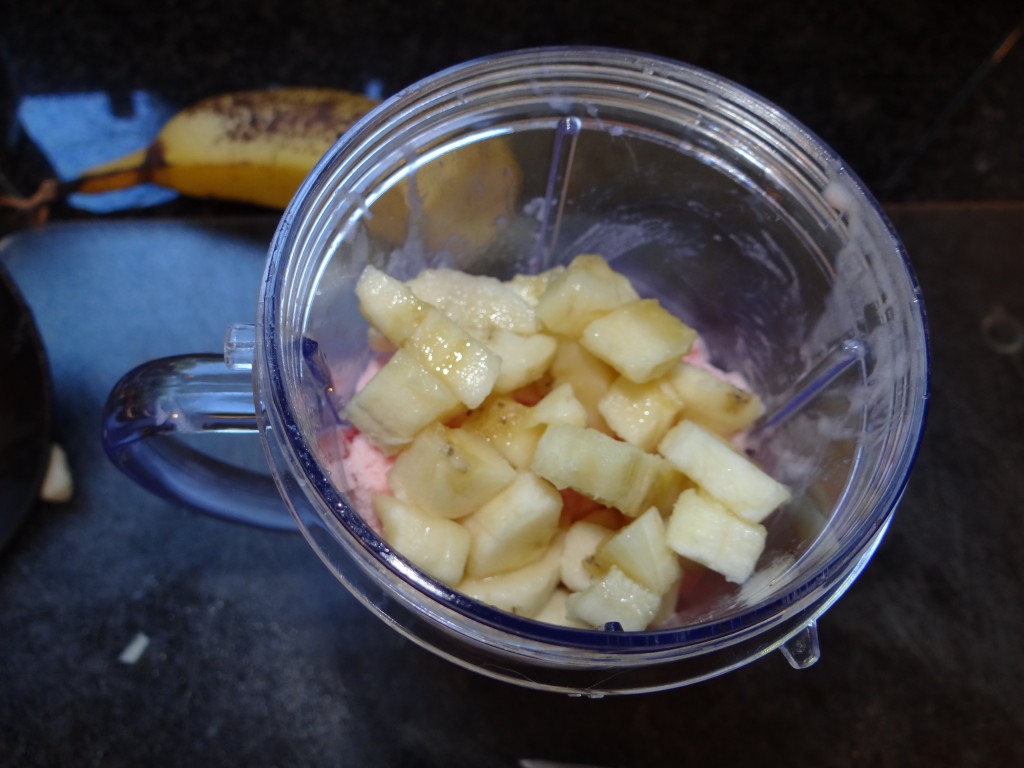 3. Take 2-3 packages of Tropical Smarties and crush them finely up. Once completed pour into blender along with the banana and TCBY yogurt
4. Pour in 1/2 cup milk
5. Blend until smooth consistency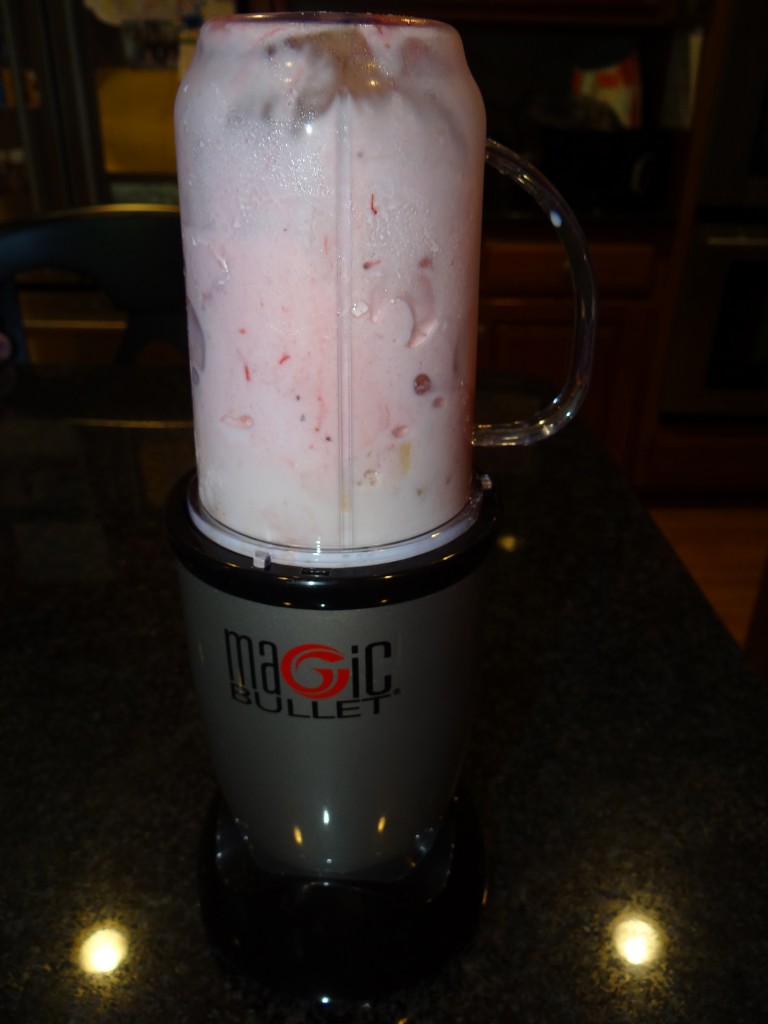 This drink is delicious and so easy to make! It is so refreshing to have a drink that the kids will love at my party this coming Sunday! I am so excited to see the look on their faces after they tasted it! I can tell you that Hayley has tried it and now asks me to make this "secret" recipe for her all the time. ENJOY!
If you like to check out my exciting shopping story to find the new TCBY yogurts (#TCBYGrocery) at Walmart, click here: Google Plus. You can also find out about the new TCBY frozen yogurt flavors on their Facebook , Pinterest, and Twitter Page. To add to the fun, check out Tropical Smarties on their Facebook and Twitter Page. You can also participate in the the upcoming #TCBYGrocery Twitter Party on  on Thursday, June 28, 2012 from 1:00pm – 2:00pm EST for a fun chat about TCBY and some great prizes.
I am a member of the Collective Bias™ Social Fabric® Community.  This content has been compensated as part of a social shopper insights study for Collective Bias™ and TCBY #CBias #SocialFabric #TCBYGrocery