Memorial Weekend is the official start to summer. Summer is the start of fun friendly gatherings, driving trips, swimming, beaches, and best of all- some great food! Every Memorial weekend, we invite our next store neighbors over to enjoy some good old fashioned food. This year, I was completely excited to have them over because I was hosting my very own ConAgra Backyard Bash! I had a fun day planned including some planting of tomatoes with our neighbors, and putting together the ultimate time capsule box which we were going to dig in my backyard. Best of all, I was preparing some of great recipes using three main ingredients: Chef Boyardee, Egg Beaters, and Hunts Tomatoes! Don't worry- I will share all the recipes with you later on in this post!
In order to set up for the party, I received a packet that included the recipes that I incorporated into my ConAgra Backyard Bash, as well as some useful information about the different foods that we would be using in the recipes.  I was so glad that this was provided because I really didn't know some of the factual information about Egg Beaters, Hunt's tomatoes, and Chef Boyardee. For example, did you know that Egg Beaters are real eggs minus the yolk? This is news to me, as I thought that Egg Beaters were a "fake" substitute. This is not the case at all. Egg Beaters are a heart-healthy option to shell eggs and provide the energy and nutrients your body needs without all the fat, calories and cholesterol of shell eggs. I loved learning this because I recently dropped my cholesterol 100 points- Yes, 100 points! One of the main aspects of my diet that I eliminated were eggs. I ate so many eggs that I was running to the grocery store every week to replenish. Thankfully, I now know that I can eat Egg Beaters without worrying. This truly made my day!
I also learned that Hunt's tomatoes are grown in sunny Oakdale, Calofornia and have been naturally steam peeled and contain no artificial preservatives or ingredients. Fresh out of the can, these tomatoes are remarkable! I bet I can stump you on this one- do you know who Chef Boyardee is? Chef Boyardee is a real person named Hector Boiardi who wanted to make the best sauce and pasta dinner, like he served  at his restaurant in Cleveland, Ohio. More than 85 years later, Chef Boyardee continues the tradition of sharing quick and easy meals made with quality ingredients, no preservative, and authentic recipes. I have to admit that not only do my kids eat Chef Boyardee quite frequently, but I can be found eating Chef Boyardee spagattei and meatballs many times a week- truly delicious!
In preparation for my neighbors, I made three wonderful recipes using Chef Boyardee, Hunt's tomatoes, and Egg Beaters. You can view all the below recipes as well as many others at ReadySetEat.com.
Recipe #1: Minestrone Pasta Salad:
Ingredients: -1-1/2 cups dry medium shells or mini penne pasta,uncooked -1 can (16 oz each) dark red kidney beans, drained,rinsed -1 can (14.5 oz each) Hunt's Diced Tomatoes with Basil, Garlic and Oregano -1 cup quartered and sliced zucchini -1/2 cup sliced baby carrots -1/2 cup light Italian dressing -1/4 teaspoon ground black pepper -1/4 cup shredded Parmesan cheese
Directions: 1. Cook pasta according to package directions, omitting salt. Drain;rinse with cold water until cool. 2. Meanwhile, place beans, drained tomatoes, zucchini and carrots in large bowl. Add dressing and pepper; toss together. 3. Add cooled pasta to vegetable mixture;toss together. Sprinkle with cheese just before serving.
Recipe #2: Taco-Roni: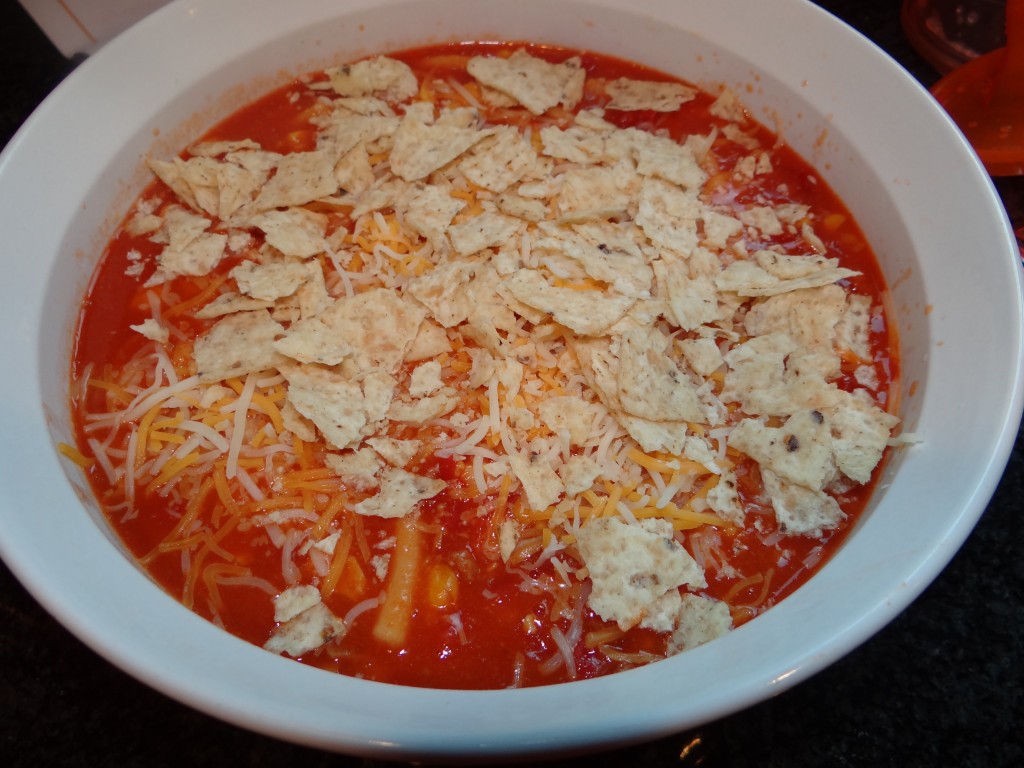 Ingredients: -2 cans (15 oz each) Chef Boyardee Beefaroni -1 can (14.5 oz each) Hunt's Diced Tomatoes, drained -1 cup (15 oz each) Rosarita Preminum Whole Black Beans, drained, rinsed -1 cup frozen whole kernel corn -1 teaspoon ground cumin -1/4 cup shredded reduced fat Mexican cheese blend -1/2 cup broken yellow tortilla cups
Directions: 1. Place Beefaroni, drained tomatoes, beans, corn and cumin in large saucepan; stir to combine 2. Bring to a boil over medium-high heat. Reduce heat, cover and simmer 15 minutes. Sprinkle with cheese and broken chips just before serving.
Recipe #3: Chocolate Chip Cookies: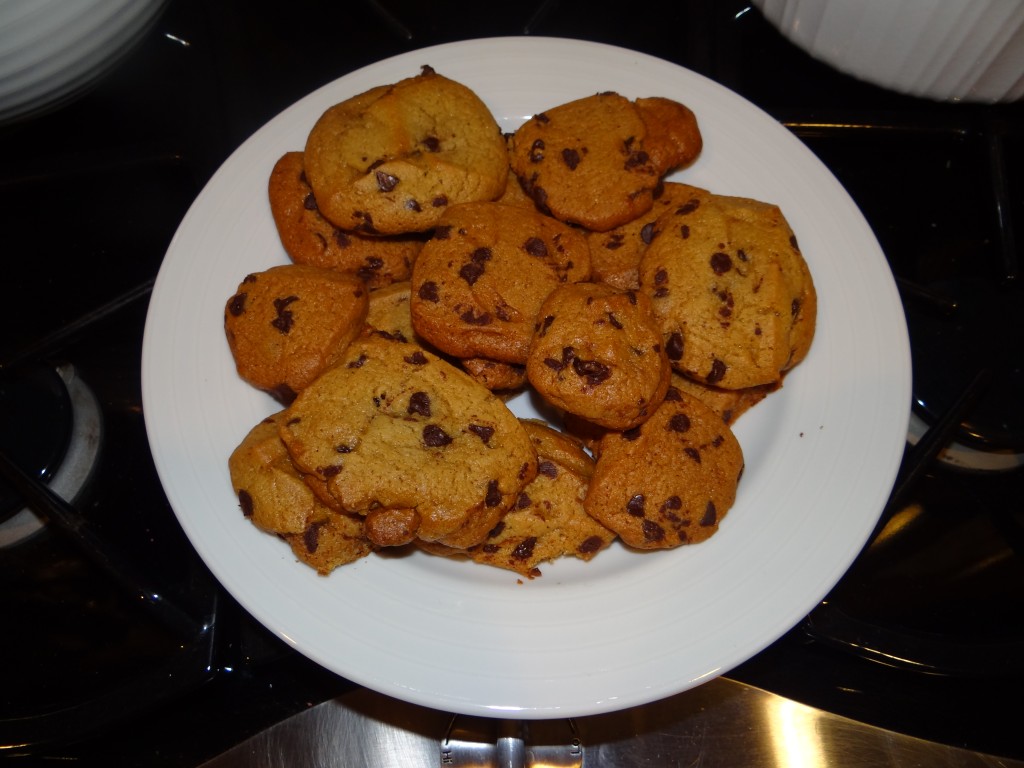 Ingredients: -2-1/2 cups Ultragrain All Purpose Flour -1 teaspoon baking soda -1/4 teaspoon salt -3/4 cup Fleischman's Original-stick, softened -3/4 cup packed light brown sugar -3/4 cup granulated sugar -1/4 cup Egg Beaters 100 % Liquid Egg Whites -1-1/2 teaspoons vanilla extract -3/4 cup semi-sweet chocolate morsels
Directions: 1. Preheat overn to 375 degrees F. Mis flour, baking soda and salt until well blended; set aside. 2. Beat Fleischman's and sugars in large bowl with electric mixer on medium speed until light and fluffy. Add Egg Beater and vanilla; mix well. Gradually add flour mixture, beating until well blended after each addition. Stir in chocolate morsels. 3. Drop by rounded tablespoons of dough, 3 inches apart, onto ungreased baking sheets. 4. Bake 12 minutes, or until lightly browned. Cool on baking sheets 2 minutes. Remove wire racks. Cool completely. Store in airtight container at room temperature.
Hayley and I had a great time making all these wonderful recipes: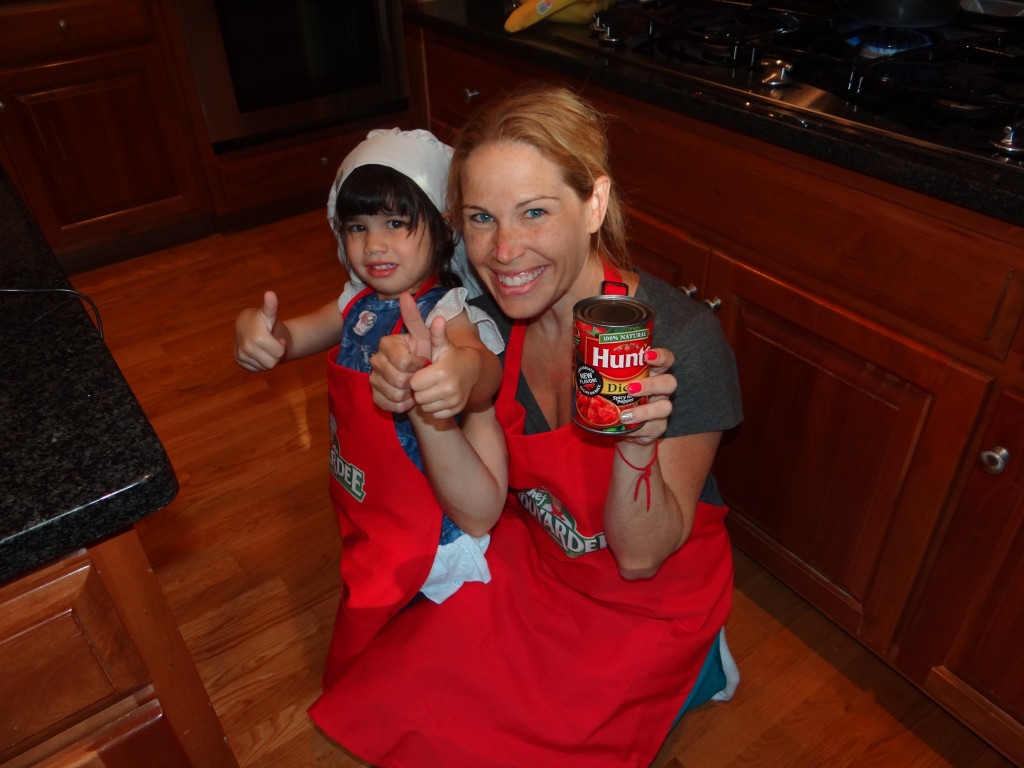 After we were done, the doorbell rang and our neighbors were ready to get the ConAgra Backyard Bash started. I told them to bring some sort of keepsake with them, so we can collect all the items and deposit them in our time capsule. We got quite an assortment of keepsakes including pictures, art drawings, first sports balls, toys, and many other.
We then set out to bury the time capsule in our backyard. In a few years, we will dig this up and see what we have collected. I actually added a date to be dug up in my son's baby book, so I would not forget. I check that book every few months, so I know that by putting a date in it, I will be held accountable for digging it up. I remember doing this as a child and it was so fun! I really can't wait to see the joy on the childrens' faces a few years down the road when it is time to dig up our time capsule.
We also had a few packets of seeds that were given in our Backyard Bash kit. My neighbors and I planted the seeds in the empty Hunt's Tomato Cans that I used for our recipes. They are so excited to see how our tomatoes are going to grow over the net few months.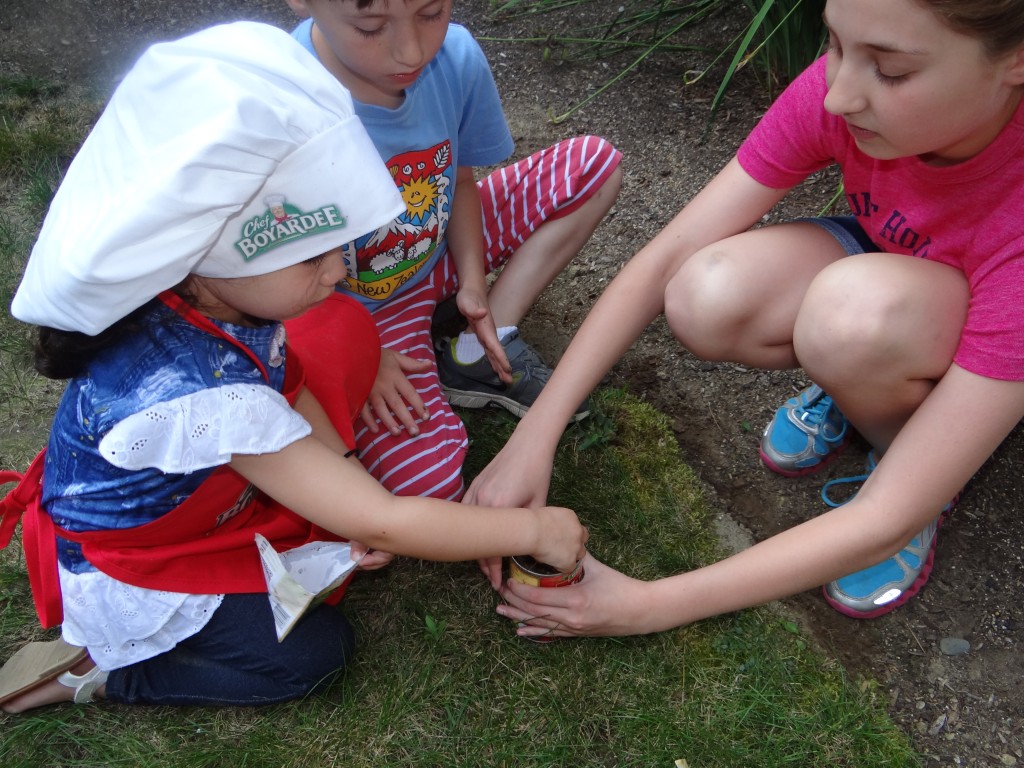 Overall, we had a fantastic Memorial Day and superb ConAgra Food Backyard Bash! I look forward to using these incredible recipes for many more years to come! Keep up with ConAgra Foods by visiting their Facebook page: ConAgraFoods.
*I wrote this review while participating in a campaign by Mom Central Consulting on behalf of ConAgra and received products to facilitate my review and a promotional item to thank me for my participation. As alway, all my opinions are my own and not swayed by outside sources.