We absolutely love Build-A-Bear Workshop and very excited to present to my readers the newest Build-A-Bear Workshop collection, The Farmers' Market Collection. As most of you know with the Build-A-Bear Workshops, you make adorable stuffed animals! The awesome and very new Farmers' Market Collection features a horse, cow, sheep, and pig. This collection came out on May 4th and is readily available in stores, as well as online, now.  I had the privilege to review one of the adorable animals from the Farmers'Market Collection- the sheep! Since we have gotten it, Zane has not put it down. It has turned into his lovey. Only problem is Hayley is constantly trying to steal "her sheep" from him. I guess, I will need to go into Build-A-Bear Workshop, and get Hayley her own!
Here are some fun facts about the Farmers' Market Collection at Build-A-Bear Workshop:
·         The collection came out on May 4.
·         Starting May 4, Guests who make a purchase of $20 or more will receive a FREE Farmers' Market reusable tote.
·         The collection consists of a horse, cow, pig and sheep.
·         Two Farmers' Market smallfrys will also be available – a pig and cow.
·        They will also have two online exclusives with the collection – a llama and billy goat.
When we first received the sheep, we did not know what we would receive. It was a complete surprise but lucky for us , the people at Build-A-Bear  Workshop must have known that sheep was Hayley's favorite animals. Since it is Hayley's favorites, it will probably end up being Zane's favorite-that is just the way my kids are. It arrived in the staple Build-A-Bear Workshop box and Hayley instantly had to rip it open. She generously let Zane hold it, for all of one minute before she declared the sheep her "friend."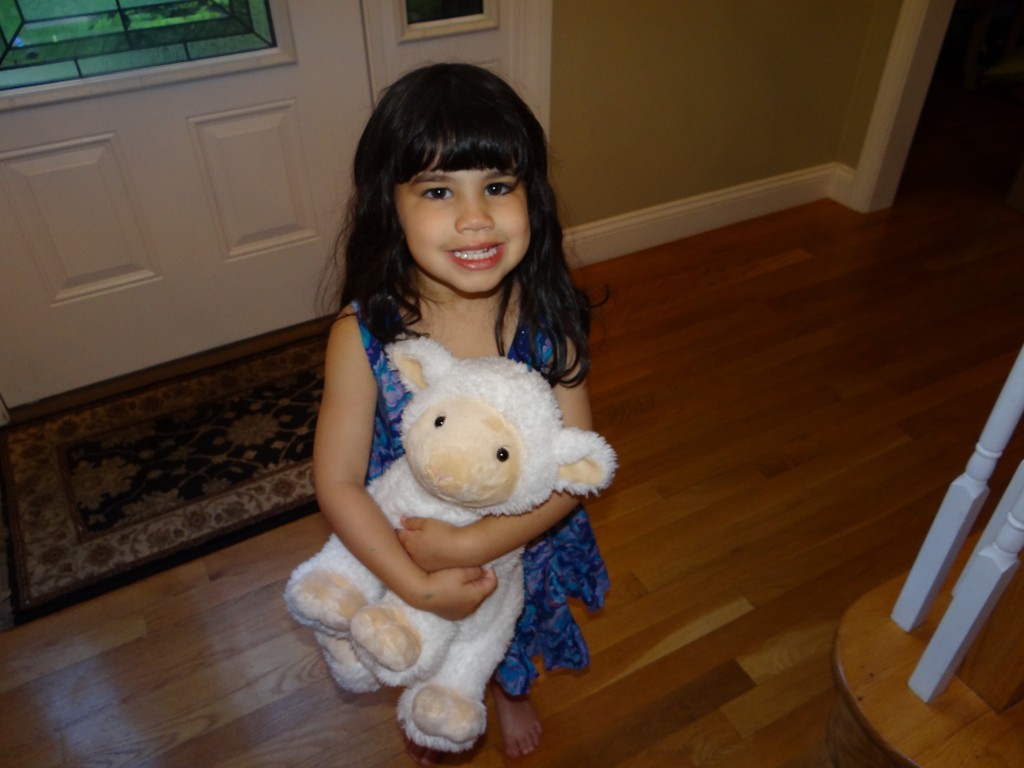 Both my kids just love the sheep- it is soft, cuddly, and adorable. Build-A-Bear workshop gets an A+ already in my books, but the new Farmers' Collection, exemplified my love for them! Be sure to look out for the new Farmers' Collection in the stores or online at www.buildabear.com. You can also follow Build-A-Bear Workshop on Facebook, Twitter, and Pinterest. You can also get  Get Build-A-Bear Workshop updates on your iPhone by downloading the FREE app http://www.buildabear.com/app.
Win it: One lucky winner will receive a Build-A-Bear stuffed animal from the Farmers' Market Collection. This giveaway is run via rafflecopter so click read more to see the actual giveaway. The only mandatory entry is to tell me want stuffed animal you want- the sheep, pig, or cow- in the comment section proceeding this post.  While the other entries are optional, I highly suggest you fill them out to increase your chances of winning. Good Luck! US only!

a Rafflecopter giveaway

*I received a Build-A-Bear Farmers' Market stuffed animal for review purposes. No other compensation was given. As always, all my opinions are my own and not swayed by outside source.  Thank you to Build-A-Bear Workshop for providing the giveaway prize.