I have a boy now who I know is not going to dig playing with all of Hayley's barbies and princesses all day long. Hayley tries her hardest to play Barbies with him and while he loves it now, I am sure in a few  more months he is going to want his own "manly" toys. Everything in our house in pink and very girly. So, I was super excited when I found out about a company called Toystate that manufactures Cat Preschool Toys.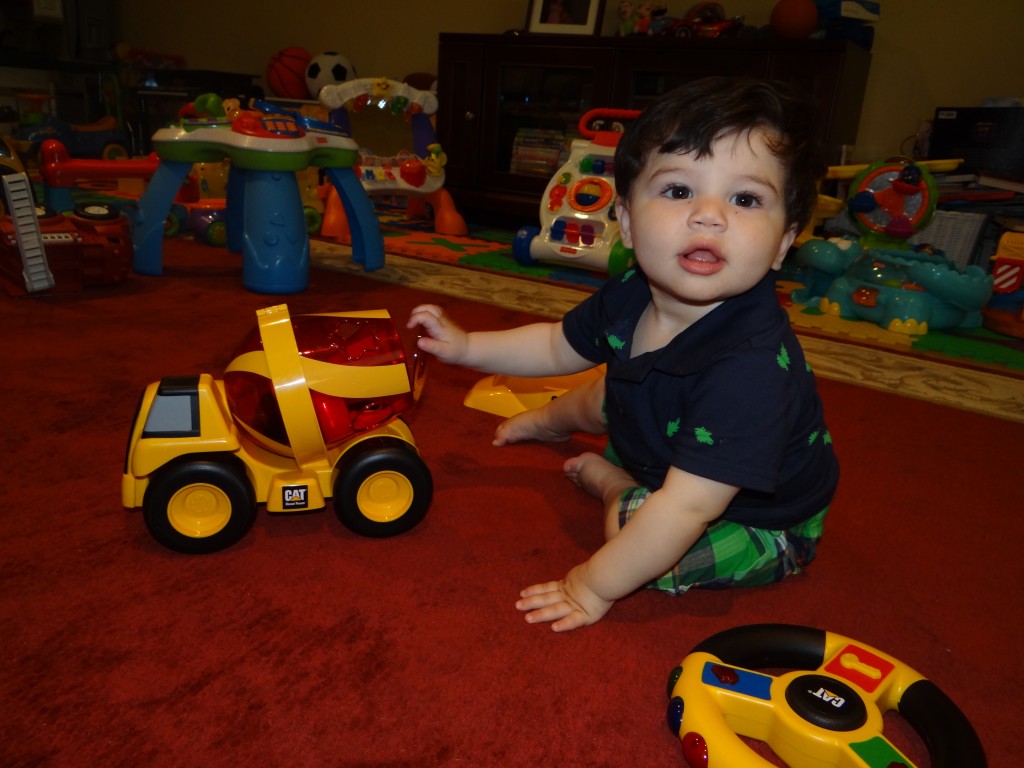 My daughter and I always see these gigantic mega trucks around our development doing maintenance work. They are big and grand!  Luckily, for us, we went to a local touch a truck event, where she was able to sit on a gigantic mega CAT truck and play around.  A few weeks back when I told her that we would be getting some CAT preschool products, to try- she was super excited as well!  I was excited because I thought it would be great if both kids can share their toys!
These CAT toys are preschool designed trucks that have all the features to emulate the big gigantic trucks that are used in construction sites and such. With each toy, there is a wide range of features including flashing lights, special sound features, and various enchanting colors that will allow your child to play for hours! The preschool designed iconic machines will provide the "reel feel" of the most junior CAT operators.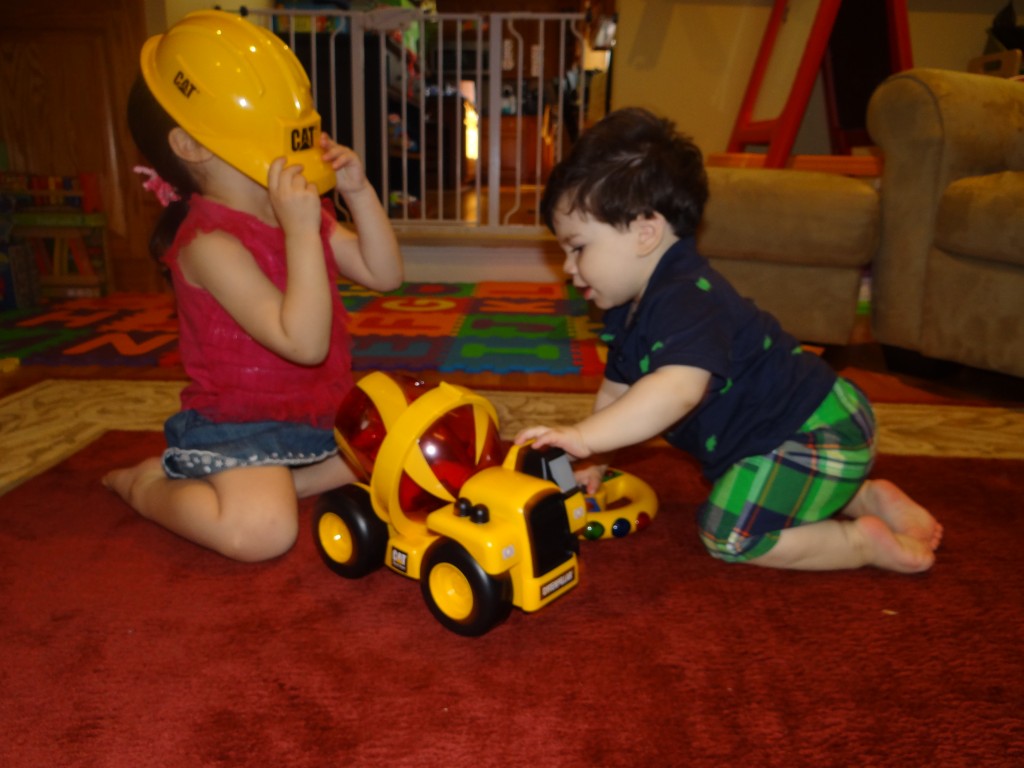 We had the chance to review both The Cat Preschool Shape Sorter and The Cat Honk & Rumble Wheel. I have to say both toys, Hayley and Zane loved them! With the Cat Preschool Shape Sorter, it is your classic shape sorter but is used on a toy cement truck. It is also available with a dump truck as well!   Toy State took the regular shape sorter and added a new and exciting spin!  While Hayley easily figured it out, Zane was somewhat slower- hey, he is only 1! However, his sister sat with him and slowly tried to direct him to put the shapes in the correct spaces. They can then store the shape sorters in the cement truck and they were ready to wheel it around the house or take the truck for a spin outside.
The Cat Honk & Rumble Wheel is Zane's favorite. He takes his wheel and turns it every which way. He then gets so excited when it lights up and starts playing sounds like a real big truck. You should see the way he shrieks with delight when he plays with his Honk & Rumble wheel.  I love it because it allows him to express himself creatively and allows him to have fun at the same time! The Cat Machine Wheel adds the rumble motor ignition function and the  vocal phrases puts "Big Honkin" in this awesome toy.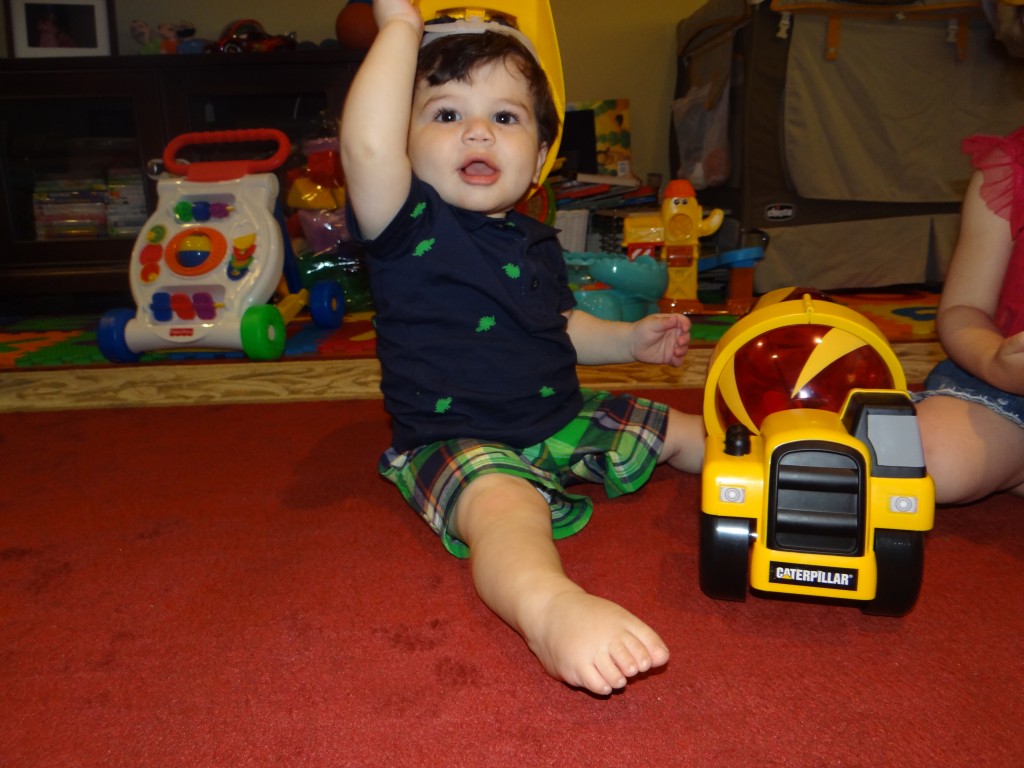 Buy it: We love our Cat Preschool Toys and plan to buy more of them in the future. They are truly fantastic. You can buy Cat Preschool toys at Walmart, Toys R'Us, Target, Kmart, and on Amazon.
Win it: One reader will win their choice of either the CAT Honk & Rumble Wheel or the CAT Preschool Shape Sorter. This giveaway is run via rafflecopter so click continue reading to see the actual giveaway. Make sure you fill out the rafflecopter as the winner is chosen directly from there. The only mandatory entry is to tell me which toy you would like to receive in the comment section proceeding this post. The other entries are optional but I highly suggest you fill them out to increase your chances of winning. US only. Good Luck!
*Thanks to Team Mom and Child Play PR for supplying me products to review. As always, all my opinions are my own and not swayed by outside sources.