Thank goodness it is the weekend! I just pray this weekend is better than the horrible weekend we had last weekend. I blogged about it earlier in the week if you are interested. Anyway, I am looking forward to this weekend of just relaxing with my family. I hope you all have a great weekend!
As usual, please link up any cute, funny, or top five laugh post. If you would like to help me promote this hop on any social media sites, I would love that. Here is my button, as well if you would like to take it. This is not mandatory at all though.  I hope you all have a wonderful weekend and I look forward to laughing this weekend!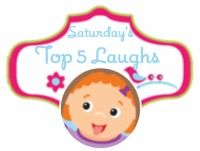 My top five laughs:
5. Zane is starting to sign more and more each day. The problem is he gets the signs confused. When he wants milk, he signs more and when he wants more food, he signs milk. It is really cute!
4. Zane is doing so big now! If you ask him how big he is, he develops the biggest grin and throws his hands in the air. I know Zane, you are a big boy in every which way:)
3. Hayley HATES when we leave her closet door open when she sleeps. Last night I accidently left it open and I hear her screaming for me at 2 AM. I go in and she said, "Mommy, you left the closet open and the boggie man came to get me".  She has a real imagination these days!
2. I sometimes leave Hayley is charge when I shower to watch Zane in her room. I tell her to be extra careful if he finds any small pieces (usually they are all in a drawer). Yesterday, I hear Hayley yell to Zane, "Get that out of your mouth". That was my cue shower time was over!
1. Hayley is completely pumped for Hawaii. I am in too- 2 weeks from today! Tonight she asked me, if we could put up a sticker chart and an X on it so she knows how many days are left. She is so excited to meet her idol- Minnie Mouse!
Now for your laughs: