Today it is a record high of 84 degrees! Amazing for it not being May yet!  While I love the summer -like weather, my thoughts instantly turn to bathing suits. I want to look adorable in my bathing suit this summer. The old suits I had from last year and the year before do not fit me. I was pregnant or postpartum for the past two summers, so I have zilch when it comes to swim suits. I also lost 20 pounds so I am now can proudly sport some cute bathing suits. So, my next question is where do I shop for bathing suits? So many options out there…
I recently got introduced to a great site called figleaves. Figleaves is an online store where you can shop for a vast array of items for men and women. Some of their fashionable products they sell include  accessories/footwear, bras, cashmere, fashionable clothing, denim, home items, hosiery and socks, lingerie, loungewear, nightwear, robes/slippers, shapewear, thermals, teeshirts, and swimsuits to name a few. You can literally find anything you are looking for at Figleaves! They also have specific guides to help you look your best. For example, they a bridal boutique guide to help that new bride shop, as well as, a bra styles guide that helps you find your true size. They have many other guides as well so be sure to check out Figleaves for your comprehensive shopping needs.
As I said before, I was due for a new swimsuit. I had to check out the new swimwear from figleaves.  Everything I could have wanted in a bathing suit, can be found on this site. They have bikini sets, shaping sets, maternity, full piece swimsuits, tankinis, and general beachwear. They have almost every type of style and shape, you could possibly think of for a swimsuit. Their diversity of swimsuits is truly remarkable!
I happen to love the Freya Swim swimsuit.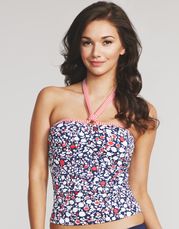 I think this would make a perfect addition to my summer fashion looks. Be sure to check out Figleaves for all your fashion finds and swimsuits needs!
*This is a partnered post. As always, all my opinions are my own and not swayed by outside sources.