Last week I had the chance to sit down with Joey King ("ThePrincess" / Executive Producer), Veronica Ngo ("Lin"), and Le-Van Kiet (Director) for their new movie The Princess. While I have not seen this movie yet, I am very eager to watch it because Joey King is one of my favorites. This movie will stream on HULU July 1st so mark your calendars.

INTERVIEW TIME:
1. Joey, what was this whole experience like for you?
Joey said it was absolutely incredible. She has not felt this proud of something she did in a long time. She put a ton of work into this movie and seeing the final product, blew her mind. She said the movie turned out absolutely phenomenal. She also stated she had a great time on this movie and it a super fun movie to watch.
2. How did you know Joey can pull this role off?- asked to Kiet
She joked that Joey was there before she was. She was so happy with Joey. Joey consistently impressed her dramatically and physically. She made the movie a real joy and a lot easier. They had a blast on this film.
3. What was your experience like on this film?- asked to Veronica
Veronica said it is always fun to join a production like this. This is her third time working with Kiet but the first time seeing him his work in a different light.  He is generally very dark so when he asked me about a Princess movie, she said she was very surprised.  The story is so fun but also the effects are amazing. She said it is going to be a princess story like you have never seen one before.
4. What was it like working with Veronica and hearing how impressed she is with you?- asked to Joey
Joey said it was such an honor because Veronica is obviously extremely experienced in the action world, and she is just an unbelievable fighter. She had so much to learn from her. She is also so clean with her fighting. She is admirable to watch.
5.  What was the most challenging scene you had to film and why? -asked to Joey and Veronica
Joey said it was a flashback sequence with her and Veronica fighting. They fought for 12 hours and really never stopped. They would go from one take to the next. They joked that they lost a lot of water weight that day. The choreography on it was awesome they both said.  Vernoica also agreed with this answer.
6. Do you feel like you want to do this again?  Whether this be a sequel or another film that has this much action sequences?
Joey said she really fell in love with the martial arts. She loved learning to fight during this training for the movie. She said she would not shy away from another film that has these action elements and getting her hands dirty.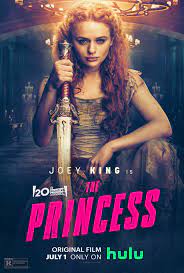 SYNOPSIS of The Princess:
A Hulu Original, "The Princess" is an action-packed fight to the death set in a fairy tale world directed by Le-Van Kiet ("Furie") and starring Emmy Award® nominee Joey King ("The Act," "The Kissing Booth") as a skilled and formidable young royal. When a beautiful, strong-willed princess refuses to wed the cruel sociopath to whom she is betrothed, she is kidnapped and locked in a remote tower of her father's castle. With her scorned, vindictive suitor intent on taking her father's throne, the princess must protect her family and save the kingdom. The film also stars Dominic Cooper ("Preacher"), Olga Kurylenko ("Black Widow") and Veronica Ngo ("The Old Guard"). Directed by Le-Van Kiet ("Furie") and written by Ben Lustig & Jake Thornton ("Winter's Knight," "Final Fantasy"), "The Princess" is produced by Neal H. Moritz (the "Fast and Furious" franchise), Toby Jaffe ("Total Recall") and Derek Kolstad ("John Wick"), with Joey King and Guy Riedel serving as executive producers. 
"The Princess" will stream July 1, 2022, as a Hulu Original in the U.S., and as a Star Original on Disney+ internationally. 
*Thanks to Disney for inviting me to this junket. All opinions are my own and not swayed by outside sources.*