A few weeks back I had the chance to interview Iman Vellani ("Kamala Khan / Ms. Marvel"), Rish Shah("Kamran"), Yasmeen Fletcher("Nakia"), Matt Lintz("Bruno"), Mohan Kapur("Yusuf") Zenobia Shroff("Muneeba"), Saagar Shaikh ("Aamir"), Sana Amanat(Producer and Writer – based on the character by) Meera Menon(Series Director, episodes 2 & 3), Bisha K. Ali(Head Writer and Executive Producer), Adil El Arbi (Series Director, episodes 1 & 6 and Executive Producer), Bilall Fallah(Series Director, episodes 1 & 6 and Executive Producer), and Kevin Feige(Executive Producer) for the new series Ms. Marvel which has debuted on Disney + .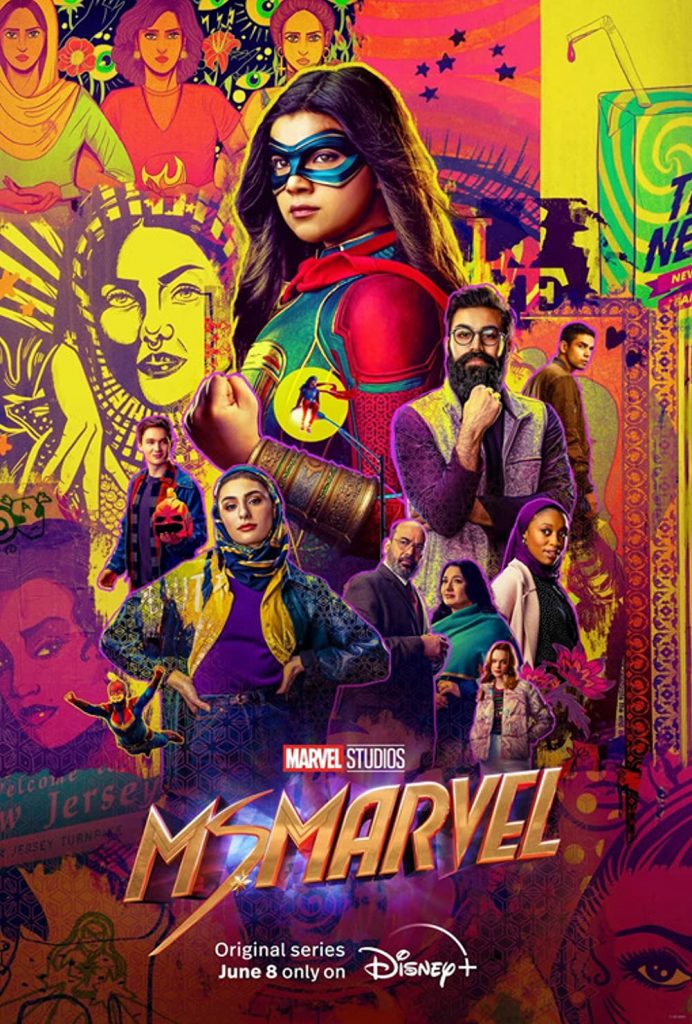 I watched a few of the Ms. Marvel episodes and I absolutely love the depth of representation in this film. It intertwines Muslim and South Asian culture in a beautiful way. It tells the story of Kamala Khan, who is an avid gamer and superfan of Captain Marvel. Just when she thinks she can't fit anymore, her superpowers start. I absolutely love the premise of this TV show and what it stands for.
INTERVIEW TIME:
1.  So, talk to us about the genesis from that WhatsApp forward of the casting call to you sitting here today?- asked to Iman
February 2020 Iman gets the WhatsApp forward.  She thought it was a scam.  But it turned out to be the real deal.  She sent in a very academic resume with the one photo she had of herself.  And Disney sent back the sides for the self-tape.  At  And 3:00 a.m. the night it was due, she sent in her self-tape.  Two days after that she got a call that they wanted to fly her to LA. It was the best trip of her life. Then the Pandemic hit and on June 2022 they did a screen test over Zoom and she got the part.
2. What was the process like of developing this character for a series?- asked to Bisha
Bisha said it was live action in the first instance and it was an incredible process in the
scenes. Bisha said they stayed true to the characters in the comic books but also added a freshness to it. A vitality with a contemporary edge is what is portrayed on the screen. Bisha stated every single person loves the comic books and had a deep passion for the creating of the characters. The hardest part was  trying to intewene the web of story telling that Marvel Studios havedone in live action for
the last decade, and putting all those pieces together while staying true to this beautiful
incredible character that Sana and her team crafted over in their publishing side.
3. What does a series like this mean for members of the South Asian community, member of the Muslim community, members of communities that have not  traditionally seen themselves on screen?-asked to Mohan
Mohan said this is not a series that is shouting from the rooftop about representation. It is a story about a community that is ethnically diverse and culturally rich. It is a beautifully told story and it is sublinally translated over scenes. Hopefully the series allows others to showcase beautiful stories with diversity. It is important to tell a story.
4. Walking into a shoot like this, looking at the script, were there things that
were unfamiliar? Did it frustrate you? Were you excited about it? How did that feel for you?-asked to Matt
Matt said it was definitely not frustration but overall excitement. He was so curious about the culture and religion. There are a lot of scenes you are able to see how diverse and rich the culture is. He is grateful to call all of these actors his friends and castmates.
5.What was it actually like for you? – asked to Bilall
Bilall said it was a true honor to be a part of the MCU. There were so many happy memories and giggling that they said. Being the first Muslim Superhero was a true honor!
6. How did you approach balancing the superhero aspectof this with the fact that it is really about a teenager and superhero?-asked to Sharmeen
She said it was about letting the world into the secret that the South Asian culture is
pretty freaking cool. She said their food and music is something that she loves as well as the great relationships between parents and kids. She loves seeing a representation of the Muslim and South Asian culture and people in this show.
"And telling this story is going to change so much for so many people, because I know I have two young girls that when they see Kamala Khan, they too will know that they can also be a superhero."
Ms. Marvel is airing weekly on Disney +!