My Little Pony: A New Generation is available TODAY on Netflix! This is a simply adorable movie with warm and telling life lessons.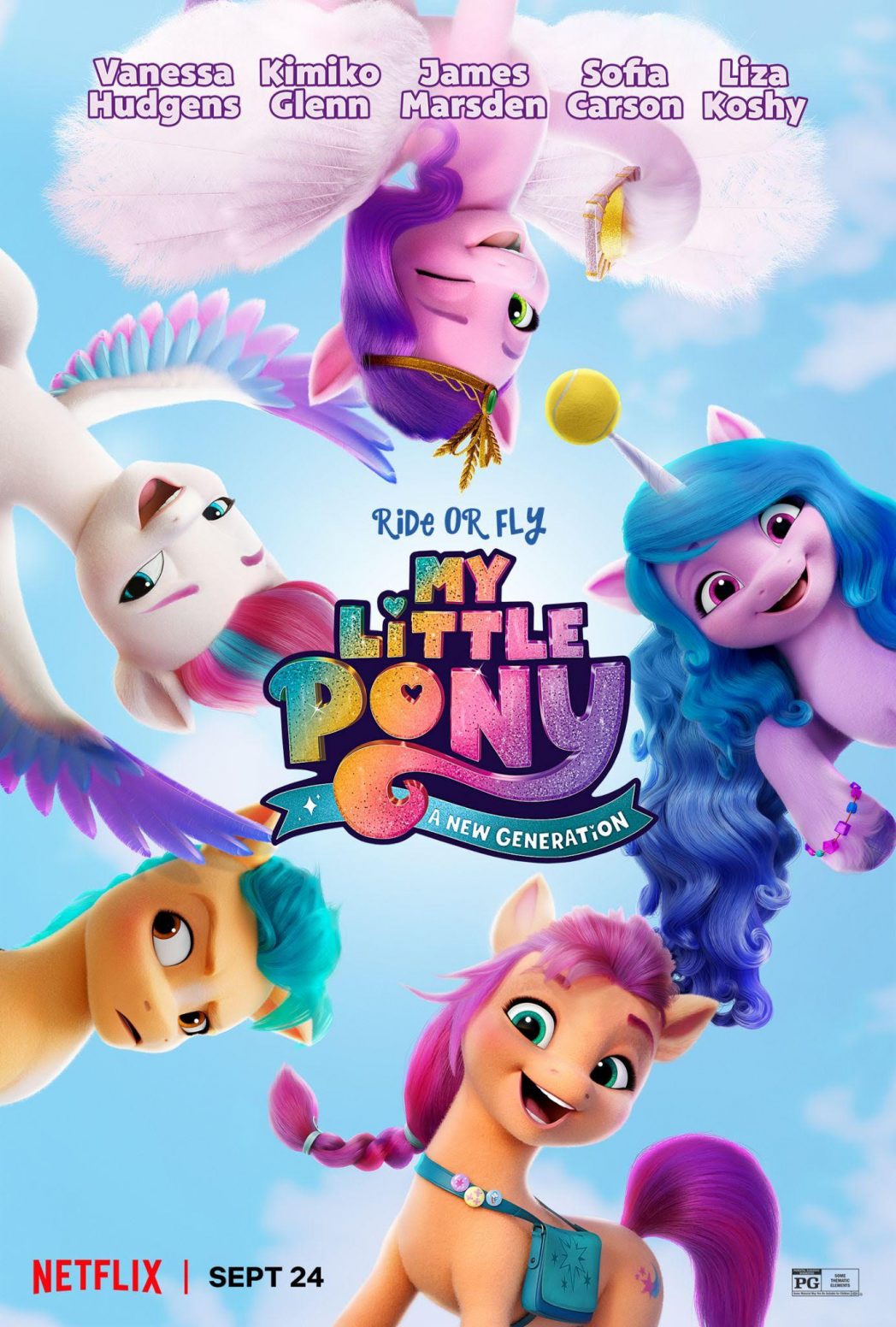 Synopsis | The unimaginable has happened…Equestria has lost its magic! Earth Ponies, Unicorns, and Pegasi are no longer friends and now live separated by species. But idealistic Earth Pony Sunny (Vanessa Hudgens) is determined to find a way to bring enchantment and unity back to their world. Teaming up with open-hearted Unicorn Izzy (Kimiko Glenn), the pair travel to faraway lands where they encounter the likes of charismatic and brave Pegasi Pipp (Sofia Carson) and Zipp (Liza Koshy) and the ever-responsible fellow Earth Pony Hitch (James Marsden). Their mission is full of misadventures, but these new best friends each possess their own unique and special gifts that may be just what this ponyverse needs to restore magic and prove that even little ponies can make a big difference.
Directors | Robert Cullen, José L. Ucha, and co-directed by Mark Fattibene
Story Creators | Robert Cullen & José L. Ucha, and Tim Sullivan
Screenplay Writers
Tim Sullivan and Gillian Berrow
Producers | Cecil Kramer and Peter Lewis
Cast | Vanessa Hudgens ("Sunny"), Kimiko Glenn ("Izzy"), James Marsden ("Hitch"), Sofia Carson ("Pipp") and Liza Koshy ("Zipp"). Additional voice cast members include Ken Jeong ("Sprout"), Elizabeth Perkins ("Phyllis"), Jane Krakowski ("Queen Haven"), Phil LaMarr ("Alphabittle") and Michael McKean ("Argyle")
I had the chance to interview Liza Koshy and Kimiko Glenn for the My Little Pony: A New Generation movie.
Why was it important to do this movie?
My Little Pony both raised them as kids and all the beautiful messages that came through was such important to be a part of it. They both felt lucky to get offered their voices to My Little Pony. They were both so excited to be involved with this. The messages allow kids to learn without really learning such as accepting one another and loving each other for their differences. It is a perfect movie for the entire family.
How do you relate to the characters?
They were both drawn to their characters because they were unique. Zip Storm is anandrogynous  energy of source and  Zip Storm showcases how it is okay to be an independent little pony or person with a guiding light. They both related to their characters living their truth and not living a lie. Izzy also accepts herself wholeheartedly. She is inviting and curious which are aspects that a lot of people model their life after.
Was there any challenges in making this movie that you encountered?
They both said how much fun they had and how much joy this brought to them. The pandemic was a bit of challenge as they did film some of it during that. Filming this movie brought a light to them during a dark time. It was theurpetic to have it during the Pandemic. It is a very relevant movie during dark times.
How it is working with your best friend?
They joked that it was a lot to do. They loved every second of it and loved working together. It was a completely warm experience and to live with love is so important. They are besties and will always be!
My Little Pony: A New Generation is now available globally today on Netflix!!
*Thanks to My Little Pony for hosting me. All opinions are my own and not swayed by outside sources.*