Ever since the first whispers of Covid-19 reached the ears of the U.S our state of affairs have been in an upheaval. Cases started appearing, seemingly from out of thin air. Loved ones were taken from us, both from succumbing to the illness and through the restrictions imposed on our lives by quarantine. Schools, businesses, etc. shut down. The virus took its toll, and now, even a year later, we're still feeling the effects. Not just in the U.S but all over the world.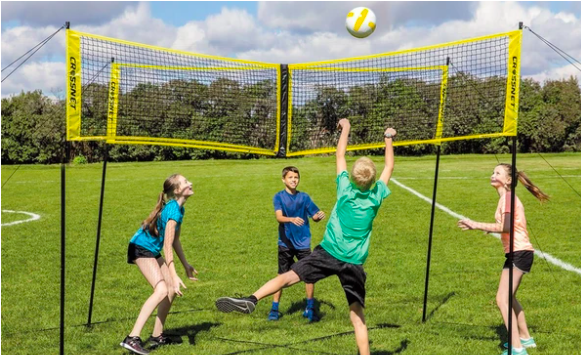 Fortunately the world seems to be heading towards healing. It has taken time, research, and whole communities doing their part to not only slow down but to also makes moves to end this viruses reign of terror. Schools resumed in person learning this Fall, grocery stores have widely resumed regular business hours, outdoor activities are in full swing.
4 Square Volleyball:
Like so many in the world, the 3 young men behind Crossnet dreamed of a business that not only gave them control of their own financial futures but that also benefits those missing group activities in light of quarantine. Little did they know that a combination of brainstorming and catching Volleyball highlights together in their hometown, would be the beginning of financial freedom and the release of the ultimate social distancing sport to the masses.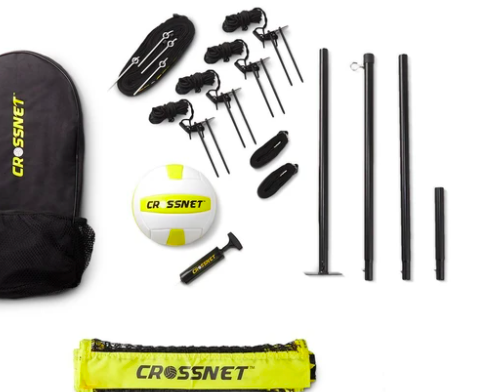 Made up of brothers, Chris and Gregory Mead, and childhood friend Mike Delpapa, Crossnet Volleyball is essentially a hybrid product that came from combining Volleyball with Foursquare, two games that have long been favorites in schools, backyard barbeques and beach gatherings. Search engines at the time didn't produce any results for Four-way-Volleyball, so, the ball was in Delpapa's court given his background in engineering.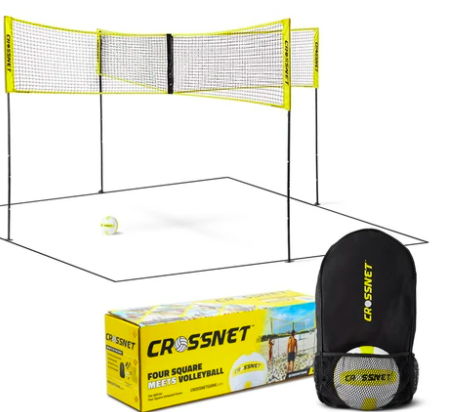 A prototype was created and the sales pitches to companies was underway. It took time, patience, pooling savings, a number of odd jobs and a lot of hard work but eventually, Crossnet was selling out in stores like Dicks Sporting Goods, Target, etc. During this pandemic sales of the Crossnet game soared, with many people purchasing to play in backyards during a time of imposed social distancing.
We received the Crossnet and right off the bat the company received some major brownie points for easy assembly: we were able to get it set up within minutes and it was height adjustable for the kids to make it easier to play. There weren't any complicated pieces, the instructions were so easy even our youngest could make sense of them. Better still, when it was time to take everything down and put it back into the its bag.
If you love volleyball or grew up playing four square in gym, then you'll love how the creators of Crossnet married the two to come up with this new concept. Best of all is how family friendly the game is. There's a lot of sports geared games on the market that make it hard for all ages to participate but Crossnet is not one of them.
Young and old alike can compete in this four way battle of elimination to be crowned the Crossnet champion. With an easy setup, rules that follow those similar to volleyball and foursquare, as well as designed to practice 6 feet apart guidelines, this is one backyard game you'll want for your home!
*This is a partnered post. All opinions are my own and not swayed by outside sources.*