Mother's day is fast approaching, and this year is a BIG one. Moms have worked triple-time over the past year to keep families healthy and happy despite lockdowns, homeschooling, and cabin fever.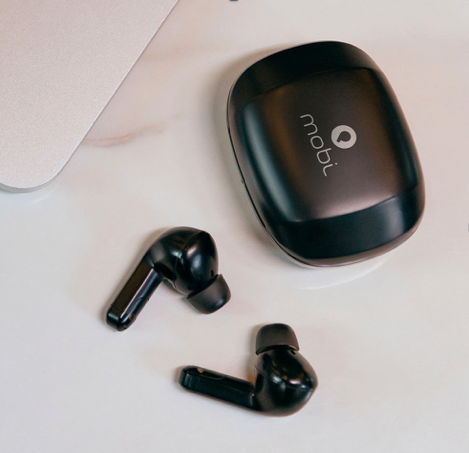 Don't they deserve a little something special? This year, you can get a big gift for music-loving moms for a low price. The new Mobi earbuds are some of the most advanced wireless headphones ever made, and they're on sale now for just $75.
They are more powerful than Apple AirPods Pro, and the noise-canceling technology is out of this world. When mom puts them on, she'll be able to escape from it all (finally!).
Check Mobi out here and grab a pair while the sale is still on. Below, I'll give you a few reasons why mom will flip for these headphones.
An Escape from it All, Anytime
Whether you're in a full house of teenagers, on the bus, or walking down a busy street, you can escape from it all in an instant with Mobi. All you have to do is tap an earbud to activate Mobi's hybrid active noise canceling (ANC) technology and cancel every sound around you. It's like turning the world off with a tap.
Mobi has the most advanced hybrid ANC ever developed. It even incorporates artificial intelligence (AI) to create the perfect listening experience.
Here's how it works:
Mobi has 3 microphones on each earbud. Two of the mics can detect the location and movement of sounds in your environment. When they "hear" a sound, they send a neutralizing signal to cancel it.
Another feedback mic within the speaker listens to your music with you. The AI program hears what you hear, and it cancels further noise pollution that it detects from within the earbud. The AI can recognize over 6000 sounds to clean the audio and make it sound perfect.
When you put Mobi on, the world around you turns off completely. It's just you and your music. This is the perfect escape for people who still can't leave home or travel.
Most moms are still reeling from the pandemic. With Mobi, they can take a break and escape from it all at any time.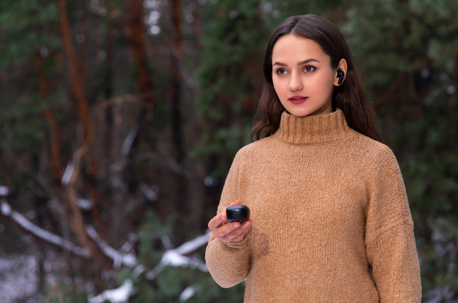 Transparency Mode Keeps You Aware
Turning the world off completely is a wonderful way to escape. But it's not what you want all the time. Moms need to stay aware of their surroundings when young children are around or when running errands or jogging.
Luckily, Mobi's Transparency Mode strikes a balance between ANC and safe awareness.
In Transparency Mode, Mobi's AI will listen to the world around you for noises that you need to hear. If it detects a critical noise, it will pass it through the speakers to your ears, so you're guaranteed to hear it. These noises include alarms, sirens, voices speaking to you, Google Home and Alexa, and others.
All other noises will remain blocked. This mode will keep you aware of the sounds you need to hear while blocking the annoying ones.
If you go out, it will keep you safe while walking in traffic or at night. Indoors, it will allow you to enjoy your tunes while staying aware of little voices calling to you.
It's also really convenient if you like to listen to music around the house. You'll never have to take out your earbuds or even press pause when someone starts speaking to you. Mobi's AI will detect their voice and pass it through the speakers.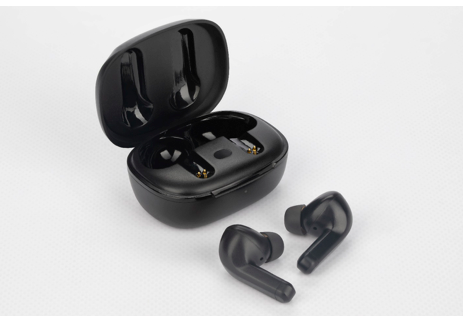 Bigger Sound from Smaller Earbuds
Mobi are super compact and lightweight. You can pocket them or put them in your bag and be ready to listen at a moment's notice. But just because they look small doesn't mean they sound small.
Mobi's speakers are much bigger than those in most other earbuds. The average speaker size is about 4-8 mm. Mobi's speakers are 12 mm in diameter.
Larger speakers mean bigger, body-hugging sound. If you like losing yourself in your music and feeling that surround-sound effect, you can only get that from Mobi (or from bulkier over-ear headphones).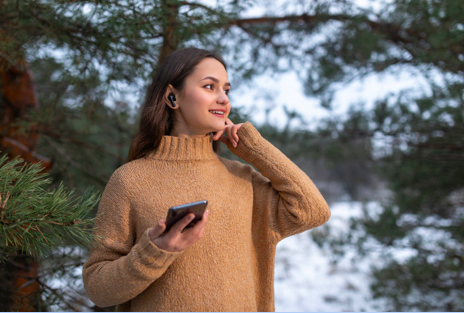 Waterproof and Kid-proof
Mobi are tough. They can handle drops, shakes, shock, debris, water, sweat, and even CHILDREN.
They were built to go anywhere, and they're approved for outdoor use and sports.
An IPX6 waterproof rating means they're highly protected from moisture. They can handle any type of rain—from a sprinkle to a hurricane—and you can even wear them in the shower.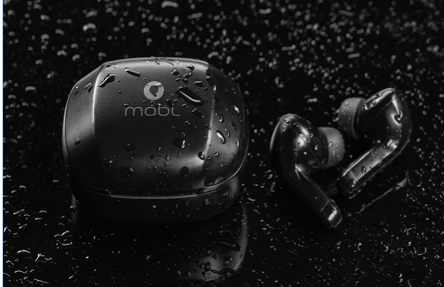 100 Hours of Battery Power
You won't need to leave your earbuds laying around while they charge. That's just asking for the kids to snatch them up. With just a 2-hour charge, Mobi can go for 100 hours.
The earbuds last for about 10 hours per charge, and when they run out, you put them back in the carrying case to recharge. The carrying case holds 90 more hours of power.
That means you'll only have to charge Mobi once every month or two. They're guaranteed to last all day long, which can be a lifesaver on stressful days when you need a little joy from your music.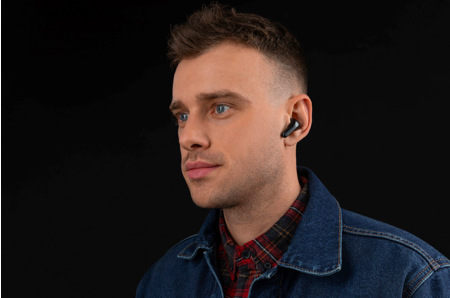 Hands-free Convenience
How much easier would life be if suddenly your phone became a hands-free control center that you could access anytime with your voice?
With Mobi on, you can access all the features of your phone or mobile device with voice commands.
Just tap the earbud to summon your digital assistant (Siri, Google, etc.), then you can make reservations, send messages, surf the web, and access your apps—all hands-free.
Clearer Calls
Do you still call the old-fashioned way? You know, by holding the phone up to your face. You never will again after you try Mobi.
I know, a lot of earbuds are terrible for calling. They create a lot of interference, and sometimes they can't detect your voice.
Mobi are completely different. Because they have 3 mics per headphone, they're able to triangulate your location and detect your voice with unparalleled precision.
The AI also listens to your voice and the voice of the caller to eliminate unwanted noise and correct errors from the mics.
You get the clearest hands-free calling ever from a pair of earbuds. Mobi detect and isolate your voice so well that you can have phone meetings while surrounded by toddlers and the people on the other end of the line won't hear a thing.
Give Mom a Little Getaway with Mobi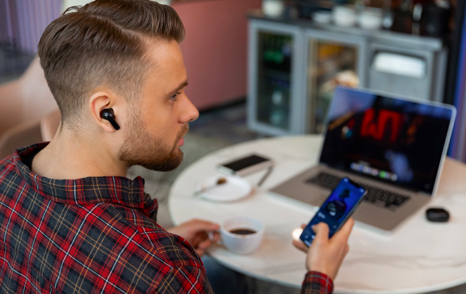 Mobi are more than a pair of headphones. They're a moment of peace and quiet. And what more could mom want on mother's day, especially after the crazy year we've just had?
You might not be able to escape the house quite yet for a trip to the spa or a nice restaurant, but you can still enjoy a little escape at home.
This mother's day, draw mom a bath, get her some nice chocolates and fancy bath oils, and buy her a pair of headphones that lets her enjoy her music or audiobook without any distractions.
Mobi cancel the full range of audio frequency for a true escape from it all.
Even better, Mobi are much more affordable than other premium earbuds. You can get a pair now for just $75 during the pre-order sale. At that price, you might as well get a pair for grandma too!
Take a closer look at Mobi and order your pair for mom now at mobiearbuds.com.
*This is a partnered post. All opinions are my own and not swayed by outside sources.*