This May is Allergy Awareness Month. Did you know that the prevalence of allergies has an impact up to 30% of the U.S. population – with about half of those experiencing seasonal allergies?  But 30 million people suffer from chronic sinusitis (CS) that can be related and cause similar symptoms, and up to 10 million of them may have nasal polyps.
Nasal polyps are not cancer: they are benign growths high and deep in the nasal passages that result from chronic inflammation and lead to persistent symptoms like congestion, runny nose and recurrent sinus infections. This allergy season in particular, people may have more questions about these symptoms because COVID-19 is still prevalent and can come with similar symptoms; that's why Optinose conducted a nationwide survey with The Harris Poll to help people get to the root cause of their symptoms and learn what they can do about it.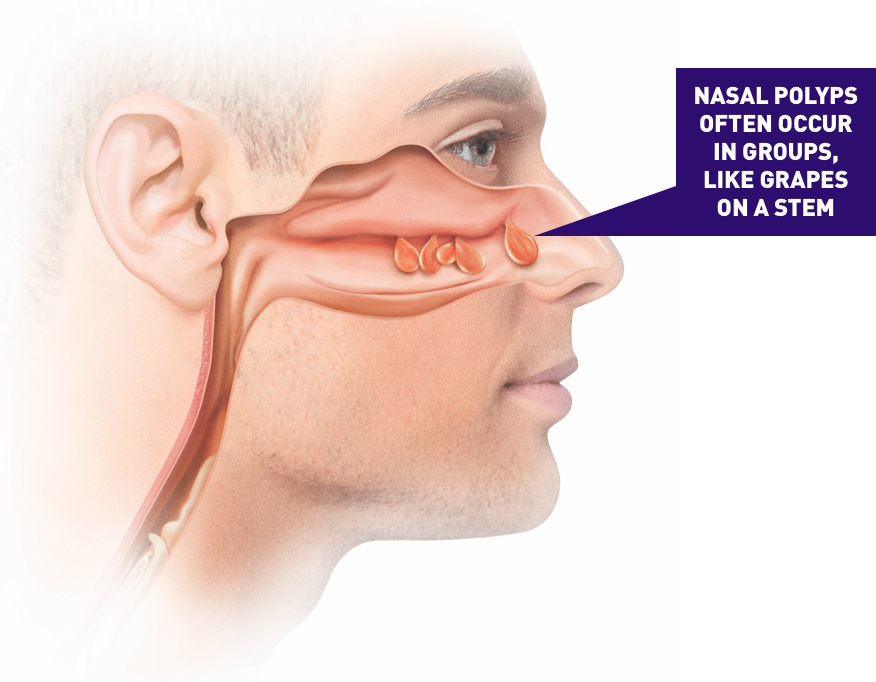 The new Harris On Demand survey of U.S. adults found that nearly one-quarter of people suffering from chronic nasal congestion have nasal congestion almost every day. And, while most people suffering from chronic nasal congestion know about allergies as a potential cause, more than half are not aware that nasal polyps are also a common cause of persistent symptoms. Additionally, less than half of chronic sufferers surveyed have sought a diagnosis from a specialist (like an allergist/immunologist or ear, nose and throat (ENT) specialist), suggesting that most people are not seeking care to look deeper at their chronic problem.



The survey found that, of those who experience nasal congestion:
85% of nasal congestion sufferers said nasal congestion impacts their daily life; with a resounding 60% saying it impacts their ability to get a good night's sleep.
48% of nasal congestion sufferers said their ability to smell or taste food is impacted by their nasal congestion.
95% of nasal congestion sufferers surveyed have experienced additional symptoms because of their chronic congestion – including more than half who have headaches and one-third who feel fatigued.
Half of those surveyed felt unsure if symptoms they were experiencing were caused by their chronic nasal symptoms worsening, or by COVID-19.

I had the chance to sit down with Dr. Neal Jain, an allergist in Phoenix, Arizona to discuss the results of the national survey and the importance of seeing a trained medical professional to determine what's causing chronic congestion and what can be done about it.  
Q+A with Dr. Jain:
1.My first question is I understand there was a new survey conducted to help people get to the root cause of their nasal congestion symptoms and their impact on day to day life. Can you share some of the top line findings and how you could tell whether persistent nasal symptoms or ordinary seasonal allergies or they could be something else?
May is allergy Awareness Month and we are in the heart of allergy season right now with up to 30% of Americans suffering from seasonal allergies or chronic allergy symptoms. And it raises the question, if I've got nasal congestion, where are the symptoms coming from? So we partnered with a company to conduct a survey. And what they found was that 25% of those that responded reported having chronic nasal congestion with almost daily symptoms, and 85% of nasal nasal congestion. Sufferers said it impacts their daily life, including 60%, who said it impacts sleep. And we know that sleep is really so important for our day to day well being and for our general health. When we have this chronic congestion, it really begs the question of what's going on? Is this allergies? Or is this more that almost half of those surveyed said that their symptoms impact their ability to taste and smell food? And so when we see these symptoms ongoing, for more than 12 weeks or three months, we start to think, okay, is this really just allergies? Or could there be more going on? And these symptoms, including loss of smell and taste, congestion, persistent congestion, facial pressure, sometimes post nasal drip or ongoing drainage? Those can be signs of a deeper problem, something called Nasal Polyps, which are growths that can develop high and deep in our nasal passages.
2. Could you tell me what are the symptoms that could suggest that it could be Nasal Polyps deep in the nose?
Nasal Polyps are growths that happened and occur deep and high in our nasal passages. And the symptoms include just those so chronic nasal congestion doesn't want to go away with facial pressure, post nasal drip or ongoing drainage and mucus production, and loss and smell of smell and taste. That's really a common one. And people think about COVID right now with loss and smell and taste. But if you have this persistent loss of smell and taste that and especially as it becomes more severe, that can be a sign of the development of these Nasal Polyps.
3. These are symptoms of the house. What causes that?
The cause of polyps is really inflammation and chronic inflammation in our nasal passages, in high deepen or nasal passages. Allergies are one of the things that we see associated with polyps, but pollution and other factors that lead to inflammation, especially in genetically susceptible individuals are what lead to the development of these polyps. They're not cancerous or precancerous, they're really growth of inflammatory tissue. And so anything that causes chronic inflammation can be infection, it can be pollution, it can be allergies, any of those things can lead to the development of these polyps.
4. Could you tell me how they're treated?
The typical first line treatment is going to be something that's over the counter. So nasal steroids sprays that you might find in your pharmacy aisle at the store would be the first line treatment. Now unfortunately, many individuals don't respond or have a sub optimal response to that type of therapy. And ultimately these patients should be seeing a specialist in ear, nose and throat or an allergist who can discuss the other treatments. surgical intervention is another treatment. The problem with surgery is that oftentimes these polyps will come back and so we'll see people who have often times had surgery two, three times because the polys continue to come back. There is also a nasal spray steroid that is very effective.
5. Where can my viewers go for more information?
Your audience can learn more about nasal polyps, fill out a nasal polyp questionnaire about their symptoms and locate a specialist nearby by visiting www.TreatNasalPolyps.com.  

Bio of Dr. Neal Jain:

Dr. Neal Jain is a board-certified allergist and immunologist based in Gilbert, Arizona. He obtained his medical degree from the Medical College of Wisconsin and subsequently trained in Pediatrics at Phoenix Children's Hospital, as well as in Allergy, Asthma and Immunology at National Jewish Health Center and University of Colorado School of Medicine in Denver, Colorado. Dr. Jain has been featured on a nationally syndicated television program to discuss new asthma technologies and has authored or co-authored a number of studies published in peer-reviewed journals and continues to pursue clinical research. Prior to joining San Tan Allergy & Asthma in January 2010, he practiced as an Allergist/Immunologist at Dean Health System and the University of Wisconsin in Madison, Wisconsin. Dr. Jain is a fellow of the American Academy of Allergy, Asthma, & Immunology and of the American Academy of Pediatrics.
*This is a partnered post. All opinions are my own and not swayed by outside sources.*