Are you tired of having to buy a new jacket for every occasion? Ok, it's kind of fun to go shopping! But all those jackets really add up when it comes to expenses, especially when you have a big family.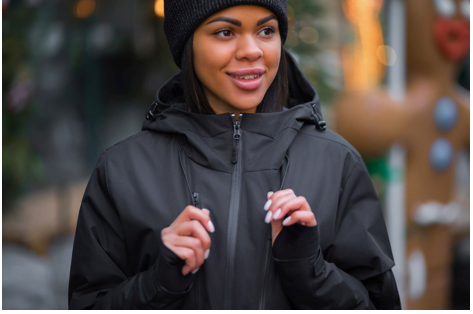 Now, there's a new jacket that you only need one of—for life. It's called GAMMA, and it's made of a new material called graphene. It can be used in any climate and for any weather thanks to its special insulating properties. It will keep you cool in hot weather and warm in cold temperatures (as low as -20˚F!), and it's also waterproof and windproof.
The best part is, it's super lightweight and stylish, so you'll feel comfortable and trendy all year long.
Having one jacket for any occasion makes life easier, it saves you money, and it's better for the planet. And now, it's affordable too. You can pre-order a GAMMA jacket now for over 40% off the retail price. The pre-sale only lasts for another few weeks, so check it out now.
How does an all-climate jacket work? The secret is the breakthrough material graphene. Here's what you need to know.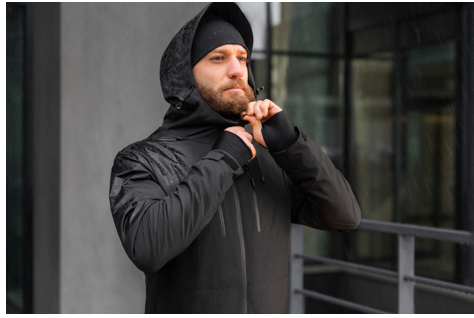 Graphene: The Nobel-winning Nano Particle
Graphene is one of the coolest discoveries of the last few decades. It was just discovered in 2004, and it was such a monumental find that it won its discoverers the Nobel Prize!
Graphene is a nanoparticle that's incredibly light and thin, yet it's also the strongest and most flexible material on the planet. It's even stronger than diamond!
Scientists soon learned that it had many other properties. For example, graphene is:
Insulating
Waterproof
Gas-proof
UV-proof
Insect-repellant
Antibacterial
Practically indestructible
With all of these abilities, graphene was called the super-material of the millennium. But, researchers still didn't know how to use it. After all, it's super small and as thin as an atom.
But now, over 15 years later, the scientists behind the GAMMA jacket figured out how to infuse clothing with graphene, and the results are pretty amazing.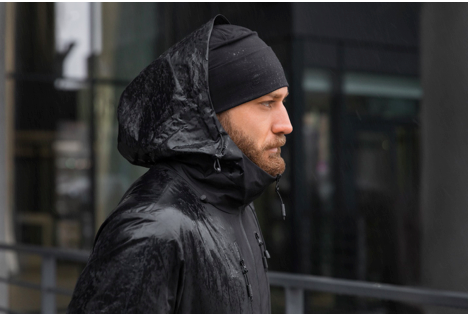 GAMMA Jacket: The Most Versatile Jacket Ever Made
Adding graphene to clothing is a bit like when our ancestors switched from wearing heavy, scratchy leather to light and breathable cotton. The difference was so big it was hard to believe.
When you put graphene into clothes, any piece of clothing becomes 10x more versatile and incredibly strong.
That's what you can experience with GAMMA. Just one jacket functions as a light jacket, a heavy winter coat, a rain jacket, a windbreaker, and more. It's so strong that it can't be cut or pierced even by the sharpest knives. And it's totally resistant to the elements.
Here are a few reasons why GAMMA is the only jacket you'll need.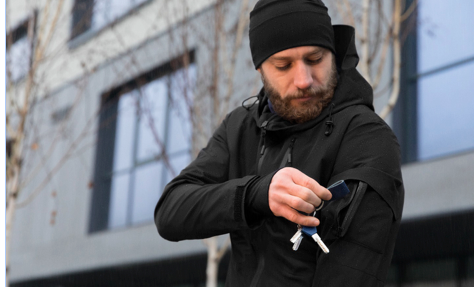 It keeps you warm in any climate
Graphene's next-level insulation acts like a second skin. It naturally distributes heat evenly across its lattice structure. That means it will transfer heat from the warmest parts of your body, like your chest, to cooler parts like your arms and head. It also keeps heat contained, giving it the heating power of a heavy jacket despite weighing as much as a hoodie.
When it's warm out, graphene releases excess heat to cool you down and wicks moisture to prevent you from getting sweaty. It also repels UV rays to prevent the jacket from heating up, so you'll feel cool inside the jacket even on super sunny days.
It protects you from any weather
Rain or shine, GAMMA will keep you comfortable. Graphene is completely impermeable by liquid or gas, meaning it won't let any rain or wind through—no matter how extreme.
This makes GAMMA the most effective windbreaker on the market. Even if the wind is howling, you won't feel a chill get through. Even the most expensive windbreakers can't do that.
As mentioned before, GAMMA is also UV-proof. Most other summer jackets will let UV rays enter, damaging your skin. GAMMA keeps you cool and protected from radiation, making it an excellent jacket for those with sensitive skin.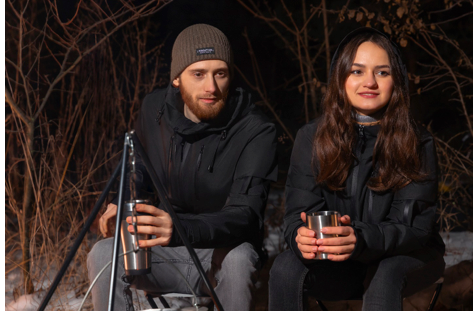 It keeps you safe from harm
GAMMA doesn't just protect from the elements. It protects from many other sources of harm.
Thanks to graphene, GAMMA is nearly indestructible. It will not tear, scratch, or fray. This protects you from cuts and scrapes you can get while hiking or climbing. It can even protect from attacks by animals and knives—it's an outdoors essential.
Graphene keeps mosquitoes away by blocking the insects' ability to sense your skin. It makes you invisible to bugs. This protects you from bug-borne illnesses (and just plain annoying itchiness).
GAMMA is also antimicrobial and hypoallergenic. It will stay germ-free for life, no matter where you take it or how often you wash it. Germs can't survive on its surface. It will also shield you from pollen and the poison of various plants, many of which can cling to your clothing and follow you home.
It lasts a lifetime
Wouldn't it be nice to buy one jacket and rest easy for life? GAMMA's graphene material won't break under even the most extreme conditions. It's the hardest material on the planet.
And, it will look good for life too. You won't need to wash it very often because of its antimicrobial properties. It's also odor-proof and stain-proof, so it will look and smell fresh even if you just wore it on a jog.
But if you manage to get it really muddy, you can easily rinse it off. And, it's washing machine safe.
It goes anywhere and everywhere
GAMMA is lightweight and stylish, so you can wear it just about anywhere. It looks like an activewear soft shell jacket, but it has a slimming cut that softens the shoulders on a woman and broadens them on a man (the men's and women's jackets feature different designs).
It's easy to wear GAMMA hiking, running errands, working out, going out, and even at work. It looks sleek yet discreet, so it's always a smart choice. And you never have to worry about it getting dirty or smelly because graphene is immune to bacteria and odors.
When traveling, there's no better jacket to pack. GAMMA packs down to the size of a t-shirt and weighs just a bit over a pound. You can stuff it in a bag or backpack and be ready for any weather, no matter where you're going.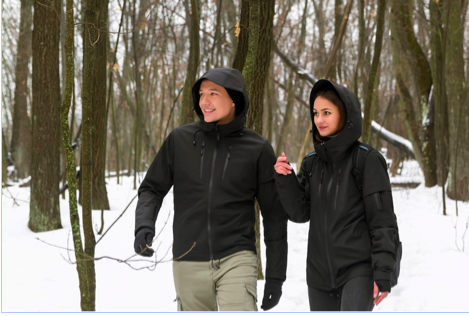 More Than Graphene
Graphene is the star of the new GAMMA jacket, but its designers added some extra features to complement graphene's abilities.
Internal heating elements: GAMMA has three built-in heaters that can be turned on after placing a power bank in one of the pockets. In below-freezing weather, these heaters add more power to graphene to keep you warm in temperatures as low as -20˚F. The heaters are totally safe, as they contain no electronic parts. You can even fall asleep with the heaters on without worry.
10 pockets: Travelers, outdoorspeople, and parents will love the massive number of pockets in GAMMA. Two of the pockets are hidden for safe storage of cash, cards, and travel documents.
Fingerless gloves: A graphene jacket can't keep your hands warm—unless you build fingerless gloves into the jacket. GAMMA's gloves are very cool, and you're guaranteed never to forget them!
Drawstrings and more: This outdoors jacket comes with everything you need to stay safe from the elements, including drawstrings, a rain hem, and a hood.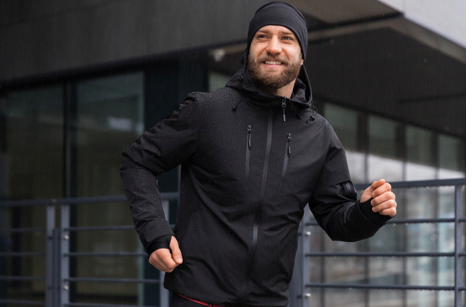 Pre-order GAMMA Jacket Now for 40% Off
You're going to want to have some graphene clothing in your wardrobe. It's some of the best clothing for year-round comfort, and it's perfect for parents too. No matter what your little ones have in store for you, your clothes will never show signs of wear and tear.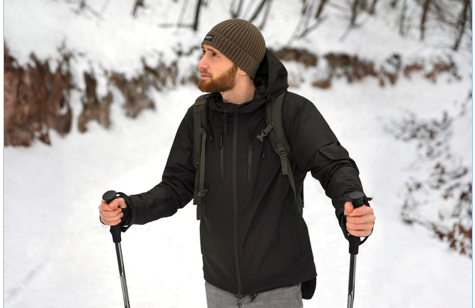 Now is the best time to buy too. Graphene clothing isn't cheap, because it's difficult to infuse graphene into textiles. But, if you pre-order GAMMA soon, you can get over 40% off the price. That's over $200 off a jacket that will last you forever.
Don't miss out on the chance to be more comfortable and safe in any climate for the rest of your days.
Learn more about graphene and pre-order GAMMA now at weargraphene.com.
*This is a partnered post. All opinions are my own and not swayed by outside sources.*