WandaVision! There is so much I want to tell about this new series but you have to wait till tomorrow to hear my full review. However, today I can tell you all, that this past weekend I did a press conference for the new Disney + WandaVision with, Elizabeth Olsen ("Wanda Maximoff"), Paul Bettany ("Vision"), Teyonah Parris ("Monica Rambeau"), Kathryn Hahn ("Agnes"), Matt Shakman (Director), Jac Schaeffer (Head Writer), and Kevin Feige (Producer). I know DREAM cast and crew. I have been fortunate enough to have worked on a few Marvel films through my years as a blogger and had the chance to meet Kevin Feige a few times as well. I was excited to interview them for their TV series! Do not forget that the first two episodes of WandaVision debuts TOMORROW on Disney +!

INTERVIEW TIME: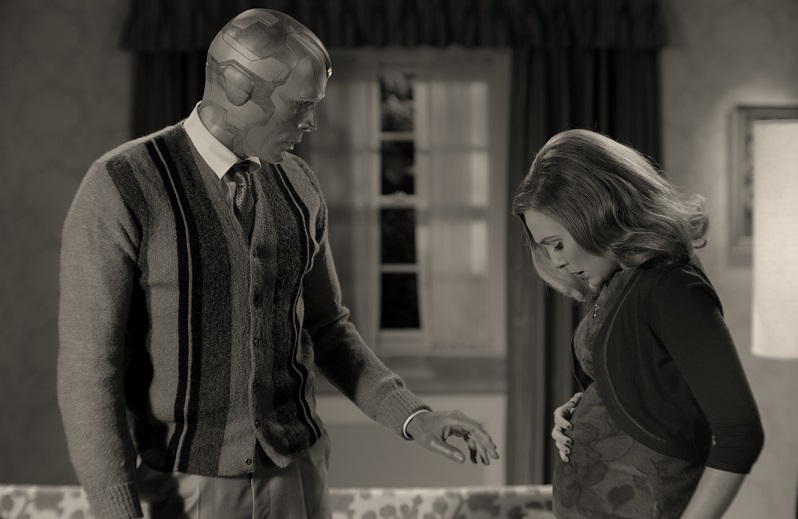 1. You apparently shot the first episode  in front of a live studio audience. How did that affect your-your performance?- asked to Elizabeth Olsen
She told us it was the first thing they shot which was nerve wracking since there is so much adrenaline.
2. What is it about Vision that seems to hold true, whatever his surroundings are? – asked to Paul Bettany.
At first he said the script felt so different so how to I keep Vision the same. Then he realized that is is always been becoming something else.  He's Jarvis, he's part Ultron, he's part Tony Stark, and he's omnipotent but he's also this sort of naive ingenue.
3. Can you tell us about Monica and her character? -asked to Teyonah Parris
She said we met Monica in Captain Marvel as a little girl and basically in WandaVision we pick up with who she is now as a grown woman. Through the course of the show we find out what she's been up to, what's happened for her between that gap in the years and who she's grown into. She said we will get to see Monica join Carol Danvers, Captain Marvel and Miss Marvel in Captain Marvel 2.
4. Tell us about the sitcom bootcamp though you ran for this esteemed group of thespians. -asked to Matt Shakman
He said they  wanted to be as authentic as possible. That was one of the biggest goals they had and so production design, cinematography, costuming, everything was about going on this deep dive and with the actors, they all wanted to do the same thing. They all watched just a ton of old television episodes, talked about how comedy changes,  because it really does. The approach to comedy in the 50s, 60s, 70s is really different.
5. So can you describe Wanda and Vision's journey to this point, and what can we expect to see of their relationship throughout the series?- asked to Jac Schaeffer
He said that Wanda and Vision are really a fan favorite because their love story . It has been so very tragic but also really kind of warm and intimate, and we've seen them in these really beautiful kind of stolen moments in the MCU. It's actually been a small amount of screen time but very powerful and very soulful. What we have with WandaVision, is treat for all as we're sort of opening up the stage and the space for them and they're in this like domestic sphere.
6. What were-what were the tools that you used to research the changing of dialect during that time? -asked to Jac Schaeffer
It was almost like doing an accent or a period piece,  especially with the 50s and 60s. They would sort of compile these big lists of sort of sayings of the era and then they had to have kind of a subsection for Paul. So in the early ones, it genuinely was sort of a research thing that we were kind of plug-in and playing the expressions to make it really fun in that way.
7. This is the first foray into sitcom for the MCU. What other projects can we expect for this at the sitcom level?- asked to Kevin Feige.
He said that this is their first test run for Marvel Studios. This was Marvel Studios' first foray and directly with cast and amazing characters that we'd seen in movies, coming onto television. There were a lot of meetings before people actually sort of understood what we were trying to go for and they made it because of what Jac and Matt did and envisioned.
8. With  all the sitcom references and homages are entirely there, entirely obvious, when it come to the mystery and the darker aspects of the show, what were the references and inspirations for those? -asked to Kevin and Jac
Kevin said they we often talked about, when they were in our period sitcoms, that when something shifted from say a Dick Van Dyke or an I Love Lucy style into something that was outside of that,  it was going into kind of a Twilight Zone. They  were thinking about what were the period shows that addressed the odd and the strange, and how could we embrace that? So that's a little bit about how they approached the shooting of it initially, and the look of it.
9. Who  inspired casting of Kathryn Hahn to join the MCU? -asked to Paul
Paul said it was one of those miraculous things that happened. In his memory, it all happened very quickly.   It was a rare general meeting, which we don't usually have a lot of time to do, but Kathryn came in and sat down with  Luigi Esposito. She was a fan of ours and we were fans of hers. They thought she was perfect to play Agnes! And so started the process!
10. I wanna know from Wanda's point of view, how she would describe WandaVision. – tto Elizabeth Olsen.
She said from Wanda's point of view she would describe  WandaVision as a family sitcom of two people trying to fit in and not be discovered for being different.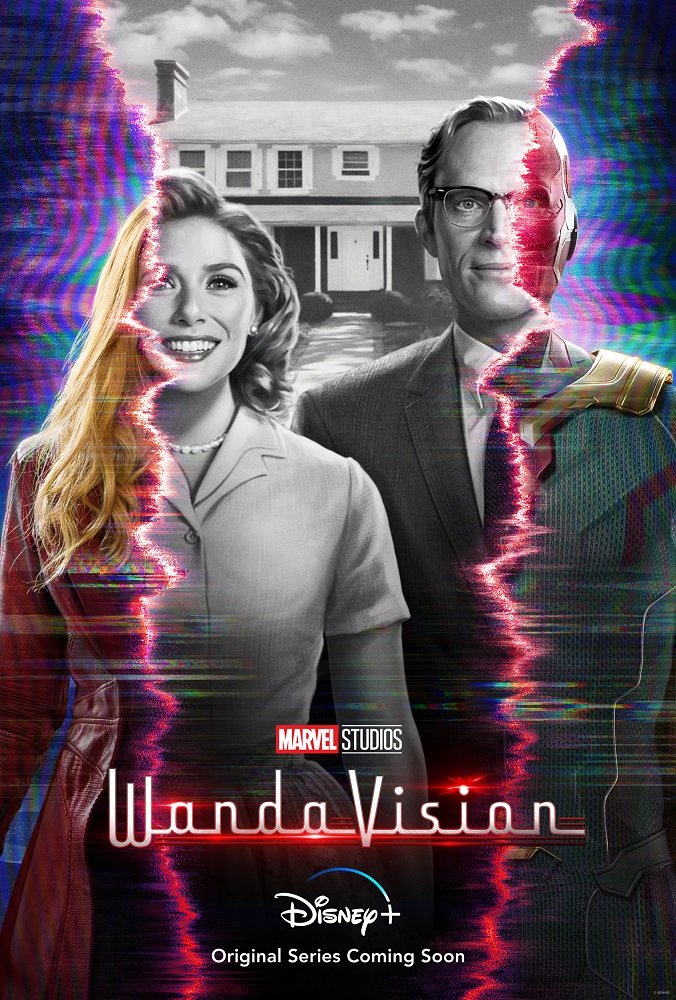 ABOUT WANDAVISION:
Marvel Studios presents "WandaVision," a blend of classic television and the Marvel
Cinematic Universe in which Wanda Maximoff and Vision—two super-powered beings
living idealized suburban lives—begin to suspect that everything is not as it seems.
"'WandaVision' will be the very first Marvel Studios series on Disney+," says Kevin
Feige, president, Marvel Studios and chief creative officer, Marvel. "Wanda and Vision
are two of our most powerful and complex heroes, and this series is a perfect expansion
point for MCU storytelling."
The series not only marks the first Marvel Studios' Disney+ series, it is its first journey
into the world of sitcoms—with an MCU twist. "It's a mash-up of classic sitcoms and
large-scale Marvel action," says Matt Shakman, who directs all nine episodes. "I think
it's really lovely that the first streaming show from Marvel Studios—producer of huge
blockbuster films—is really a love letter to the history of television
WANDAVISION starts streaming exclusively on Disney+ January 15th.
*Thanks to Disney for inviting me to their virtual press conference. All opinions are my own and not swayed by outside sources.*