*Disney/Marvel provided me an all expense paid trip to LA for this event. All my opinions are my own and not swayed by outside sources. Photo credit: Disney and Louise from MomStart.com and Disney.
It is not everyday you get to sit with the director of Guardians of the Galaxy Volume 2 and the president of Marvel Studios Kevin Feige. I will totally admit I got a bit star struck when they came in the room because they are two of the big wigs behind this genius movie. They also told us that we "mommy bloggers" are their favorite people to do an interview with. Cue the blushing! They were so generous to sit with us (the day after the world premiere) and tell us about the movie with huge smiles on their faces. It was an absolute pleasure to interview them.
MY INTERVIEW WITH KEVIN FEIGE AND JAMES GUNN: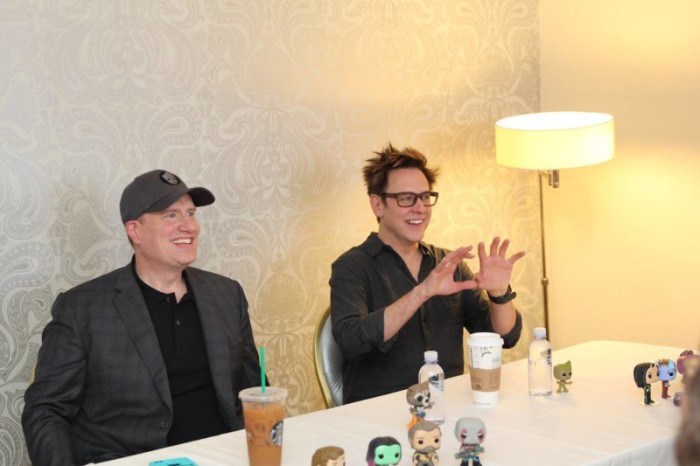 Question 1:    So, then, tell us about Adam. When are we going to see him?
James told us in the future we will be seeing him.
Question 2:   So, James, can you tell us anything about the process of choosing the music for this one?
He told us he has a list of 500 songs which are Guardians-type songs that Meredith Quill might really love.  He then goes through them and he puts the songs into the script where he seems they fit. Sometimes he knows a song right on that list and sometimes he needs to go search it out.
"I get more tweets about that- "you oughta put this song in Guardians of the Galaxy." But those are the nice ones. The mean ones were, "If you don't put this song in Guardian of the Galaxy, I'll never talk to you again." I'm like, "Okay, don't talk to me." They're always songs that I know really well, because I've studied my Seventies music, especially since starting on this series, and somebody sent this song by this band called Silver, called "Wham Bam." And I'm like, "I've never — what is that song?" And I went and I played it, and I'm like, "This is a really cool, like, total Seventies pop song that is so different." And then I was like, "Is this a fake song?" I thought it was a modern band with a retro vibe. I had to go and do some research on it, and found out that it really existed, and then I put it in the movie."- James Gunn
"What's so amazing, and it was like this on the first one, and held to it on the second one, a lot of screenwriters put song suggestions into their scripts, and almost none of those songs end up in the actual movie. And when James did that, I think even maybe on an outline in the first movie, and certainly in an outline on the second movie. On the first one, it was like, "Oh, that's cute. He thinks these songs are going to be in the movie. We'll see." Every single song. It's not just the movie. But what's perfect for the movie. And then on part two, I knew better. So, would listen to the song as I'm reading the outline, and then later the script. And that sort of pool of songs that  has comes in handy. There's a Guardians of the Galaxy theme park ride that is opening soon at California Adventure that features songs that James suggested as well, and a few other places coming up in the future."-Kevin Feige
Both of them said the music is the integral part of the story line which the viewers will see time and time again.
Question 3:   Just jumping into Chris and Zoe's relationship, it's slowly unraveling. And we didn't get the kiss. I thought we were going to go there but we didn't. Why was that the intention and why are we taking that slow route?   Or, is it even ever going to get there?
" Zoe and I actually talked about this for a long time last night at the premiere, at the party after the premiere, and there was a time when we had a lot of discussion and talked about having a kiss in the movie. But it seemed that we tried to treat these characters with such respect and such love.  Gamora is a character who would be swept up in the moment by passion, and if she was, I think she would have to deal with the ramifications of that. I don't think she would be easy on herself about it. And so I think at the end what we see between the two of them is such a truer love story. Where she loves him, and he loves her, and she acknowledges that at the end of the movie, but that's a love that's based not only on attraction but on a really deep friendship that the two of them have."
"A partnership that we see at the beginning of the movie. They have  changed a great deal. At the beginning of the movie, they're great friends. She's a great support to him when he is making this decision, and he respects and loves her. And so I think seeing that emotional part of their movie, of their relationship, is a culmination of what their relationship is in the movie, is more powerful than seeing a kiss that is romantic and would make us feel happy and feel good, but wouldn't be as true."- Kevin Feige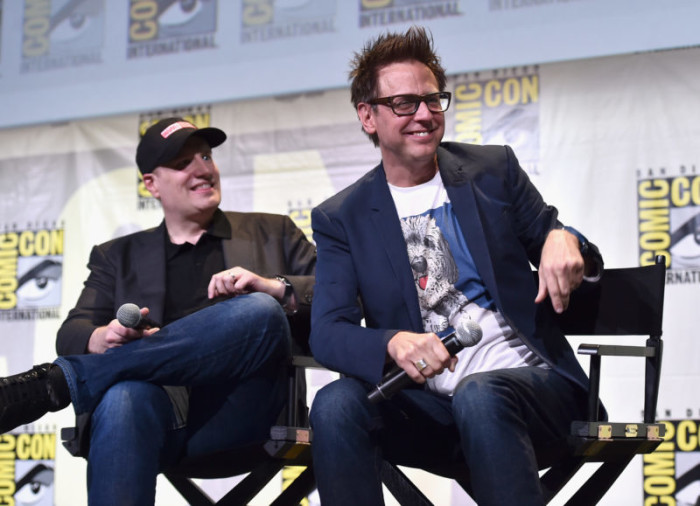 "It's the difference between a truthful, emotional moment, and a Hollywood moment, and that was very savvy of James to navigate that."- Kevin Feige
Question 4:     Kevin, I have a follower who wanted me to ask, when the Guardians meet the Avengers, how will fitting a whole team dynamic into a supporting role work?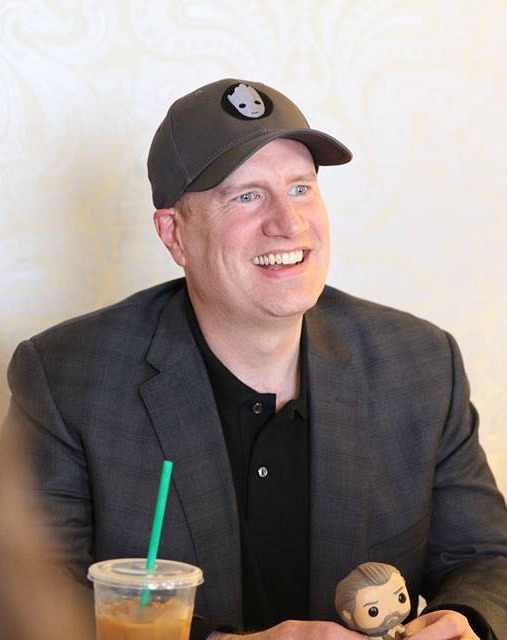 He told us with the connectivity of the characters on the films, he has to be careful. He would never want the characters just popping out of windows saying hi and going back in.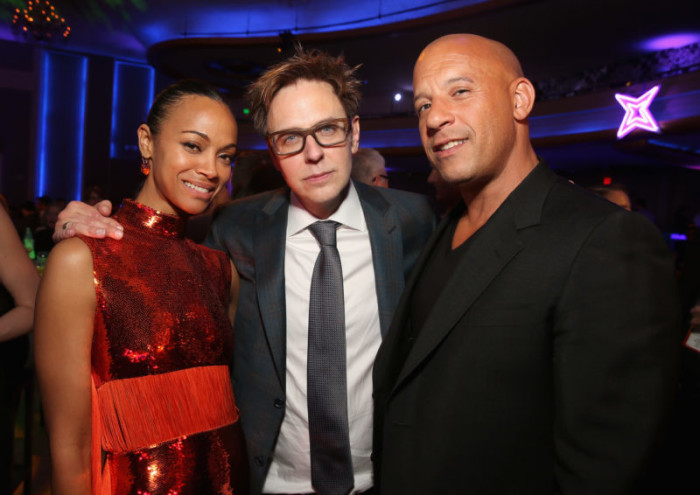 " Believe me, it'd be easier to do it that way, but it wouldn't be as satisfying. So a big role, a small role, regardless of the actual screen time that any single character has, and I think you've seen this in the Avengers films, and in Civil War last year, it'll be very meaningful and very important to the story that we're telling. And that film's shooting right now and we've already shot a lot of those interactions, and they're very exciting. It's very exciting."- Kevin Feige
Question 5:  James, the scene with the Ravager captains at the end with Sylvester Stallone and all the other captains — is there a possible storyline there?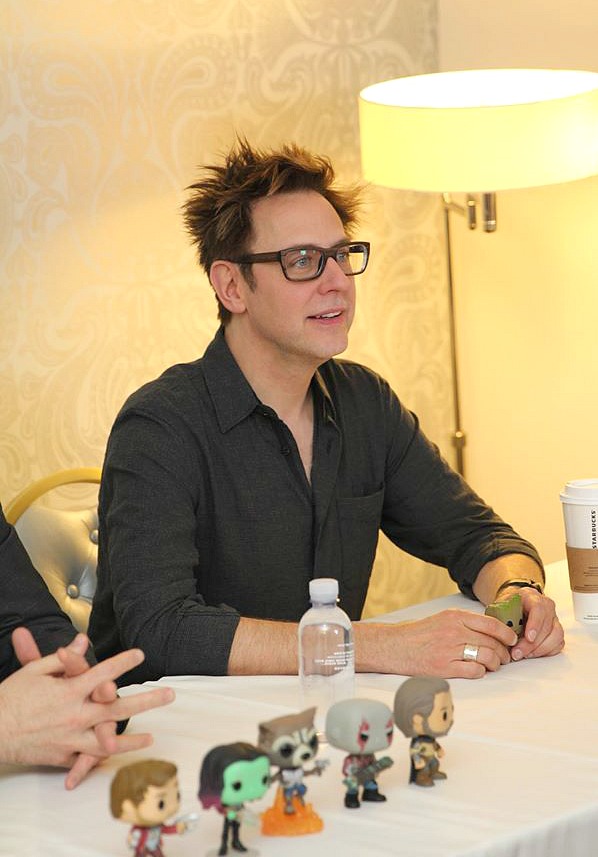 He said absolutely and he is excited about those guys.  He said the movies are based on the old Guardians comic books. But he thought it would be fun to make it a more weirder, more screwy Guardians. So he went to Kevin and asked if they could do it so then they brought in Sylvester Stallone.  And they did and it worked out beautifully.
He also gave us a spoiler and told us the voice of MainFrame is Miley Cyrus.
Question 6:   Speaking of cameos, obviously, it's a family film, your parents were in it too, right?
He said his parents, his brother, his sister-in law, his nephews, and his niece were all in the film.  He joked around that he killed a lot of family members during one scene LOL! His dad and mom are credited as the "weird old man and his mistress" in the credits.
"I think the first movie really is about a relationship from a mother to her son, and the second movie is about a relationship from a father to a son. It just may not be the father that we expect it to be. And they're all very imperfect characters, but, you know, my parents loved me. My parents would be the first to admit it was not the easiest upbringing, but they loved me. And I think at the end of the day, that's what's most important, and I think that's the point of the movie. I think these characters love each other, and as hard as it is for them to express it to each other, and even more so with a character like Rocket, who has almost an impossible time taking it in at all. That's what the movie is about."
Question 7:  How do you pair the directors with the movies?- asked to Kevin Feige
He told us it is a lot of meetings and a leap of faith in some regard.
"Do we want to spend,  in a worst-case scenario, three years together, and in a best-case scenario, you know, ten years together? 12?" But it really we have a great team at Marvel Studios."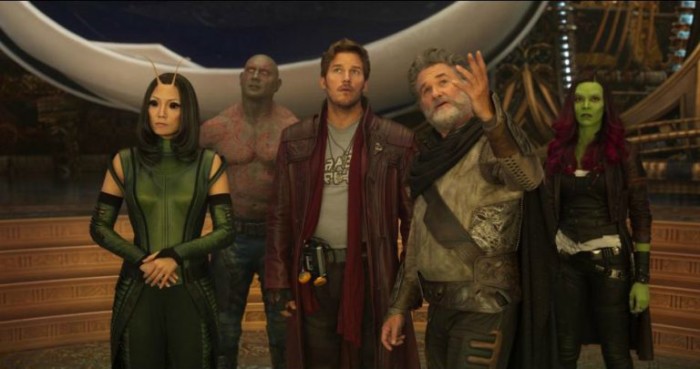 "They all have done a  great job so far as Marvel, but, you know this is Bugs Bunny in the middle of the Avengers, and you're gonna look like idiots. And so  I kind of smiled and shook their hand and I went home, and I didn't really think I was going to take the gig, or that wasn't being offered the gig, but I didn't think I was going to pursue it in any way. And then on the way home, it hit me. It really, really hit me, and it was like seeing the first poster in my head on the way home, and I realized what this movie could be, and how it could bring color and heart into a big, franchise film, and create the kind of space opera that I've wanted to do my entire life, so that's how it started."- James Gunn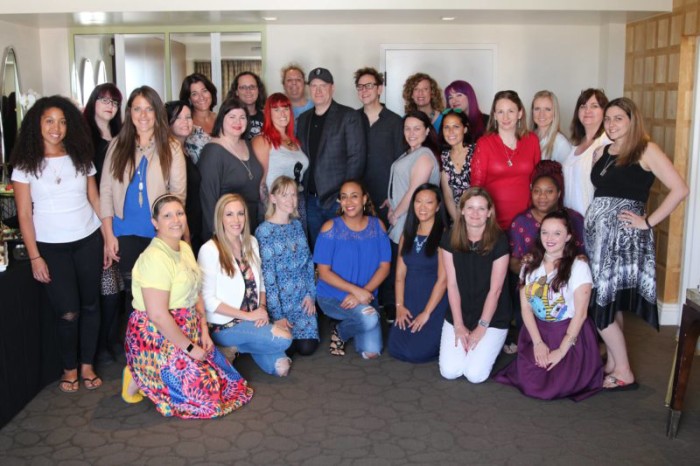 "I gave Chris an opportunity, and Kevin gave me an opportunity."- James Gunn
BE SURE TO SEE GUARDIANS OF THE GALAXY VOLUME 2 NOW IN THEATERS!