Yesterday I told you all about my interview with cast/crew of WandaVision.  Today I can finally announce my thoughts after seeing the first three episodes of WandaVision, two of which were released today on Disney +. After anxiously awaiting Marvel's WandaVision, being a big fan of MCU, I can say that this show is simply FANTASTIC! Very rarely do I give a show 5/5 but this is one that I definitely do!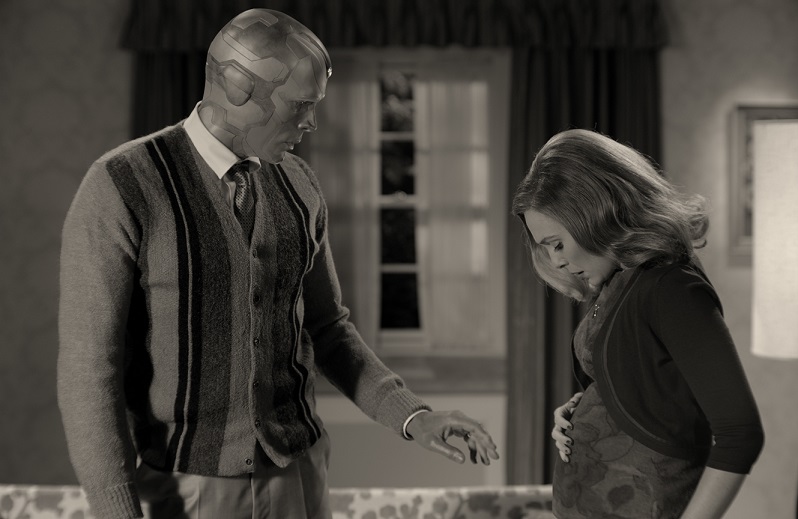 Hmmm…How do I describe WandaVision? In a couple of words it is eccentric, weird, but absolutely engaging and thrilling.  WandaVision showcases Wanda and Vision (hence WandaVision lol) living their life in a sitcom type show with the actual shows being taped in front of a live audience. It starts in black and white and then as we see at the end of episode #2, things change. No spoilers!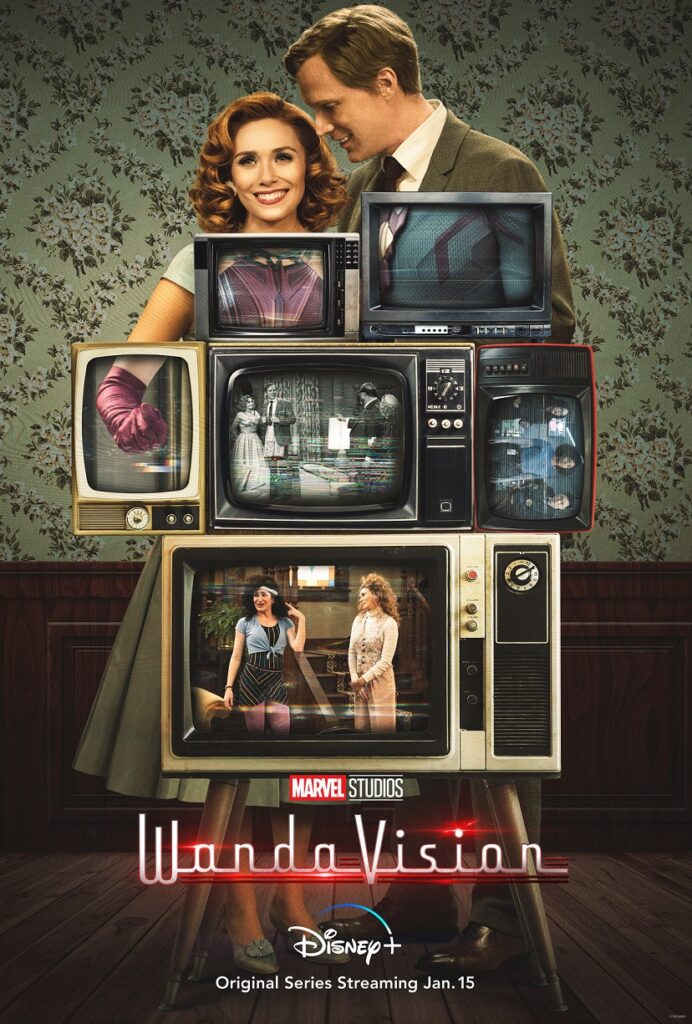 They live in a town called WestView and both Wanda, as well as Vision, need to hide from the town that they have special powers and that Vision has robotic abilities.  They way they do this is genius and will have you laugh out loud from start to finish. However, as time goes on, people may get ahold of who they truly are which opens up a lot more understanding of how this all ties into the Marvel Universe.
As the actors told us at the press conference, each episode is set in a different decades and that is seen in how they dress and the staging of it. Some inspirations of the decade shows include I Love Lucy and the Dick Van Dyke show. It is brilliant how they pull this off. They even have commercials in between each episode thus far, just like the old shows did.
I will tell you that during the beginning few episodes you are wondering how it all ties into MCU, however by the end of third, you begin to see and what I was told is by the end it will all make sense! Being a big fan of Marvel but also of sitcoms, this has everything this lady wants in a show!
This is one show that I highly recommend and it is also suitable for families to watch. I am literally holding the seat of my pants to see the rest but I will watch as you all do! The first two episodes dropped today on Disney + with an additional episode dropping every week.  You do not want to miss Marvel's WandaVision!
ABOUT WANDAVISION:
Marvel Studios presents "WandaVision," a blend of classic television and the Marvel
Cinematic Universe in which Wanda Maximoff and Vision—two super-powered beings
living idealized suburban lives—begin to suspect that everything is not as it seems.
"'WandaVision' will be the very first Marvel Studios series on Disney+," says Kevin
Feige, president, Marvel Studios and chief creative officer, Marvel. "Wanda and Vision
are two of our most powerful and complex heroes, and this series is a perfect expansion
point for MCU storytelling."
The series not only marks the first Marvel Studios' Disney+ series, it is its first journey
into the world of sitcoms—with an MCU twist. "It's a mash-up of classic sitcoms and
large-scale Marvel action," says Matt Shakman, who directs all nine episodes. "I think
it's really lovely that the first streaming show from Marvel Studios—producer of huge
blockbuster films—is really a love letter to the history of television.
WANDAVISION

 starts streaming exclusively on Disney+ January 15th.