If you are an anime lover, you no doubt have have heard of Funimation. With over 600 new products and 200 items on sale, Funimation has something for every anime fan.  Funimation is the leading distributor of anime in the US and around the world. Through their streaming service, theatrical releases, home entertainment releases, merchandise, and events, they make sure anime fans around the world can indulge their passion.
These are some of the products from their most popular anime line. If you are interested in purchasing for your anime lover, be sure to check them out!
Two Pack Garden Gnomes ($54.99): Your garden has never been safer. My Hero Academia characters Deku and Bakugo have been transformed into garden gnomes.
2. Dragon Ball Z T-Shirt – Shenron ($8.99): If representing your Dragon Ball Z fandom in the coolest way possible is your wish, this shirt will grant it.
3. Funimation's 25th Anniversary Chrome Funko POP! Collection– ($49.99 SRP): One of our hottest items this season brings together characters from our most popular shows MY HERO ACADEMIA, DRAGON BALL Z, FAIRY TAIL and TOKYO GHOUL into one exciting Funko POP bundle for our 25th anniversary. So if you love All Might, Vegeta, Natsu, Ken Kaneki, and Young Goku, we have you covered! Only available at The Funimation Shop.
4.My Hero Academia Titan Hero Ornament 8-Pack ($79.99 SRP): If anyone quizzes you about what you've got on your tree this year, these ornaments are the right answer!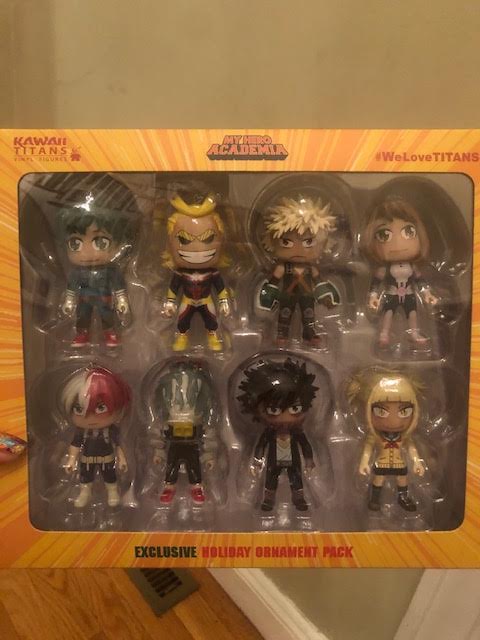 5. Dragon Ball Super: Broly – XL Gogeta/Broly FiGPiNs (2pk) – $12.99: Gogeta and Broly are ready to duke it out for the most-beloved FiGPiN in your collection. Let the war begin!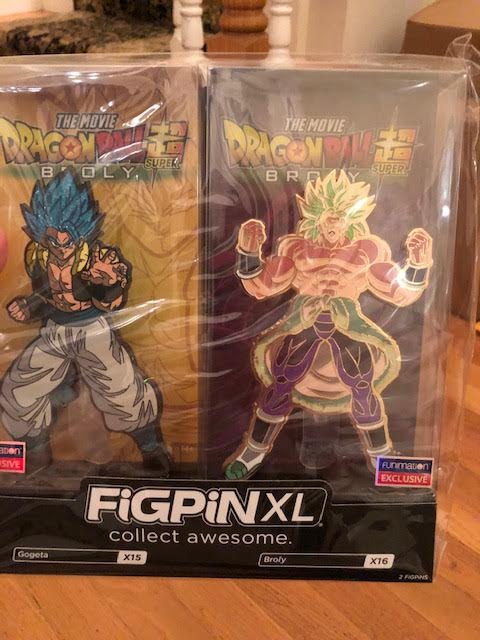 6. My Hero Academia Katsuki Bakugo Age of Heroes Figure ($19.99): e may be a little short-tempered, but he was born to be a hero. Towering at over 6 inches tall, Bakugo devastates in Banpresto's Amazing Heroes (Vol. 3) line of figures. He even comes with a stand—though he'd never admit to needing one
7. My Hero Academia Izuku Midoriya Colosseum (Ver. A) :Running towards his destiny in his damaged hero costume, our young hero Deku leaps into the fray. Part of BANPRESTO's Colosseum (Vol. 1) series and coming with a stand, the heir to All Might's legacy fears nothing—except failure.
8. GIVE THE GIFT OF FUNIMATION SUBSCRIPTION SERVICE: Enjoy ad-free subs and dubs that you can stream anywhere – or download to go! Subscribe today at the low price of $7.99 a month – and get excited about year-round special offers and discounts that are exclusive to subscribers only.
About Funimation:
Funimation creates extraordinary anime experiences for tens of millions of people around the world every day. For over 25 years, they have been the market leader, serving a passionate fan community whenever, and wherever, they want it. They deliver the best that anime has to offer across television, feature films, events, retail, merchandise, and, of course, the Funimation subscription apps, which are available on 15 platforms in 47 countries.Their culture is high-energy, and their approach is deeply customer-obsessed, with top talent from across the full spectrum of media, tech, gaming, and entertainment. With over 400 employees in six countries, they are rapidly expanding.
Funimation is an independently operated joint venture between U.S.-based Sony Pictures Entertainment and Japan's Aniplex, a subsidiary of Sony Music Entertainment (Japan) Inc. Follow them on Facebook, Twitter, and Instagram.
GIVEAWAY: One winner will receive the POP DragonBall. This giveaway is run via rafflecopter so click read more to see the actual giveaway. The only mandatory entry is to tell me which is your favorite Funimation out of the ones above in the comment section proceeding this post. While the other entries are optional, I highly suggest filling it out to increase your chances of winning. US only. Good luck!
a Rafflecopter giveaway

*I worked with Funimation on this post. All opinions are my own and not swayed by outside sources.*