Are you ready to move and groove and jam all night long?! If you are I have a movie for you. Valley Girl is now available on DVD and it is truly fun from start to finish. You can now experience the awesomest love story ever told with Valley Girl. Directed by Rachel Lee Goldenberg, the film is a musical romantic comedy adaptation of the 1983 film by the same name.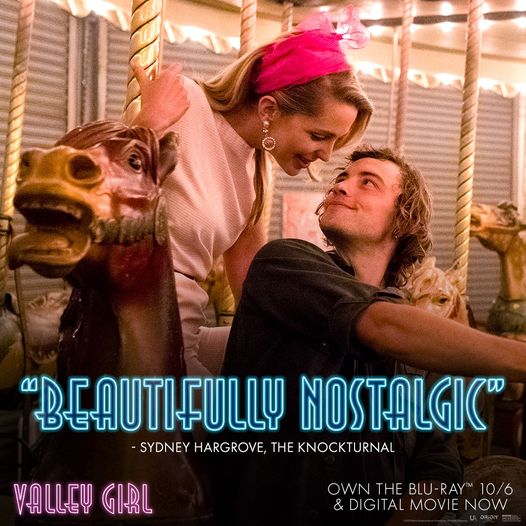 From Metro Goldwyn Mayer's Orion Pictures, the film stars Jessica Rothe ("Happy Death Day," "La La Land") as Julie Richman, Josh Whitehouse ("The Knight Before Christmas") as Randy, Mae Whitman ("The Perks of Being a Wallflower," "Scott Pilgrim Vs. the World") as Jack and Judy Greer ("13 Going on 30," "Ant-Man," "27 Dresses") as Diana. "Valley Girl" was directed by Goldenberg from a screenplay by Amy Talkington. The film was produced by Matt Smith and Steven J. Wolfe.
I watched this with my almost teen and we found it simply adorable.  I love the themes how people were telling the two teenagers not to get together because it was simply not cool. It showcased to my daughter to look beyond this and do what you feel is right for yourself. Friends should not impact your good decisions you make.
The story is about Julie, who is a classic 80s Valley Girl whose world is turned around when she falls for punk rocker Randy, an unlikely pair but one that showcases you can't ever judge appearances.  The outfits are so classic 80s that it made me want to be back in that error.  Being a child of the 80s, I have to say they absolutely nailed it.  Think Pastels and Spandex and Bright Colors throughout the story and characters.
While it is not a movie that will leave you thinking, it is the perfect release from our everyday lives now. I can promise you all will have so much dancing and laughing along with the remake of Valley Girl! Let's get back to the 80s!

SYNOPSIS
 Set to a new wave '80s soundtrack, a pair of young lovers from different backgrounds defy their parents and friends to stay together. A musical adaptation of the 1983 film.
*I worked with Warner Bros on this film. All opinions are my own and not swayed by outside sources.*