Last week I had the chance to stream the new movie, The Sleepover, which debuts on Netflix 8/21! I will have my full movie review posted tomorrow so you can see exactly what I thought but in the meantime, I wanted to present my readers with all the fun I had at the virtual press conference a few weeks back in support of this movie.  I had the chance to virtually interview Malin Akerman, Sadie Stanley, Cree Cicchino, Ken Marino, Maxwell Simkins, and Lucas Jaye.  I knew from the get go, the interview would be hysterical as the cast is simply superb and the movie has you in stitches a lot of the time. It was such a fun time!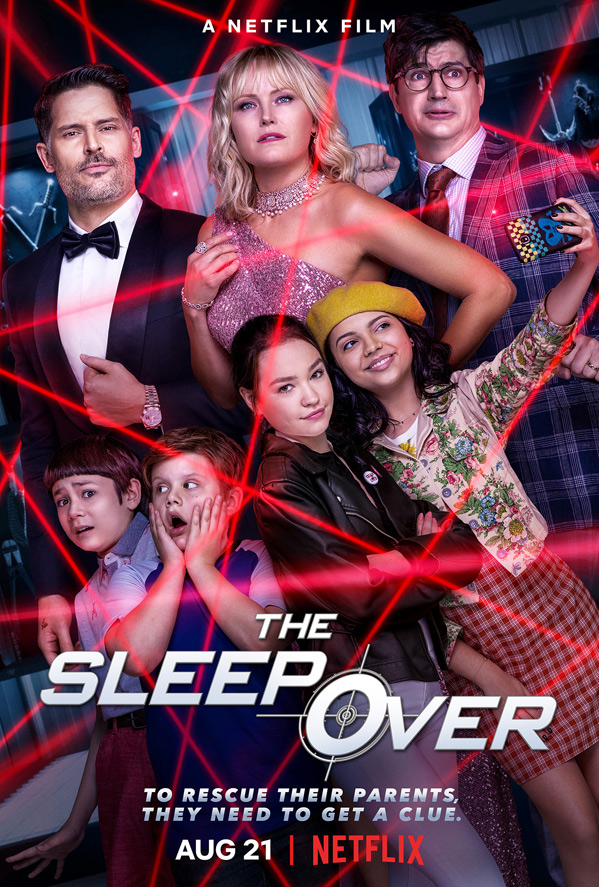 MALIN AKERMAN, SADIE STANLEY, CREE CICCHINO
My first set of interviews was with Malin Akerman, Sadie Stanley, and Cree Cicchino.   I mean can you say girl power to the finest in this set of powerful, strong female leads.   Our first question to them was if any of the stunts in the movie was done by themselves. Malin said they did a lot of their own stunt work and had an incredible stunt team to help them along. The really hard ones they had the stunt doubles do but most of it was done by them! I found that so awesome because the stunts are awesome in this movie.

We then asked Sadie if she really played the cello like Clancy in the movie. She said she did take some lessons before playing and learned the fundamentals to help along in the filming the movie.   In terms of asking if they are like their characters,  Sadie said she was like Clancy in her life and trying to figure out her way in this world. As a younger person, she did emulate a lot of Clancy's character. Malin relates to Margot as she is a parent with complex relationships.  For a parent, you would take a 'bullet for your kids' and this is showcased in her character, as well as in herself.
They also loved talking about the laugh out loud moments and how they had a lot of laughs many days.  The vomit scene that you will see with Ken Marino is plain hysterical and they told us that in the interview. They also loved doing the library scene and running up the stairs into the beautiful library.
I had the chance to ask about them actually filming in Boston, as that is where I lived for many years. They said they filmed it all there and used so many landmarks in the movie, such as The Boston Tea Party. Malin said she loved eating her way through Boston and hopes to vacation there soon. She hopes to come back soon!
Ken Marino, Maxwell Simkins, and Lucas Jaye
1. There is so much comedy in this movie. Was there any room for improve?
They told us there is a lot of way for improv and Ken led the way for it.  The script was strong to begin with but it is fun to add a bit of comedy to it, to see what happens.  They brought life to the already amazing script!
2.  An audience member asked Maxwell if the dance sequence was hard in the movie?
Maxwell said it took 3 weeks to fully do the dance scene (which you will see towards the beginning of the movie). He said he had to work hard on it to perfect it.
3.  Did you feel on set that you were like a family?
Ken said it is always an unknown whether people will get along. He said you always try to create that good chemistry so it can translate into the movie.  He said in this movie there was just that and a good group of people to create with.
4. How much of yourself did you put into your characters?
Maxwell said in real life he definitely loves life, but has a bit less energy. Kevin is always on and Maxwell, after a lot of sugar, can get like that.  Lucas said in real life he does not have much similarities with Lois. However, the parts where he screams is somewhat genuine. Ken said he filmed like the essence of their characters.  In the movies, you find the essence of who you are and add that to the acting.
5.  What is your favorite laugh out loud moment on scene or behind it?
Lucas said every time Ken was doing his improv or scenes, it always make them laugh hard! For Ken, it was the vomit scene to see. He loved doing that. That had to be mine too!
6.  To Ken, what did your kids think of him being in the movie and to Maxwell/Lucas, what would think if they found out their parents are super thieves?
Ken said his kids only saw the trailer so far and said oh it looks good lol! He said his kids won't really see a difference as he is funny in real life and in the movies. Maxwell said his dad wouldn't be a good thief as he is really loud in everything he does. His mom would be good as she loves to just watch TV and be stealth. Lucas said he would regret every time he gave them attitude.
7.  How was it filming in Boston and was it hard filming on the water?
He said he filmed the big boat scene in a warehouse but they use a lot of water to make it like they are outside. They also used a pole to move the boat, to make it look real. Lucas said they did film on the Boston Harbor. They said Boston was very cold but they all loved it!
THE SLEEPOVER SYNOPSIS:
In this family adventure-comedy, Clancy (Sadie Stanley) and her kid brother Kevin (Maxwell Simkins) discover that their seemingly normal stay-at-home mom Margot (Malin Åkerman) is actually a former high-end thief in the witness protection program. When both their mom and dad (Ken Marino) are kidnapped and forced to pull one last job with an ex-flame of Margot's (Joe Manganiello), the siblings must team up to rescue their parents over the course of one action-packed night that they'll never forget. THE SLEEPOVER is directed by Trish Sie (Pitch Perfect 3).
THE SLEEPOVER STREAMS ON NETFLIX THIS FRIDAY, AUGUST 21st!
*I worked with Netflix on this movie. All opinions are my own and not swayed by outside sources.*