As mentioned yesterday, Zane is a HUGE Nintendo fan! Just about every game that comes out on the Switch, Zane wants to get his hands on. Nintendo recently sent us the new game for the Switch titled Splatoon 2 and Zane was so excited to try it out. When we got the game his friend was over who also owned the game, so it was very exciting for the two of them to play together after school one day. They were able to use the console's portable play styles for multiplayer action and play against each other. You can even play 4 players in the Salmon Run part of this game.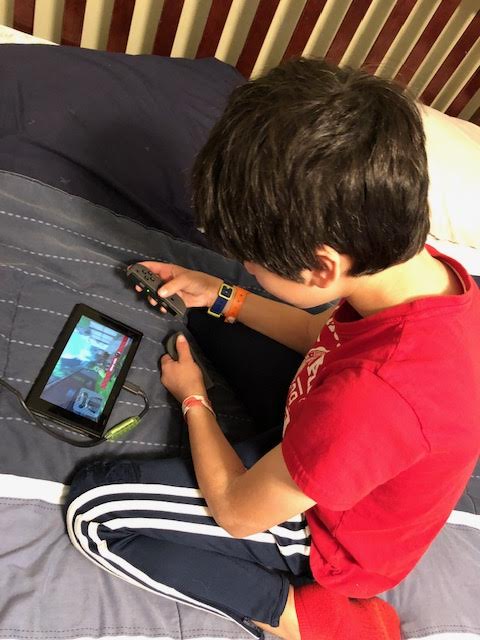 ABOUT SPLATOON 2:
Splatoon 2 comes out 2 years after the original Splatoon game. Two years have passed in Inkopolis and it is time to play again. With this game, there is new fashion, weapons, and gear.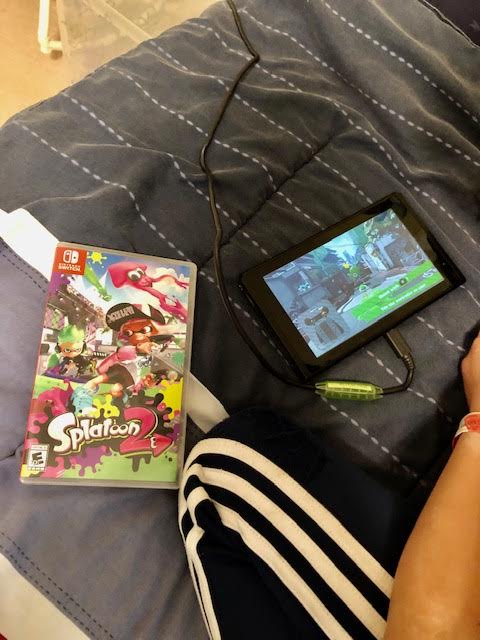 Dual wield the new Splat Dualies or stick to mainstays like chargers and rollers, which have been remixed with new strategic possibilities. As always, Turf War is the favored sport among Inklings, but they also dig ranked battles, taking down Octarians in a robust single-player campaign, and battling enemy Salmonids in one dangerous part-time job! No matter which way you play, splat at home or on-the-go with Nintendo Switch. Staying fresh never felt so good.
HOW TO PLAY Splatoon 2:
Turf War – Team up in fierce 4-on-4 multiplayer battles* to see which team can cover the most turf with ink
Salmon Run – 2-4 players* can team up for co-op fun and defeat waves of enemy Salmonids.
New weapons – Dual wield the new Splat Dualies and avoid getting splatted with the new Dodge Roll move. Mainstays like the Splat Roller and Splat Charger have been remixed to include new gameplay mechanics, and all special weapons are brand-new.
Local and Online Multiplayer – In a first for the series, compete in local multiplayer Turf War battles*, whether in TV mode or on-the-go in handheld or tabletop modes. Online battles also make a return**
New ways to play – Play with the Joy-Con™ controllers or the Nintendo Switch™ Pro Controller (sold separately), both of which support motion controls for better aiming
Fresh Updates – Similar to the Splatoon™ game for the Wii U™ console, updates will roll out post-launch, adding new content and in-game events.
Smart Device Support** – An upcoming smart-device application for the Nintendo Switch system will allow players to set play appointments with friends and teammates, as well as voice chat with friends during play sessions.
LAN Play – Up to 10 docked systems – eight players and two spectators – can connect via wired LAN (additional accessories required; sold separately). This feature allows players to create local Private Battle tournaments without the need for an internet connection. Local wireless play is perfect for your regular gaming get-togethers, but LAN Play is where it's at when you want to organize a serious tournament.
Customize – Change your Inkling's style with different weapons, headgear, clothes, and shoes. Gear isn't just aesthetic; it offers different boosts in battles.
amiibo – Compatible with all Splatoon™ series amiibo™ figures. By tapping these amiibo, the figure's character will appear in the game and befriend players. Befriend an amiibo character and they will remember favorited weapons, gear, outfits and option settings.
Zane and his friend really enjoy playing this game. They both enjoyed the Salmon Run and they wanted to make sure that I put that in my review:)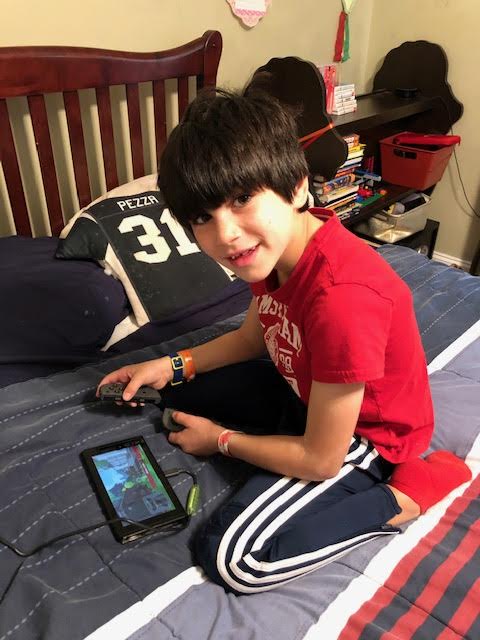 Giveaway: One winner will receive Splatoon 2 for the Nintendo Switch. This giveaway is run via rafflecopter so click read more to see the actual giveaway. The only mandatory entry is to tell me what feature you like the best about this game. While the other entries are optional, I highly suggest filling it out to increase your chances of winning. US only. Good luck!
a Rafflecopter giveaway

*I work with Nintendo. All opinions are my own and not swayed by outside sources.*