For as long as I can possibly recall, music has been a big part of my life. I wasn't ever part of a band, never took guitar lessons,  nor was I involved in choir (I was always too timid for those types of activities) but from an early age, I remember music being part of my every day life. In the car, at home, during school hours, etc. music was incorporated in almost every part of my childhood. My mom would listen to music in the kitchen while she cooked dinner/baked us kids treats, my dad would listen to the oldies while he putted around outdoors and my siblings each had their own unique taste that could be heard through doors/walls at various times of the day (or in the case of some, throughout the night).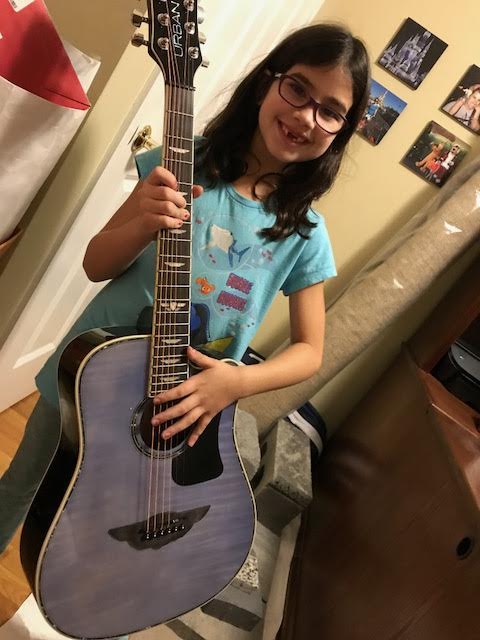 With so many different influences it was easy to build my own eclectic taste in music. To this day I listen to almost anything you can name: country, jazz, blues, hip hop, pop, classical, foreign and more. As a result of my own love of music, my little ones have also developed their own unique taste in music but unlike me, seem to have more of a knack for not only choosing tasteful music to listen to but also to attempt playing it as well. They haven't done anything big like joining a rock band or playing in an huge orchestra, however, we've invested in guitars, drums and a number of other musical instruments over the last few years as they've developed their love of music and the desire to explore instrumental options.
As parents, my husband and I pay close attention to the latest research regarding things like outside play, the power of imagination vs. technology (both big things as my readers know) and the benefits of musical learning. While we have a firm grasp and love for the first two things, exploring musically is more recent, so when I was approached with the opportunity to partner with Guitar Center on their latest promotion I jumped aboard in a hurry. As one of the largest independent music educators in the U.S I couldn't think of a better way to teach my little ones about music and its many benefits.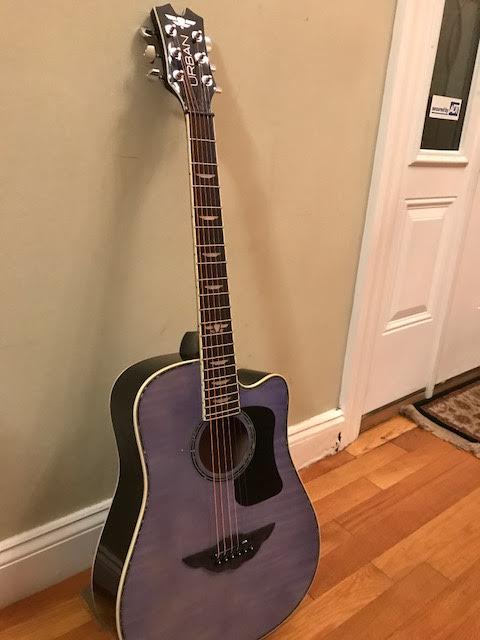 Between their selection of new & used instruments, equipment and the availability of music lessons, Guitar Center has established quite the name for themselves in the music industry. Not only do they offer everything my family needs in terms of music education, and gear but now that the holidays are approaching they've also released an amazing deal for those wanting to immerse themselves or their kiddos in music culture.
Starting November 23rd through until December 26th new students can sign up to get a free music lesson with the purchase of 3. This complimentary lesson is available once three have been purchased and the $30 registration fee has been squared away. The offer is only valid at Guitar Center locations (you can use their site locator to find your nearest location) and can't be combined with other offers/and or coupons, however, with music lessons else wear being quite costly, you'd have to be crazy not to look into this amazing offer from Guitar Center.
Guitar Lessons and More:
Whether you're looking for piano lessons for your keyboard enthusiast, guitar classes, for the next Jimmy Hendricks or voice lessons for your budding Adele, Guitar Center can help with what ever pursuit you've got in mind and their lessons are geared towards teaching their students the key fundamentals of succeeding in their area of interest.
In addition to having teachers on hand to offer lessons to both old and new students, Guitar Center also believes in exploring the benefits of musical education, some of which include but aren't limited to:
Increased social skills 
Improvement in academics & retention  
Decreases anxiety & depression 
Bringing cultural awareness to students (musical is a HUGE part of every culture around the world!) 
Guitar Center sets themselves apart from other companies who offer the purchase of instruments, repair & equipment as well as lessons. They achieve this by giving customers over 200 convenient locations nationally, boasting curriculum that is approved by the National Association of Music Education, tailoring said curriculum to individual goals & interests, and by employing pro instructors that are passionate musicians themselves, to help you reach your personal music oriented goals.
Guitar Lessons Near Me:
The Guitar Center has great guitar lessons for kids and so much more! If you have a music lover in your family or a budding artists who is just dying to jump into learning a new musical skill, then I would definitely recommend taking advantage of Guitar Center's latest promotion.  The holidays are coming and I can't think of a better gift than taking the financial burden off of a fellow parent or student who would enjoy lessons!
To find out more about 
Guitar
 Center, their services and lessons, you can visit them online to find a location near you or become a follower of their social media pages like 
Facebook
 and 
Instagram
!