Last year at the Disney SMMC conference, we learned all about the all new Muppet Babies onboard the Disney Dream! I knew being a child of the Muppet's era, this was one show I wanted to introduce my kids to. As a mom of three young children, I can recreate my childhood with an all new Muppet series. Well that series Muppet Babies: Time to Play! is now available on DVD and is simply amazing! Taylor is glued to this series!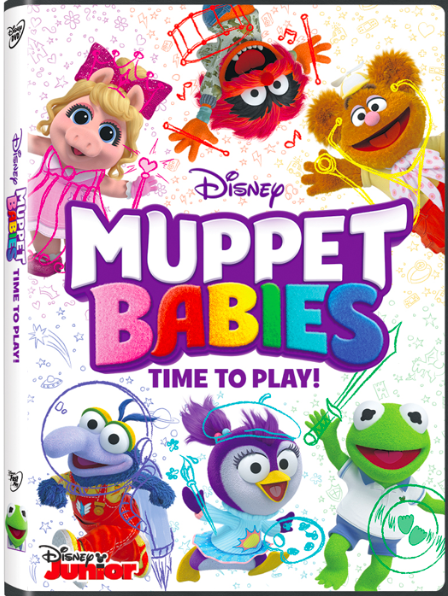 Synopsis:     Almost 30 years after the Muppet Babies first won the hearts of kids and families around the world, Disney Junior's reimagined "Muppet Babies" chronicles the hilarious playroom antics of a young Kermit the Frog, Piggy, Fozzie Bear, Gonzo and Animal – plus a brand-new Muppet Baby, Summer Penguin. Under the watchful eye of Miss Nanny, the Muppet Babies use their imaginations to embark on countless adventures that take them to the farthest corners of the universe and demonstrate to young viewers the power and potential of imaginative play.
Voice Cast:         Matt Danner as Kermit the Frog; Melanie Harrison as Piggy; Dee Bradley Baker as Animal; Ben Diskin as Gonzo; Eric Bauza as Fozzie Bear; Jessica DiCicco as Summer Penguin; and Jenny Slate as Miss Nancy
Executive Producer:        Tom Warburton
Supervising Director:      Matt Danner
Songwriter::                          Andy Bean
Composer:                             Keith Horn
Episodes:                                 Sir Kermit the Brave/Animal Fly Airplane
Super Fabulous vs. Captain Icecube/Piggy's Time Machine
The Great Muppet Sport-A-thon/You Say Potato, I Say Best Friend
Hatastrophe/Fly South
Bonus Features:                  2 Bonus Episodes-
How Kermit Got His Groove/One Small Problem
Playground Pirates/The Blanket Fort
10 "Muppet Babies: Show & Tell" Shorts-             
Kermit's Show and Tell
Piggy's Show and Tell
Fozzie's Show and Tell
Gonzo's Show and Tell
Summer's Show and Tell
Animal's Show and Tell
Kermit and Piggy's Show and Tell
Kermit and Fozzie's Show and Tell
Piggy and Gonzo's Show and Tell
The Great Muppet (Short) Musical
6 Music Videos-
"What's So Scary About The Dark?"
"Never Have To Say Goodbye (To The Summer)"
"Get Back In The Game"
"Good Things Come To Those Who Wait"
"You Can Be A Dancer"
"Muppet Pirate Shanty"
Trust me when I tell you, you will want to pick up Muppet Babies: Time To Play!  on Tuesday August 14th! Relieve your childhood with the Muppet Babies!
*Disney provided me a copy of this DVD. All opinions are my own and not swayed by outside sources.*