In June, I was invited by Disney to the Cars 3 press junket.  I also went to the Cars 3 world premiere at Disneyland which was simply amazing!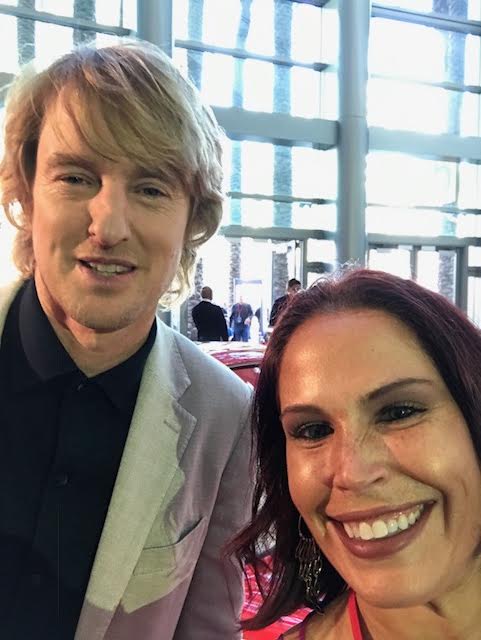 Here is what I thought of the movie:
The movie starts out with the beloved Lightening McQueen racing in a championship race in Florida when a new car comes onto the scene. That car is named Jackson Storm and he is just a plain ole' mean car. Jackson Storm not only is mean but he has an air of arrogance held over his head the entire movie. As Lightening McQueen is trying to catch up to the new man, a dreaded accident takes place seriously injuring Lightening McQueen.
Here are my 5 reasons to buy Cars 3:
5. The animation is terrific in this film. As the producer told us, they had a lot more advanced technology to use with this film, so some of the images look so life like. Even the racing scenes and the dreaded accident, made you feel like you were right there with them.
4. They have the most perfect cast in this film. Over the next few weeks, you will see my interview with most of the cast but the casting is spot on. The cast includes Owen Wilson voicing Lightening McQueen, Cristela Alonzo voicing Cruz Ramirez, Nathan Fillion voicing Sterling, Larry the Cable Guy voicing Mater, Armie Hammer voicing Jackstorm Storm, Kerry Washington voicing Natalie Certain, and more.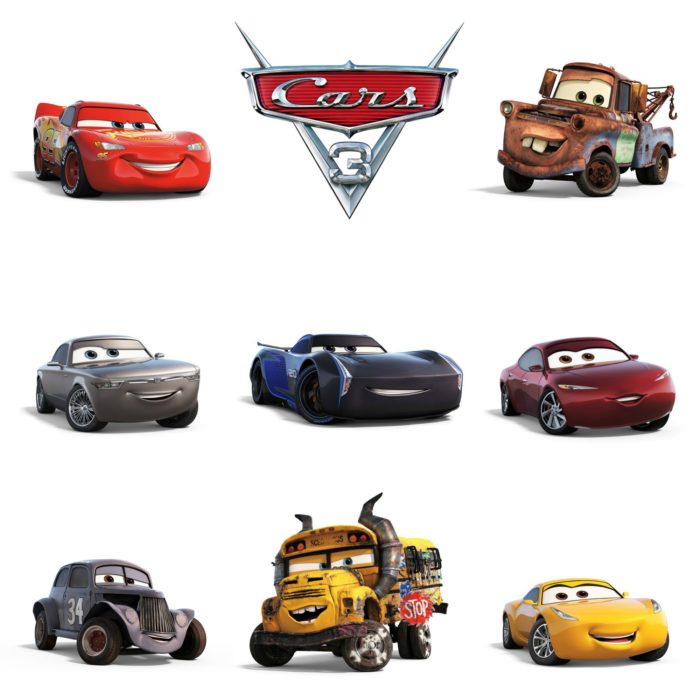 3.  Disney always has women in their films but mostly as princesses. This time, they have a female car in one of the strongest female leads to date, in my opinion. She is going to have a massive following and girls are going to want to emulate her for her pure strength and determination. She reminds me a lot of Danica Patrick.
2. The incredible themes and morals found throughout this movie is going to be a big hit with families. The two big themes to me is first, it will make people realize they can dream big in this world and actually succeed. I always had parents that instilled this in me since my very young age and made me realize I can do anything I want in this world despite gender or looks. It takes belief in oneself which is readily seen throughout this film. As Cruz says in the film, " Don't Fear Failure..Be Afraid of Not Having the Chance."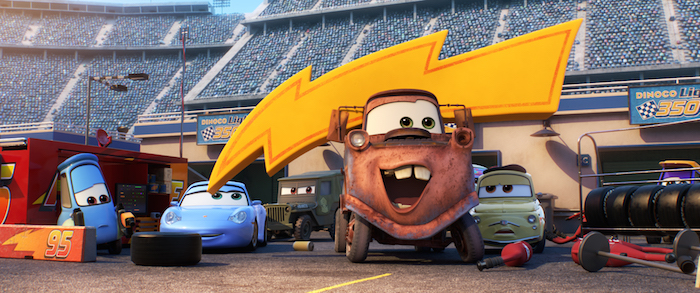 The second theme is never giving up. Lightening McQueen had a huge accident and was aging in the racing world. He was adamant, at first, that his racing days were done, but were they really?! You will need to see the movie to find out but I will tell you that an important lesson is to believe in yourself and never give up till the very end. One must be confident in themselves and make a name for themselves in this world. Move forward..Be strong..Believe in Yourself..Have Confidence!
1. It is in every sense a true family film. Whether or not you are 80 years old or 8 years old, you will LOVE this film. It has something for everyone in it and it appeals to all the generations. If you are looking for a great movie to see this summer, make sure it is Cars 3!
 CARS 3 IS NOW AVAILABLE ON DVD! 

Race fans of all ages are invited to ride along with the "Cars 3" crew for hilarious and heartfelt extras, including an exclusive new mini-movie, "Miss Fritter's Racing Skoool," taught by the queen of the Crazy 8; a feature detailing how real-world race training influenced filmmakers; the journey taken by voice actor Cristela Alonzo and team while shaping tech-savvy trainer Cruz Ramirez; behind-the-scenes access to the story team who crafted Lightning McQueen's third chapter; deleted scenes; and much more.
"Cars 3" is Disney•Pixar's first in-home title released in stunning 4K Ultra HD format, the next-generation viewing format with four times the resolution of HD and exceptional high dynamic range (HDR), resulting in brilliant highlights, vibrant colors and greater contrast on compatible displays than ever before. With 4K Ultra HD, viewers will feel like they're at the center of the action—holding their breath during the dramatic crash that launches Lightning's journey, feeling the pulse-pounding action at the Florida International Super Speedway, and getting down and dirty at the Crazy 8 demolition derby.
Bonus Features*
Blu-ray & Digital:
Miss Fritter's Racing Skoool (Exclusive new mini-movie) – Enjoy blindsided testimonials from the Crazy 8's, touting the transformative impact Miss Fritter's Racing School has had in reshaping the direction of their lives
Theatrical Short: "Lou" – When a toy-stealing bully ruins recess for a playground full of kids, only one thing stands in his way: the "Lost and Found" box.
Let's. Get. Crazy. – Get schooled in the world of demolition derby, the "rules" of figure 8 racing, and how Pixar puts the crazy in the Thunder Hollow Crazy 8 race. This piece is hosted by Lea DeLaria.
Legendary – a close, historical look at the racing legends Wendell Scott and Louise Smith, whose tenacity and perseverance got them into the race even when they weren't invited.
Ready for the Race – Disney Channel's Olivia Rodrigo and NASCAR Racer William Byron check out the Hendrick Motorsports campus to showcase how real-world race training influenced the filmmakers.
World's Fastest Billboard – Blink and you will miss all of the graphics and "car-ified" advertisements created by Pixar's Art team to make the "Cars 3" world as believable as possible.
Cruz Ramirez: The Yellow Car That Could – Join Cristela Alonzo and the filmmakers on their journey to create a race-car trainer turned champion racer.
Generations: The Story of "Cars 3" – For the story team, creating Lightning McQueen's next chapter didn't involve just a tune-up, but a complete overhaul.
My First Car – A collection of illustrated first-car stories as narrated by members of the "Cars 3" cast and crew. "A Green Car on the Red Carpet with Kerry Washington," "Old Blue," and "Still in the Family."
5 Deleted Scenes – Each deleted scene is set up with an introduction as to why it was removed from the film. Deleted scenes include "The Boogie Woogie," "The Jars of Dirt," "Lugnut," "The Bolt," and "More Than New Paint."
Cars To Die(cast) For – Take a look at the phenomenon of die-cast toy collecting and the more than 1,000 unique designs that exist in the Cars universe.
Commentary – Brian Fee (Director), Kevin Reher (Producer), Andrea Warren (Co-Producer) and Jay Ward (Creative Director)
And more…
DVD:
Theatrical Short: "Lou" & "Commentary"
#95 by the #s in "Cars 3"
5 – As "Cars 3" gets underway, world-champion racer Lightning McQueen is riding high with five Piston-Cup wins under his hood.
11 – Lightning McQueen raced into moviegoers' hearts 11 years ago—making his rookie debut in "Cars" in March 2006—and remains an iconic character today.
24 – The dramatic, slow-motion crash scene in which Lightning McQueen hits a wall and rolls several times takes 24 seconds.
95 – Lightning McQueen still sports the dynamic #95 with his signature lightning-bolt graphics. He displays five distinct looks in "Cars 3," including one that pays homage to his original paint, a primer look he gets following the devastating crash, a custom wrap ordered by Sterling, and more.
198 – Lightning McQueen tops out at a speed of 198 miles per hour on his last lap with Cruz Ramirez on Fireball Beach. But Lightning's nemesis—next-gen racer Jackson Storm—races at speeds pushing 207 mph.
"Cars 3" Pit Cast and Crew
"Cars 3" features Owen Wilson ("The Royal Tenenbaums," upcoming "Wonder") as the voice of Lightning McQueen. Cristela Alonzo ("The Angry Birds Movie") voices tech-savvy trainer Cruz Ramirez, who tries to help #95 return to greatness, and Armie Hammer ("The Birth of a Nation") lends his voice to next-gen racer Jackson Storm, whose high-tech speed leaves Lightning McQueen behind. Kerry Washington (ABC's "Scandal," HBO's "Confirmation") was called on to voice statistical analyst Natalie Certain, Nathan Fillion (ABC's "Castle," ABC's "Modern Family") provides the voice of brilliant businesscar Sterling, Lea DeLaria (Netflix's "Orange is the New Black") lends her voice to formidable school bus Miss Fritter, and Formula One driver Lewis Hamilton helps bring voice command assistant Hamilton to life.
The third chapter of Lightning's story pays homage to NASCAR with four characters based on real-life stock car racing legends. Chris Cooper ("Adaptation," "American Beauty") voices Doc Hudson's crew chief Smokey; team owner and NASCAR racing legend Junior Johnson lends his voice to Junior "Midnight" Moon; three-time Emmy® winner Margo Martindale (FX's "The Americans," FX's "Justified," Amazon's "Sneaky Pete") provides the voice of Louise "Barnstormer" Nash; and Isiah Whitlock Jr. (HBO's "The Wire," "Cedar Rapids," HBO's "Veep") is the voice of River Scott. The film also features NASCAR drivers and the voices behind the sport, as well as a host of returning characters from Radiator Springs and the "Cars" racing world.
Directed by Brian Fee (storyboard artist "Cars," "Cars 2"), produced by Kevin Reher ("A Bug's Life," "La Luna" short) and co-produced by Andrea Warren ("LAVA" short), "Cars 3" is executive produced by John Lasseter, who directed the first two films in the franchise. With a story by Fee, Ben Queen (TV's "Powerless"), Eyal Podell (actor "Code Black") & Jonathon E. Stewart ("Doing Time" short), the screenplay was penned by Kiel Murray ("Cars"), Bob Peterson ("Up," "Finding Nemo") and Mike Rich ("Secretariat," "The Rookie"). The film features a score by Oscar®-winning composer Randy Newman ("Toy Story 3," "Cars"), instrumental cues composed by Brad Paisley, and original songs by ZZ Ward and Grammy® winner Dan Auerbach.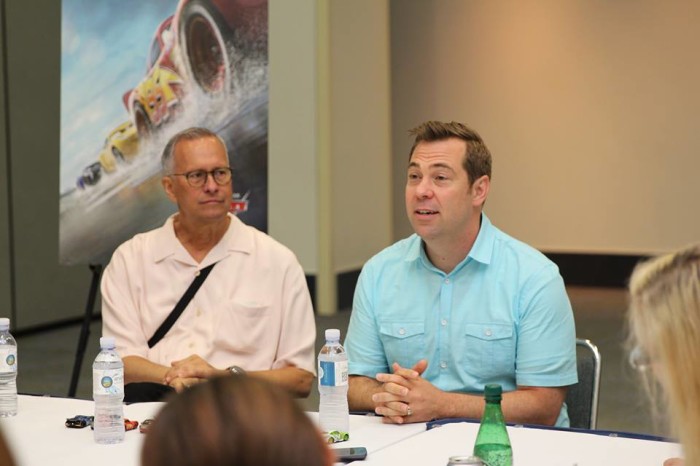 *Sample sent from Disney. All opinions are my own and not swayed by outside sources.*