I am always on the go! I love to travel and travel as much as I can! In 2 weeks, I am preparing for my abroad trip to Israel and I will be bringing my luggage and tote set from Joy Mangano. If the name Joy Mangano rings it bell, it should!  Joy Mangano is an amazing product inventor and the inspiration behind Jennifer Lawrence's character in "JOY." She offers a variety of products perfect for every type of mom. Whether your a jetsetter or a beauty addict, Joy can help you find the perfect present!
We love the  JOY Lightweight TuffTech Luggage Set with SpinBall wheels.  When I am looking for a luggage set, the most important detail I look for is how sturdy it is. In this regards, this luggage sets exceeds my expectations. I stuff this luggage set to the brim when I travel and have never had an issue with breakage. This set is made with superb material that will hold the test of time.
Second, it needs to move well for me. I love Joy's luggage because it has revolutionary spinball wheels that provide a 360 degree movement that keeps up with you as you are dashing through the airport. I am always running to catch my plane and it is quite easy to maneuver this luggage set. It glides so easily over any surface. I also love that it comes with a matching handbag that I can keep my important documents like my passport. I know things are not going to get lost this way.
Some additional features of this luggage include: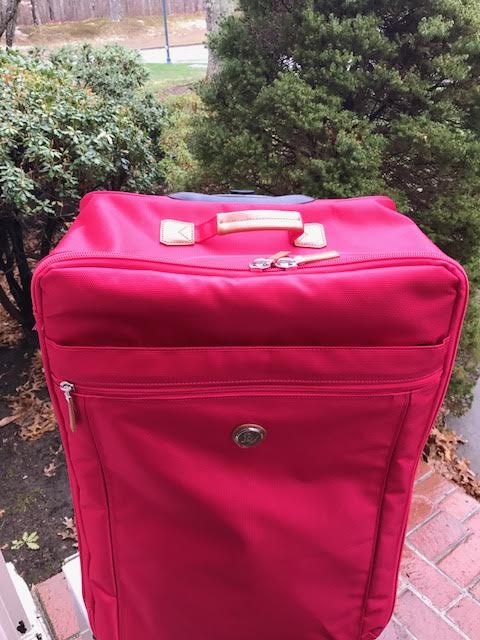 –Anti-puncture double zippers with oversized leather zipper pulls
–Telescopic, 3-position adjustable recessed handle Easy-access handles on all 4 sides, including 3 genuine leather handles around the bag and 1 fabric handle on the bottom
–Recessed 360-degree Spinball wheels and Spinline wheels
–2 deep exterior zipper; 1 interior zippered mesh
–Built-in sliding ID tag at back; removable clear-view drawers with snap-in shelving; luggage "clothes" protective cover
If you are looking for great luggage, look no further than Joy Mangano's new luggage line! This inventor knows great products and she has had huge successes thus far with her travel line!
*Samples received. All opinions are my own and not swayed by outside sources.*