*I am a KYOTC Ambassador. All my opinions are my own and not swayed by outside sources.*
It is FINALLY beach season! We love hanging out the beach all summer long as you can see: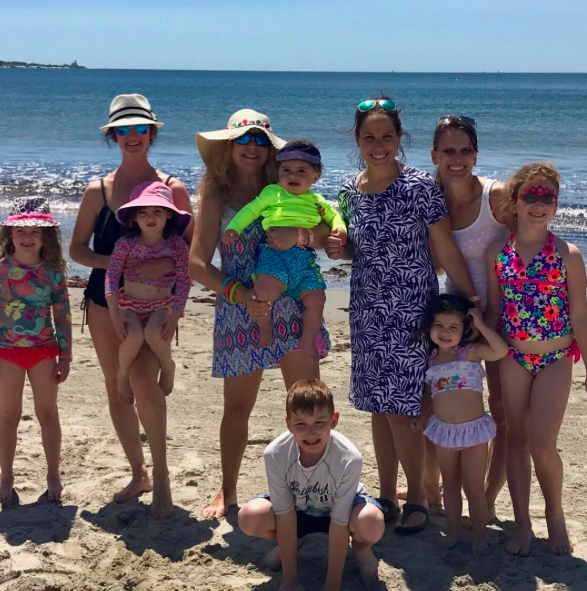 However, I get very nervous because of those harmful UV rays. My kids always make sure to wear swimsuits that include UV protection and we also lather up a few times a day whenever we are in the sun. There is nothing worse or more painful than a little one getting a sunburn! However, it is also an absolute pain to get sunscreen on kids that move around and never want to sit still to put on their sunscreen.
HERE ARE SOME TIPS THAT WILL MAKE YOUR LIFE EASIER:
SPF  – or "Sun Protection Factor" – is a measure of how well a sunscreen protects your skin from the kind of UVB rays that cause sunburn.  Experts recommend a minimum of SPF 30 for sunscreen.
What type of sunscreen is best for you and your family? First, look for broad spectrum sunscreen. Broad spectrum means it protects against UVA and UVB radiation rays. The UVA rays can cause premature aging and wrinkles and damage that can lead to skin cancer. The UVB rays can cause your skin to burn.
When lathering yourself or your kids, the total amount needed is roughly golf ball sized ….which could be a helpful way to visualize about how much sunscreen you need for proper coverage
Ideally you apply sunscreen 30 minutes before sun exposure
It needs to be re-applied every 2 hours or more frequently if getting wet or sweating
Please don't put sunscreen on babies younger than 6 months old
Don't forget hats and rash guard shirts!
HERE IS A GREAT VIDEO THAT SHOWS HOW YOU CAN GET SUNCREEN ON KIDS THAT DON'T WANT TO STAY STILL:
HAVE FUN THIS SUMMER BUT MAKE SURE YOU TAKE YOUR SUNSCREEN WITH YOU AT ALL TIMES! You can find out more information about sunscreen protection on the KYOTC website!