*Disney/Marvel provided me an all expense paid trip to LA for this event. All my opinions are my own and not swayed by outside sources. Disney/ABC provided me some of the images for use.*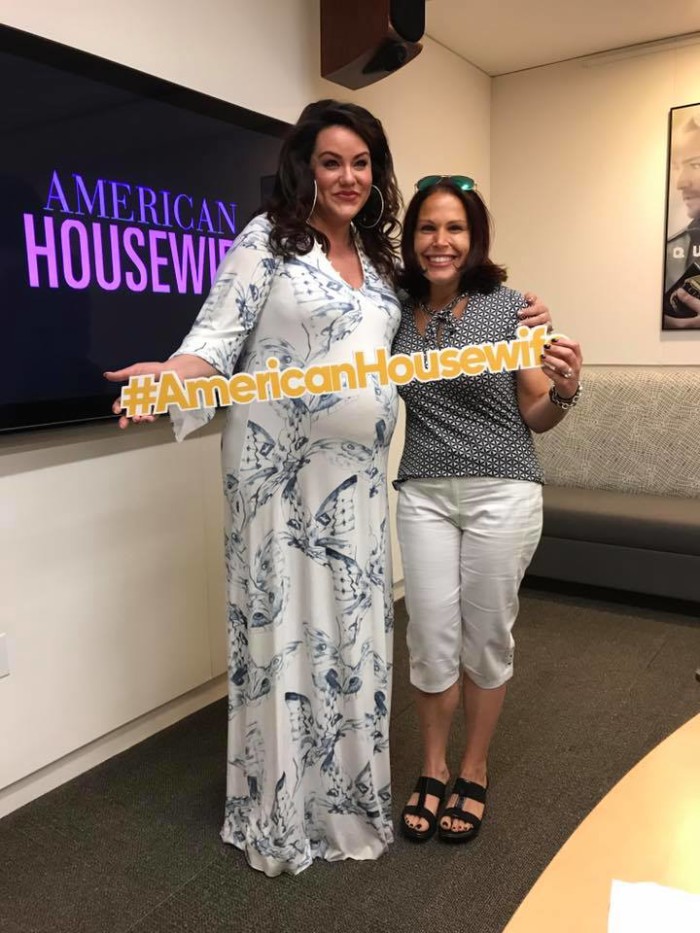 Hands down American Housewife is my new favorite comedy on television these days. If you have not watched American Housewife, you absolutely must! It premiered just this past year and can be seen Tuesday nights on ABC,  8:30/7:30c.
ABOUT AMERICAN HOUSEWIFE:
American Housewife is a new sitcom narrated by Katie Otto, who is a amazingly strong willed character who raises her family including her 3 kids in suburbia Connecticut. This is the ultimate wealthy town with the most perfect women and children. Katie has to find a way to raise her family in this town while keeping it real.
I can very much relate to this show as I grew up in towns very similar to Westport, Connecticut where American Housewife takes place. Katie Otto's character and actions is exactly what it like in suburbia America, however, we all don't have the guts to say the things she does. She has the guts and she is my spirit animal in this aspect. Every single week, she makes me laugh and cry (from laughing so hard) and laugh some more!  As I am watching American Housewife, I am finding every single episode is absolutely stellar! There has not been one episode that I didn't love!
ABOUT KATY MIXON:
Katy Mixon plays the role of Katie Otto in American Housewife and is one of the main leads in the sitcom.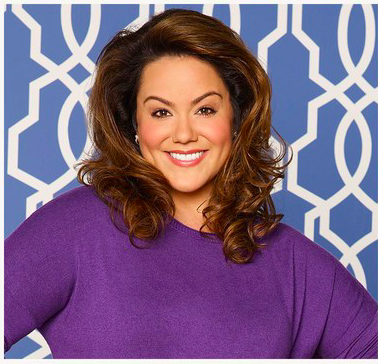 Katy Mixon is most famously known for her role on CBS's "Mike & Molly" as Victoria, the lovable, dimwitted, party girl. Starring opposite Melissa McCarthy, Mixon appeared throughout the show's six successful seasons between 2010 and 2016.
From 2009 through 2013, Mixon starred as April Buchanan opposite Danny McBride in the HBO series "Eastbound and Down." Mixon's other television credits include "Psych," "Wilfred," "My Name Is Earl" and "Two and a Half Men."
In August 2016, Mixon will play a supporting role in "Hell or High Water" for CBS Films. The American heist crime film, directed by David Mackenzie and written by Taylor Sheridan, follows two brothers who plan a bank robbery to save their family farm. The film stars Jeff Bridges and Chris Pine and premiered at the 2016 Cannes Film Festival.
Mixon's feature film credits include "Take Shelter," "Four Christmases," "All About Steve," "Drive Angry," "State of Play" and "Soul Ties." In addition, Katy has had a growing voiceover career in TV and film working on such projects as "Robot Chicken" and "Minions."  *Taken from ABC American Housewife website*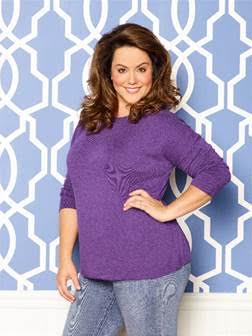 When I found out I was going to interview Katy Mixon as part of the #GotGVol2Event, I was giddy as a schoolgirl! Most of my friends at home were insanely jealous of me and you can see by the sheer comments on one of my Facebook posts, how much she is loved! So to sit down with her, was seriously a dream come true.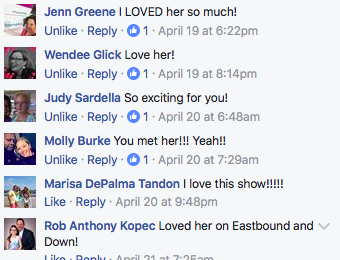 MY INTERVIEW WITH KATY MIXON:
When she first came in the room, she was just so happy! What you see on the show with her bubbly and upbeat attitude, is what you see in real life! It is so endearing.
Question 1:    How do you take your inspirations? How do you do that role so well?
She told us the visions comes from creator, Sarah Dunn and the front show runners, along with the writing staff. It is her job to recreate their visions and bring Katie to life.
"I'm originally from Pensacola, Florida from the South. I just turned 36! I think Sarah Dunn's 43 or something like that. But I play older."
Question 2: Is your character like you?
She told us her character is quite different from her. In real life, she told us she never lets anxiety take a toll on her like it does to Katie's character. She told us she loves to play a different character though!
" I took on this role right after Mike & Molly. And four days later I walked into this AMERICAN HOUSEWIFE room. And so I think what was wild was, I'm not like her. I'm not Katie Otto. I don't get mad at a green juice. If you're going to do yoga, I think that's awesome! I love people. I love people."
She told us she wanted to do a role that has not been done before. In this show, she hardly wears makeup and they cover her up head to toe in baggy clothes. She absolutely is grateful for this role.
Question 3:    What was your favorite episode?
She told us there is so many but some of her favorites include the Bag Lady episode where she went crazy on people. She also loves Zombie run and the Valentine's Day episode. But truly she loves them all is what she told us.
Question 4:    How does it feel that you are impacting us as moms, like we'll sit and watch and go, "Yeah! She's right, I'm going to go swimming with my kid." How does that make you feel?
"It brings tears to my eyes. It's like one of the most special things. There's so many emotions. But it brings tears to my eyes, honey. We are so grateful and having the time of my life. Thank you so much."
She told us to be given the chance to do something she loves is so very special. She is having the time of her life and it is the biggest gift in the world.
Question 5:    In the comedy, do you ever have any improv opportunities?
She told us she does not but she wishes! She does 14 hour days with 8 scenes a day. She told us it takes five days to film a complete episode.
We then talked about her role in other movies and shows including her role in Academy Nominated, Hell or High Water! She said she loved doing ALL her roles and can't wait to be in more movies, including doing Broadway, which is one of her passions, as she was a musical theater major.
IT WAS AMAZING TALKING TO HER!!! I could have talked to her all day and night! I hope I get to run into her again in this lifetime because she just makes me smile!
PREVIEW OF THIS WEEK'S EPISODE:
KATIE PANICS AT THE IDEA OF APPEARING IN A BATHING SUIT IN PUBLIC, ON 'AMERICAN HOUSEWIFE'

"The Club" – When Anna-Kat develops a fear of water and stops bathing, her therapist suggests the Ottos get her to go swimming. But can Katie get over own her fear of wearing a bathing suit in public at the Westport Country Club so she can help her kid out? Meanwhile Oliver gives his dad a style makeover after students at the college give Greg a low "jalapeño" score, on "American Housewife," airing TUESDAY, MAY 2 (8:30-9:00 p.m. EDT), on The ABC Television Network.
"American Housewife" stars Katy Mixon as Katie Otto, Diedrich Bader as Greg Otto, Meg Donnelly as Taylor, Daniel DiMaggio as Oliver, Julia Butters as Anna-Kat, Carly Hughes as Angela and Ali Wong as Doris.
Guest starring are Miya Cech as Marigold and Alexa Sutherland as the teenage lifeguard.
"The Club" was written by Brian Donovan & Ed Herro and directed by David Bertman.
TUNE IN TUESDAY NIGHTS on ABC,  8:30/7:30c! THIS IS ONE SHOW YOU DO NOT WANT TO MISS! ALSO FOLLOW ALONG ON THEIR SOCIAL MEDIA CHANNELS:
AMERICAN HOUSEWIFE (Tuesdays at 8:30/7:30c on ABC)
https://www.facebook.com/AmericanHousewife
https://twitter.com/AmericanWifeABC (#AmericanHousewife)
https://www.instagram.com/americanhousewifeabc/
http://abc.go.com/shows/american-housewife
http://www.disneyabcpress.com/abc/shows/american-housewife/
KATY MIXON ("Katie Otto")
https://twitter.com/KatyEMixon
https://www.instagram.com/katyemixon/